Children from all over the island attend the show 'Nudos' in Cuyás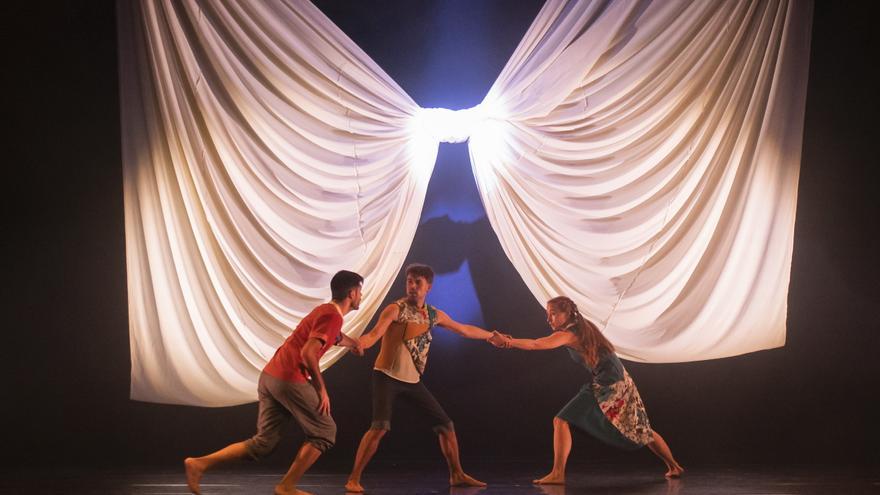 Although with the limitations and safety and hygiene measures imposed by the Covid-19Hundreds of schoolchildren from different parts of Gran Canaria are enjoying these days at the Cuyás Theater the new work of the Granada company Da.Te Danza: 'Nudos'.
The show, of which a family pass is also planned this Saturday at 7:00 p.m., investigates the child's personal development as he grows: how we are learning to function, to create and undo ties with our environment and the people around us , as reported in a note by the Cuyás Theater.
It is a montage created for people over five years old (it barely lasts 45 minutes) from the first emotional knot: the umbilical cord that unites us to our mothers. From there, the story grows as its three characters, played by María José Casado Díaz, Raúl Durán Muñoz and Gonzalo Moreno, do.
With each experience, new knots are created that surround, oppress, condition and, finally, liberate when unraveling.
"There are a thousand types and forms: small, large, light, hard … Sometimes they tie in the throat and prevent us from breathing; other times, they cling to the belly and paralyze us, and others tie us to experiences and people ", they explain from the company directed by Omar Meza, which details:" Soft, hard, huge, small, fabric or scary knots, cold or burning. Knots that wrap us and make us roll in them. Or that we we swallow and they hardly let us speak. Sailor knots or cat hair knots, knots from an absence that hurt … "
"How does a lump look at four years old? How is it distinguished from a stomach or sore throat? What does it look like when we are eight years old? What scar does the passage of a knot leave when we are adults?" of the questions that the dancers will try to answer through the danceIn short, to help the little ones understand "how experiences in life leave marks on us, generate different states of mind and make us who we are".
At prices ranging between six and twelve euros for children under 14 years of age and between eight and 15 for those over that age, tickets for the family function of 'Nudos' (Saturday, November 21, at 7:00 p.m. ) are on sale on the web www.teatrocuyas.com and at the box office of the venue, on Viera y Clavijo street in the capital of Gran Canaria.
Before that 'special' pass, the Granada company carries out other four works only for schoolchildren sponsored, in the morning and at symbolic prices, by the Mapfre Guanarteme Foundation within the framework of the Cuyás Teatrae pedagogical project.
In this sense, the Gran Canaria Cabildo site is one of the few spaces that, despite the pandemic, has continued to provide this cultural offer essential, something possible thanks to its strong social commitment, but also to the efforts of the centers participating in Teatrae, and, in particular, of its teachers.
Thus, only in the last month, in addition to 'Nudos', it has programmed functions of the shows 'Amour', by the prestigious Basque company Marie de Jongh, and 'Ángaro', by the Canarian Pieles, especially aimed at children and young people .