Cherimoyas, brain, pigeons, Franco | Culture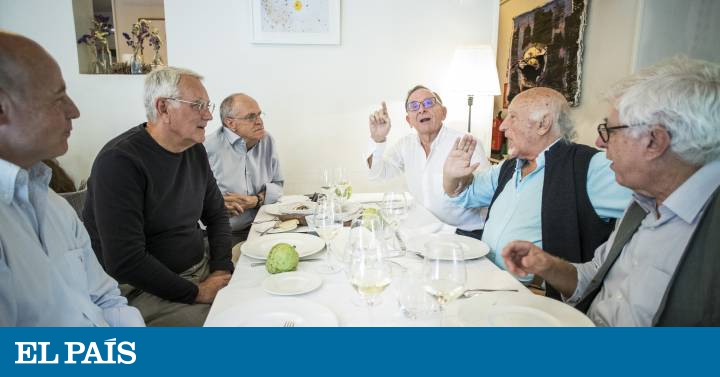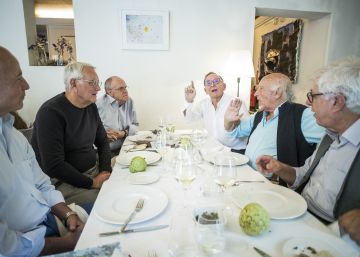 Pascual Olmos has brought cherimoyas from his orchard in Dénia. Manuel Vicent describes custard apple as if reciting a column. It will take Juan Antonio Corbalán, whom they call the medal because he left the basketball hall in Los Angeles very high 84. Jesús Fernández de la Vega is the king of swing in Lavapies; His job was to direct Repsol. Antonio Ardit studied at Harvard, so Vicent, who chairs the gathering, calls him HarvardToni Espasa "for years he was the most influential economist in Spain". All are from Dénia, except Corbalán, Madrid Real Madrid. When it arrives, the gathering already gutted issues, although that of Franco Colea. They had started with the pigeons.
Pascual was also senior executive of the oil company. Ardit advises powerful companies, and is a quiet man in this colloquium of shouts and whispers. Corbalán, a doctor, tells Vicent to lower his tone: it is bad for the syntax of the heart. Toni puts peace. A retired Professor of Carlos III, he led an influential economic bulletin for 22 years.
The dictator has spent decibels. Vicent has said that Franco "would have to be removed from the brain of the Spaniards, the most hermetic grave". Olmos distributes custard apples and Manuel sums up his story: he went to Buddhism, he wrote with Álex Rovira The life you deserve (Connect), which Obama read. They call it silver back because in Africa he pacified a gorilla that touched Vicent's genitals. Pascual adds: in his book he seeks social and environmental balance. His son Christian Marc died very young and is the inspiration of the foundation dedicated to him.
Frank Go back to the gathering. Fernández de la Vega brings what he heard from Deputy Aitor Esteban: "What you have to do with the Valley is to fly it." He warns on the horizon of the Valley "that huge cross like a raven", and Pascual does not want the cross in a country of such varied beliefs. Toni sentence: "Without a doubt the cross should not be."
Ardit is bothered by the matter because he divides, "and what disjoints goes against the spirit of the Transition." Corbalán is the son of a Republican aviator, sentenced by Franco to death. The aviator was 17 years old. They commuted him. When he got out of jail he hitchhiked, he got on a truck whose driver delivered him to the barracks. "I told my father that I was going to see Franco with the medal. And he told me: 'The medal is not from Franco. Is from Spain".
Merit and politicians take the tirade to coffee. Some have recruited large positions for their companies. Vicent believes that none of the current politicians would have been elected by them or to lead a negotiated. "Let's not overdo it," says Jesus, who recruited for Repsol. "Outside of Spain", is the opinion of Olmos, "there are also harmful ones". "The worst," says Toni, "is that politicians have divided Spain in two." Corbalán says "Boris Johnson" as an example of an ominous politician, and Olmos offers him a reason for the State: "They will make him pay."
At Baroja's house, a gathering ended when a bishop announced that he was going to eat a fig. Here Pascual recommended Vicent not to eat the custard apple yet. "Wait for it to mature." They paid for cleavage.
. (tagsToTranslate) custard apples (t) brain (t) pigeon (t) candid (t) house (t) baroja (t) talk shop (t) finish (t) bishop (t) announce (t) go (t) eat ( t) fig (t) easter (t) recommend (t) vicent (t) custard apple



Source link