Chelsea and Manchester City prepare to leave the Super League, according to English media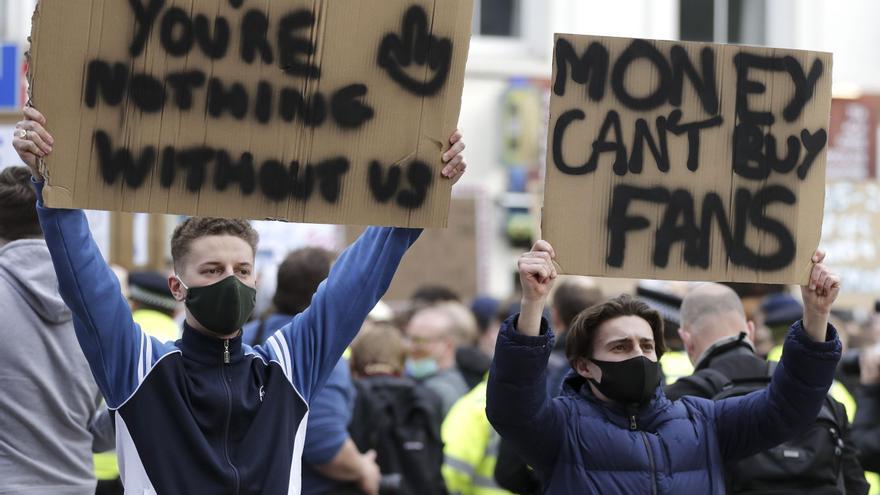 Chelsea and Manchester City have started legal proceedings to leave the Super League european, of which they are founding members along with eleven other clubs, according to English media.
Chelsea have made the decision after fan protests on the outskirts of Stamford Bridge before the Premier League match against Brighton & Hove Albion. According to English media, the club has begun to prepare the necessary legal procedures to get out of the European Super League "ASAP".
About 1,000 fans of the Blue team prepared a sitting in the streets next to the stadium to make it difficult for the Chelsea bus to enter. Petr Cech, a former English team player and now the club's technical director, had to leave Stamford Bridge to calm the crowd, asking for time to explain the situation.
Fans held up banners against Roman Abramovich, owner of the club, and others asking not to take away "their cold and windy nights in Stoke," in reference to a famous phrase from English football.
The news that Chelsea could backtrack on their decision to join the Super League was greeted with cheers for their fans, who have not been the only ones to concentrate in the last hours.
At Leeds United's home stadium Elland Road, Liverpool supporters greeted the team with chants against the Super League on Monday, while Leeds players wore legend jerseys against that tournament and they put up a banner in the stands in which they stated that "football belongs to the fans."
Manchester United fans also gathered near Old Trafford. Their motto: "Created by the poor, stolen by the rich."
Criticisms of Guardiola
Manchester City coach, Pep Guardiola, assured this Tuesday at a press conference that he would not give a definitive opinion on the new European league until he had "all the information" about it, although he did critical of the spirit of the project.
Soccer "is not a sport when the relationship between effort and success, between effort and reward, does not exist. It is not sport when success is guaranteed in advance. It is not a sport when it does not matter if you lose, "he wielded." It is not fair when a team fights, fights and fights, reaches the top, but cannot qualify because success was already guaranteed for a few other clubs, "added the coach. .