Chef José Andres coordinates the feeding of the evacuees in Monfragüe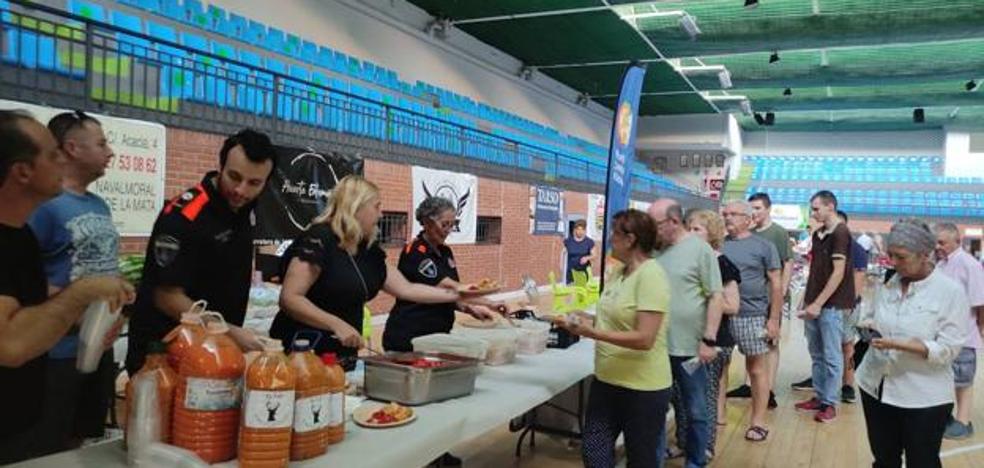 World Central Kitchen is doing its bit in the difficult situation in the Campo Arañuelo region
The NGO of the popular chef José Andrés, World Central Kitchen, is also doing its bit in the difficult situation in the Campo Arañuelo region after the fire that started Thursday afternoon in Casas de Miravete. Since Friday, he has been in charge of feeding the residents evicted from their towns and the personnel participating in the operation.
First he did it in Almaraz, providing snacks and dinner to the inhabitants of Casas de Miravete who have been in the sports pavilion since early Friday morning. At noon on Saturday they extended their action to Navalmoral de la Mata to attend to those who had to leave Romangordo and Higuera de Albalat. One of the collaborators of the group, Alicia Ruiz, explained it to HOY.
"What we do is help to feed. We are a group of chefs who saw long ago that all kinds of devices work phenomenally in natural disasters, but that sometimes food fails. And we say help in what we know how to do, which is cooking. That is why we have come to this area, so that both the evicted people and the device that is working can eat in a dignified manner, so that they do not lack anything.
José Andrés' collaborator added that in catastrophes that are not supposed to last too many days, "it doesn't make sense to set up kitchens. And it does make much more sense to form a community and get together with local businesses, in this case with the hospitality association, which has collaborated with us from minute one and do it with them.
The result of their initiative and the collaboration of the moral hoteliers is that the people located in the Navalmoral pavilion were able to eat a "rich, rich" rice soup yesterday, served individually for hygiene and covid reasons, and then ice cream. . "People can't snack every day. It has to be hydrated, with something fresh. We will see the needs as the hours go by », he added.
For dinner they plan to serve country salad, gazpacho and fruit and for breakfast, if the situation continues, chocolate with churros.