'Checo' Pérez, one step away from renewing another year with Red Bull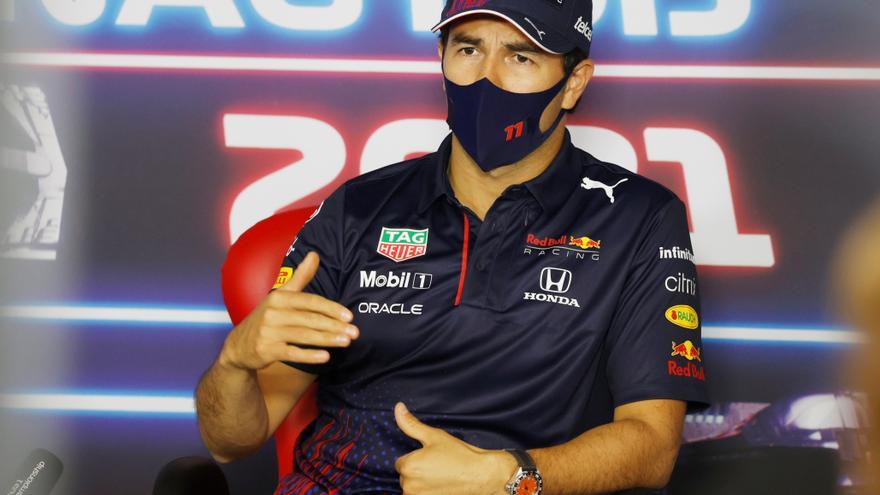 The Mexican Sergio 'Checo' Pérez, fifth in the 2021 Formula One World Championship, he assured this Thursday that he is close to renewing his contract with the team Red Bull, who leads both championships: the constructors 'and the pilots' championships, thanks to the Dutch Max Verstappen.
"We have come a long way (in the renovation). The team is happy with my work, I am happy with the team and we see a future together. It will be a matter of time", he responded at a press conference organized by one of his sponsors.
Pérez signed for a campaign with Red Bull, a team in which he has achieved a victory in the Azerbaijan Grand Prix and a third place in that of France to place in fifth place in the drivers' classification, after the first ten tests.
"The most valuable thing I have learned at Red Bull is that it's a different team, the pilot's touch is important, it has capable people, good engineers and a winning trend, "explained the driver from Guadalajara (Jalisco).
'Checo', 31, who will play the Hungarian Grand Prix this weekend, he claimed to be in the best moment of his career, both physically and mentally.
"All my life I have had pressure, in all teams, but now the greatest pressure comes from myself. I am at a level that I know where I stand and I am satisfied with my work, "he commented.
The Mexican recognized the level of the Dutch Max Verstappen, his partner at Red Bull, who has helped him grow.
"From Max I have learned that he is a talented driver. He is hooked on the team, understands the car well and knows how to maximize it to the top. It is one of the greatest qualities he has. Max"he added.
Sergio considered that staying more years at Red Bull will allow him dominate the car like Verstappen has done and avoid bad results like his last race in the Grand Prix of Great Britain.
"It is a difficult challenge to adapt to the car. Every year that I spend with the team, that adaptation will growThat is why the teams and drivers seek the greatest possible stability to get the best out of the car, "he commented.
Pérez hopes that in October the Grand Prix of Mexico, since he accepted that he has a high probability of winning it and with it celebrate the growth of the love of Formula One in his country.
"I have felt an increase in support, in followers on social networks, in fans in our country and I am happy, I hope we continue like this and this weekend achieve victory in Hungary, "he concluded.