Chanel Terrero, first interview after the storm: "I'm an artist, not a politician"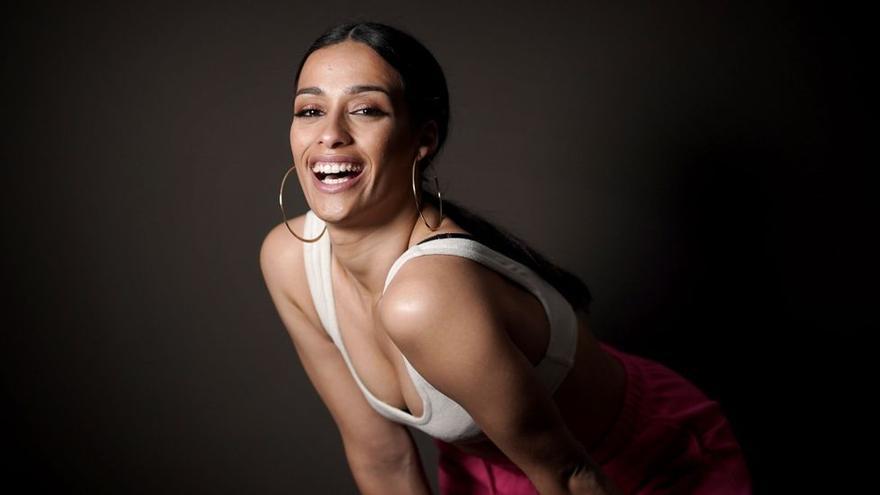 chanell touched glory and torment in a few hours and without warning. And far from being able to celebrate the victory as she deserved, Chanel Terrero left Twitter in the face of the avalanche of hate messages she was receiving. A dose of 'Eurodrama' usually has a pass. But questionable as the voting system of RTVEthe cyberbullying to which she was subjected for days is far from the inclusive and tolerant message that the Eurovision Song Contest.
Two weeks after involuntarily becoming the center of controversy, the punching bag of many, the question to Chanel is a must:
Have you survived?
The truth is that I'm fine. The critical day was Sunday [29 de enero], after having won, because he did not understand what was happening. It was the first time I was in the arena and it was normal for people to give their opinion or for the media to talk about you and your past. But what is not healthy, and as a society we have to take responsibility, is harassment on social networks. Feeling strong, I feel the moral obligation to raise my voice and say: "Please, be careful what you write because people's mental health is at stake."
Some defense system?
The best way to carry it is with a little humor.
He had to cope with the politicization that has been made of the contest and the resounding reproaches of a part of feminism that reproaches him for representing a hypersexualized woman. "My head does not understand it. It has been seen that between us [las favoritas] and all the participants there was a super good and healthy competition", he points out about the sorority and the prevailing camaraderie behind the scenes. "I have always said it: I am an artist, not a politician. What I take care of is rehearsing and doing my best to put on a good show on stage." In that, precisely, she is not a beginner.
Y He only has words of praise and thanks for his opponents. "This year in particular there was so much diversity, that choosing one seems very complicated to me. I would even say impossible," she responds modestly when she is asked about her pool before going to the benidorm fest. "Tanxugueiras Y Rigoberta Bandini They share a brutal power live, I love both of them; the staging of Rayden I liked it a lot, and Blanca Paloma's voice seemed like a gift to me", he adds. Indeed, no matter how hard he tries, he doesn't want to get wet: "I know you would like to know who my favorites were or who I saw as rivals. I'm sorry, I can't choose: they all deserved to go to Turin."
From Havana to Olesa
Although Chanel was born in Havana on July 28, 1991, when he was just three years old, he moved with his parents, Marlene Martínez and Alain Terrero, to Catalonia. But the couple broke up. Alain currently lives in Figueres, where he rebuilt his life. And Marlene fell in love with a Catalan [Toni Cuadrado, el padre de sus dos hermanas pequeñas] and established his residence in Olesa de Montserrat. "She is a social worker, but she is so funny and witty that she could have made a living as a stand-up comedian," says Chanel. "On a professional level, I am the first in my family to do this. Fortunately, we are all very close and support me in a unconditionally. My biological father even came to see me in Benidorm," he says.
"My grandmother Eleanor [Bergé] she couldn't be with me that weekend -she regrets-, but she is full of going to participate in Eurovision. When I was little, she used to tell me: 'When you grow up, when you're famous, I'm going to carry your bags for you.' After acting in 'Mortadelo y Filemón', my first musical under the orders of Ricard Reguant, He gave me one that I still have. Like all of my family, she is incredibly humble."
Chanel was a good student, although "she got the excellent ones in ballet." At the age of nine, she discovered her vocation at the School of Performing Arts. 113 dance: "I trained in various styles - ballet, jazz and contemporary - and managed to graduate from the Royal Academy of Dance. I also took singing and acting classes. I took them as a job. I was very disciplined. Luckily, at At 30 I still maintain the same illusion as when I was little".
His destiny seemed to be marked. At 16, he left Olesa de Montserrat behind and moved to Madrid, where he took his first steps in musical theater. "Moving to the capital, being independent and living away from my parents and my two little sisters was not such a big leap. It was a natural and organic change because it was the perfect place to build my career," she says, without revealing whether she lives alone or in company. "Of course, I've had some existential crisis. But I feel very lucky to have been able to dedicate myself to this for so long. Never stop learning."
A date with Spielberg
A glance at his resume confirms this. And no one has given him anything: all his achievements, without exception, have been earned by hand. He has participated in such successful musicals as 'Mamma Mia!' and 'The Lion King'; She was the leading singer of 'Nine', 'Flashdance' and 'The Bodyguard'. She has danced with Shakira at the MTV Europe Music Awards. She has been part of corps de ballet of 'Your face rings a bell' (Antenna 3). He appeared in the series 'Águila Roja', 'El secreto de Puente Viejo' and 'Gym Tony'. And he has played roles in films like 'Fuga de cerebros 2', by Carlos Therón, and 'El rey de la Habana', by Agustí Villaronga.
"I was among the five finalists to play the role of Anita from Spielberg's 'West Side Story'"
Not everyone knows it, but Chanel was on the verge of appearing in the 'remake' of 'West Side Story' directed by Steven Spielberg. "I was among the five finalists to play the character of Anita. They called me on a Friday and asked if I could audition in New York the following week. I didn't think about it for a second and I took a plane. I went through several phases and, in the last one, there was Spielberg. Seeing how he works up close was something unique. There were several producers at a table and he, standing up, recorded us and watched through the screen of his mobile. He is a very polite gentleman with an incredible aura," he recalls.
Although the 'casting' was in September 2018, until January 2019 he did not receive a call in which he was told that, despite the fact that his name "had been shuffled until the last moment", they had chosen another candidate. Had it not been for Ariana DeBose, maybe she would be the one nominated for an Oscar.
"Despite my career, I still have certain mini-insecurities on the boards"
However, while preparing to disembark with 'SloMo' in Turin, Chanel is working hard to personify Malinche in Nacho Cano's musical of the same name about an aboriginal woman who advised and gave birth to Hernán Cortés, whose creative process will feed into a documentary by Netflix.
Do you know what rest is?
It is not the first time that I sleep little. Now play this and I'm not complaining at all. On the contrary. Despite my career, I still have small insecurities -it has happened to me constantly- on the boards. That's why rehearsals are so important: they make you grow and be prepared for what's to come. Only then can you grow as an artist.
Is it displayed in Turin?
I'm going to work my ass off, because something like this only happens once in a lifetime.
Would it be taken as a personal failure to finish in the last places of the table?
This is both a competition and a huge opportunity. The level is very high, I am aware. I would only see it as a failure if I hadn't given it my all, which I guarantee isn't going to happen. What has to happen will happen. But for us it doesn't stay. We are ready to win. That's the mindset.
"The magnitude of this is such that, as before, I am going to continue going to therapy"
Essays aside, are you psychologically prepared to withstand more media earthquakes?
Just as we go to the gym for the body, we must go to the gym for the head. The magnitude of this is such that, as before, I am going to continue going to therapy. I not only want to be strong physically and vocally, but also spiritually and psychically. In short, I will do everything in my power.
Chanel cannot advance anything about the changes that will take place in Turin. It is unknown if she will be dressed again by Carmen Farala (the 'drag queen' winner of the first edition of 'Drag Race Spain'), or if the choreography expressly created by the American Kyle Hanagami will suffer some variation.
Nor does Chanel dare to predict if this is the beginning of a long career. You don't lack desire: "In the end I'm new and this has just begun. My priority, right now, is Eurovision. Several people have asked me how I see myself in five or 10 years, but the truth is that I don't usually plan anything to such a long term. By then I hope to see myself happy, continue dedicating myself to what I like and be surrounded by beautiful people. Of course, I am not closed to anything that may come. I would love to do many things because I have several pending dreams to fulfill It's all to be seen."
No more secrets?
I'm very clear... but I don't like shrimp. If you eat a paella with me you get a double portion.