'ChampionsforPedrito': Catalan football turns to give a child a therapeutic dog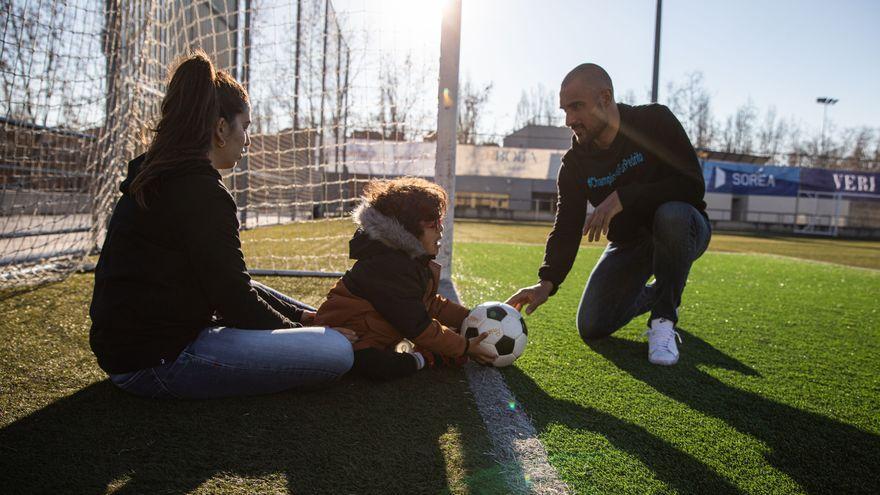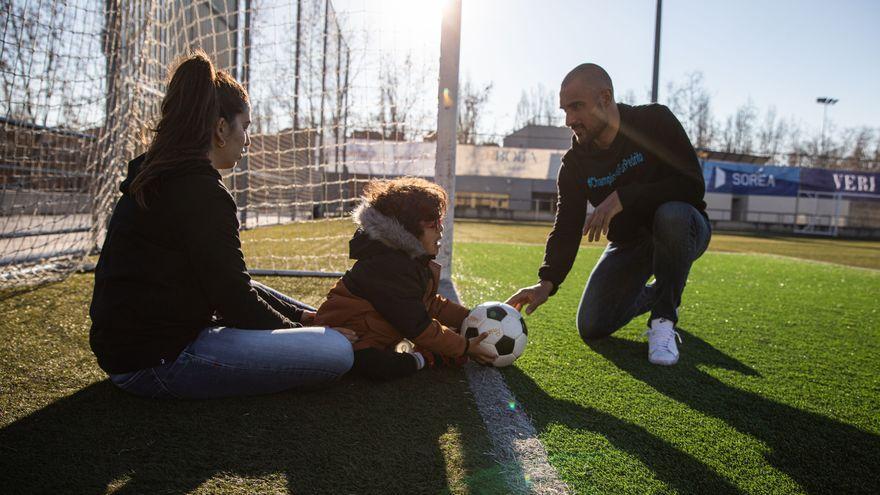 As soon as you were born, Little Pedro they had to take him to the ICU, where he spent the first four months of his life. "They did all kinds of tests and they saw that little things were coming out both at the neuronal, heart, motor level, the food instead of going to the stomach went to the lungs... If I continue, I won't finish," explains the father. of the, John Paul Amantini. to him already Guillermina Marquinahis wife, told them that the child had Coffin-Siris, a rare disease suffered by less than 60 people in all of Spain. Juan Pablo, Argentine defender who at 37 has been a globetrotter of the soccer Catalan 'amateur', wanted to set up a charity party to raise funds to get a dog therapist for Pedro. What he did not imagine is the dimension that the initiative would take in support of this four-year-old fighter.
"I had it in mind for a long time but with the covid could not be carried out. Both Guillermina and I were excited, but we didn't expect the repercussion it is having". According to him, there are already more than a hundred footballers who have offered to play in this match. San Cristobal, Juan Pablo's current team, other clubs have offered him their pitch for the match. "Sant Feliu, Cerdanyola, Montañesa, Manlleu, Vilafranca, Pomar, Parets, Tona... The list is very long and more and more entities are offered, which is nice. Throughout my career I have been able to meet many people and now I feel that I have left a mark in person who now support me".
An event that does not stop growing
Since he started playing for Badalona B, this old-school Argentinian central defender has been through many Third Division teams like Gavà, Blanes, Europa, Montañesa, Terrassa, Cerdanyola, Llagostera, Vilafranca and Castelldefels. In the latter he met Javier Sanchez, inseparable friend since then who is helping a project that does not stop growing. "I have received many messages from former teammates or rivals but also from players I don't know from Second and First Division," he says. "We are very grateful for what is being created and moved. It will be a very special day, especially very nice for Pedro and to improve his quality."
The event, scheduled for the beginning of June, does not stop growing: they have received proposals to also carry out tournaments of indoor football Y paddleFirst and Second players have promised them dedicated t-shirts to raffle them off, clothing brands have offered to produce t-shirts for free with the slogan #ChampionsforPedrito in order to sell them, and NGOs such as the Foundation Ricky Rubio and multinationals have placed themselves at your disposal.
"It's incredible the people, not just family and friends, who empathize and want to help us, I'm excited all day," confesses Guillermina. Amantini works as a delivery man for the company Joan Solerpresident of Vilafranca and member of the board of the Barca, which has offered him the collaboration of both teams. While Juan Pablo gets up every day at four in the morning to go distribute with the truck, she had to stop working to take care of Pedrito.
"He needs a person who is there for him all the time. To eat, to take him to the doctors, therapies. He was fed through a nasogastric tube for a long time and he didn't start walking until he was almost four years old. In November he started having epileptic seizures, which thank God have gone down with the medication. At night he has apneas and I've gotten used to not having a deep sleep. I sleep with his breathing and at the slightest I wake up because I know I have to move him so he doesn't stop," says the mother.
make the syndrome visible
The main action of the charity game was to get Pedrito an Australian Cobberdog, a highly sensitive therapy dog, to move him in episodes of nocturnal crises and allow his parents to rest. "Aside from getting him a canine therapist, we're giving a little visibility to the multisystem syndrome that he suffers". Now, given the size of the initiative, they have decided to turn the #ChampionsforPedrito event into a homonymous association with the aim of being able to help other families in the same situation.