César Manrique 'revives' in El Cuyás with the musical of Clapso and Mestisay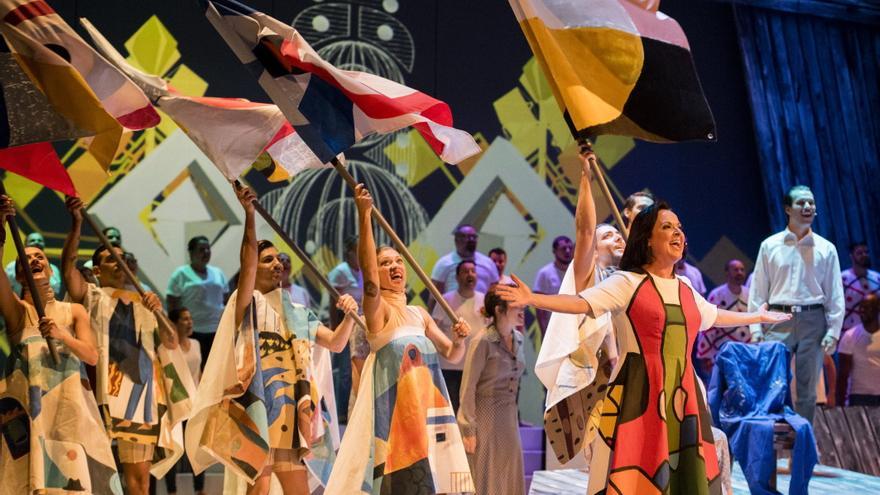 The show 'César Manrique. The musical ', premiered last year on the occasion of the first centenary of the birth of the Lanzarote artist, returns to the stage, specifically at the Cuyás Theater, that schedules it between the next 17 and 20 December.
This great 'show', which pays tribute to an unrepeatable figure of art in the Canary Islands from an original idea by Manuel González (Mestisay) directed by Israel Reyes (Clapso Producciones), brings together dozens of performers, including actors, actresses, musicians, dancers and singers, including Mingo Ruano, in the role of César, and the popular Olga Cerpa and Luis Morera, who can be seen in https://we.tl/t-TkltxpdSS1.
The cast is also made up of Víctor Formoso, who plays a friendly and mischievous Diablo de Timanfaya, or Maykol Hernández, who plays the former mayor of Arrecife and president of the Cabildo de Lanzarote, Pepín Ramírez, considered Manrique's great collaborator and under whose mandates such emblematic projects for his island materialized as the Cueva de Los Verdes, Jameos del Agua, the Monument to the Peasant, the Devil of the Fire Mountains, the Route of the Volcanoes, the Mirador del Río or the International Museum of Contemporary Art (MY AC).
The musical direction, meanwhile, is in charge of Germán G. Arias and the show is co-produced, together with Clapso and Mestisay, the City Council of Las Palmas de Gran Canaria and the César Manrique Foundation, thus praising the figure of this great artist plastic, committed ecologist and creator of the concept Art – Nature – Art, who, despite opposition from certain sectors, made his home island an example of environmental planning with high social content, recognized and valued internationally, as happened with his work.
In total, hThere are six performances of 'César Manrique. The musical'. Specifically, they will take place on Thursday, December 17, at 8.30 pm; Friday 18 and Saturday 19, at 7:00 p.m. and 10:00 p.m.; and on Sunday 20 at 7:00 p.m.
At prices that range between 15 and 25 euros, tickets to see it are on sale through the usual channels available to the Foundation for the Performing Arts and Music of Gran Canaria, which manages Cuyás: the theater box office, on Viera y Clavijo de the capital of Gran Canaria, and its website www.teatrocuyas.com.