CES 2020: From the robot that takes the toilet paper to the bathroom to the laser to hunt mosquitoes: the most curious inventions of CES | Technology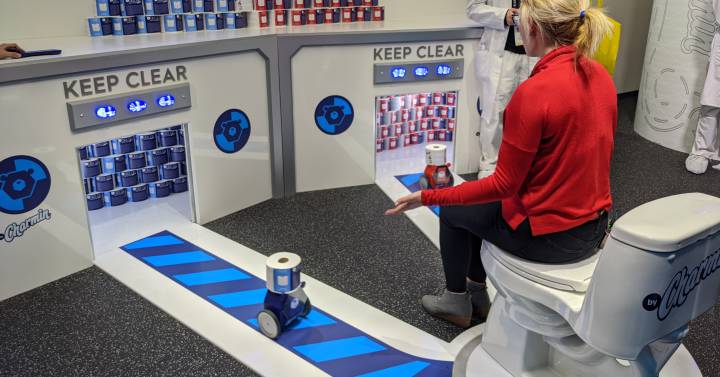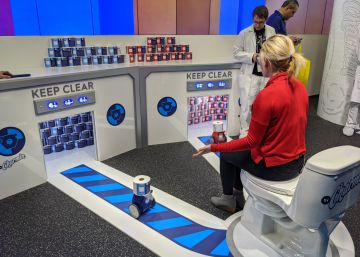 Two robots walk through the carpet of a hotel in Las Vegas with a single objective: to make those around them happy. They respond to the name of Olaf and Tempura, raise and lower their arms continuously and observe with their big blue eyes those who stand before them. With their adorable appearance and an expressive look, the goal of these company robots is, in the words of their creator, "to cure loneliness in any home by reacting to human stimuli." They are full of sensors that detect from caresses to any obstacle in their path. They do nothing special. They simply accompany. Despite this, they capture the attention of dozens of people who swirl around them.
Stroll through CES, the biggest fair of world consumer technology, is like going into the future for a moment. Among televisions, appliances and vehicles with a more traditional design, dozens of curious inventions stand out. Many of them will stay in crazy projects that nobody will remember in a few months. But others, which seem as extravagant to us today as portable phones were 30 years ago, may become part of our lives.
If last year they surprised a car with legs or a mobile phone case that became a drone to take out selfies, In this edition they have made shoes that adjust the sole depending on the terrain they step on, holograms that interact with users, invisible keyboards or helmets that serve to sleep well. There are devices for all tastes. Machines that print tattoos on the skin in just a few seconds, lasers that help hunt mosquitoes by pointing after detecting their position or bicycles designed to pedal over water and sail seas and lakes.
There are also flashy robots for every equine. In a stand, Saaya Okuda, of the Japanese company Yuaki Engineering, caresses a kind of black hairy cushion. It is round and, unlike a traditional cushion, it has a tail. And moves it. As if it were a cat or a dog, when Okuda slowly strokes the cushion, the tail goes from one place to another slowly. "From time to time she moves alone simply to say hello," says Okuda. This robot, called Qoobot, is already on sale in some Asian markets. In Japan, 50,000 units have been sold, mainly "to people who cannot have animals because they are allergic and older people feel lonely."
But not all robots are company. There are some designed for work, such as Meeting Owl Pro, A small device with camera, microphone and speakers that seeks to convert any meeting or conference room into a smart room. Once placed in the center of the table, observe everything that happens around you. Through vision and voice recognition systems, it is able to focus and zoom on the speaker.
Others are more focused on making our lives easier at home. This is the case of Rollbot, it can be controlled with the smartphone and ensures that nobody runs out of toilet paper in the bathroom. This robot of the company Charmin brings a roll to the user when he asks for it. The same company wants to improve the experience of its customers in the service with virtual reality glasses to entertain the toilet and different sensors, like SmellSense, a system that measures carbon dioxide and serves to know how a bathroom smells without needing to experience it.
The service is also the scenario in which millions of people in the world brush their teeth every day. One of the electric brushes that has caused more expectation at the fair is Colgate Plaqless Pro, which has optical sensors in its head and warns when the teeth are completely clean. For those who are lazy to spend a lot of time doing this activity, there is Y-Brush. The brush, which is shaped like a mouth guard, only takes 10 seconds to wash the entire mouth. "Brush all your teeth at the same time. It does the same thing as you do in 10 seconds when you wash for two minutes with a normal brush, "explains company employee Clara Moschetti.
For those who like to sing while washing, Kohler has taken smart assistants to the shower. The manufacturer of household products has presented a head with integrated speaker with support for Alexa. In addition to asking for music, it also allows you to shop on Amazon or listen to the news.
Companies attending CES want to bring artificial intelligence to every area of ​​the home. Therefore, in addition to the bathroom, technology also plays an important role in kitchens. "The kitchen is already a connected ecosystem where the different appliances learn the tastes of the consumer and thanks to the artificial intelligence they have, users can have a washing machine with an algorithm that detects up to 20,000 tissue patterns or a refrigerator that with only a 'knock knock' [dos golpecitos], let us see its interior without having to open the door ", explains Miguel Ángel Fernández, marketing director of LG Iberia. The appliances are becoming more independent. In the CES it is possible to see from washing machines that autonomously choose the most efficient washing program and can even buy on their own detergent if it runs out.
Soon the gardens will also arrive. LG has presented a greenhouse that has an advanced light system, temperature and water control, planters and an application to monitor the growth of vegetables such as lettuce or basil. In the classrooms, the biggest change comes with televisions. 29% of European homes have already reached smart TVs, according to the report The future of devices from GSMA Intelligence. But that is not enough for manufacturers and they experiment with new designs. Last year Samsung showed the first roll-up television. In this edition it has presented a frameless one - 99% of the front is a screen and only 15 millimeters thick - and The Sero, a rotating television that can be turned upright to launch content from the mobile.
The ESC prohibits a company from saying "cannabis"
If last year an award given to a sex toy for women It was object of controversy at CES, This year it has been a cannabis company. The CTA (Consumer Technology Association) has awarded one of its innovation awards to Keep Labs This company has developed a device with a biometric system to store cannabis in the home discreetly and safely. Its owner can, through an application, receive alerts when someone tries to access or move the device. But after rewarding the company, the CTA has forbidden it from using the word cannabis within the fair - not in its products or marketing materials -, according to the medium specialized in technology TechCrunch. Keep Labs has decided that he is not interested in exhibiting at CES with these conditions.