Cepsa will supply Iberia with biofuels from waste and used oils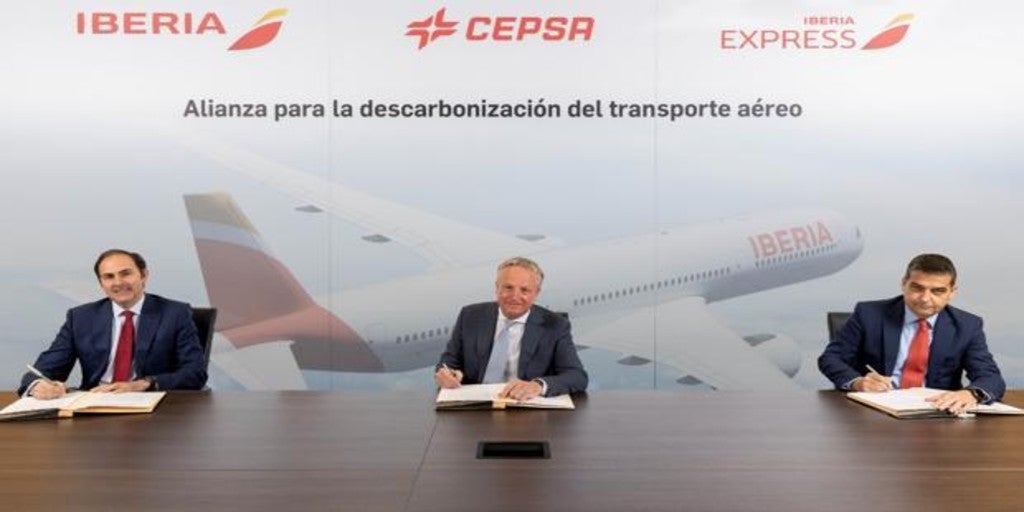 Madrid
Updated:
Keep

Cepsa and the Iberia group today sealed an ambitious alliance strategy to decarbonize air transport on a large scale. To this end, both companies will develop and produce sustainable aviation biofuels (SAF) on a large scale from waste, recycled used oils or other raw materials of sustainable plant origin.
The agreement, which also includes Iberia Express, includes other energy alternatives, such as renewable hydrogen and electricity, to promote sustainable mobility in aircraft and ground fleets (vehicles for supply, baggage loading and unloading operations, aircraft assistance and towing to the runway).
Cepsa will thus become a strategic supplier for Iberia, which ensures preferential access to scarce fuel (biojet), thus giving the airline a competitive advantage for both customers and investors (thanks to the best ratings in the sustainability indices).
Aviation biofuels play a key role in the decarbonisation of tourism and air transport. Compared to conventional fuel, SAF can reduce aviation emissions by up to 80% over conventional kerosene, throughout its life cycle, according to the International Air Transport Association.
For Maarten Wetselaar, CEO of Cepsa, «This alliance shows Cepsa's commitment to sustainability and its firm determination to support our customers, providing them with viable solutions that accelerate their energy transition. As a benchmark in the supply of fuels for the aviation sector, we share with Iberia the common goal of promoting the decarbonisation of transport as a tool to combat climate change."
Javier Sánchez-Prieto, Chairman and CEO of Iberia, has declared that "for the decarbonisation of the aviation sector, the development, production and distribution of fuels of sustainable origin at affordable prices and in sufficient quantity to supply airlines is essential. We are confident that this agreement with Cepsa will contribute to that goal."
For Carlos Gomez, CEO of Iberia Express, «it is time to create synergies between companies that have the same goal, to be able to develop our activity and our operations while minimizing the ecological impact. This agreement is an important step on this path towards more sustainable air transport, in line with our joint commitment to the decarbonisation of the sector."