Cepsa also joins forces with Vueling to develop biofuels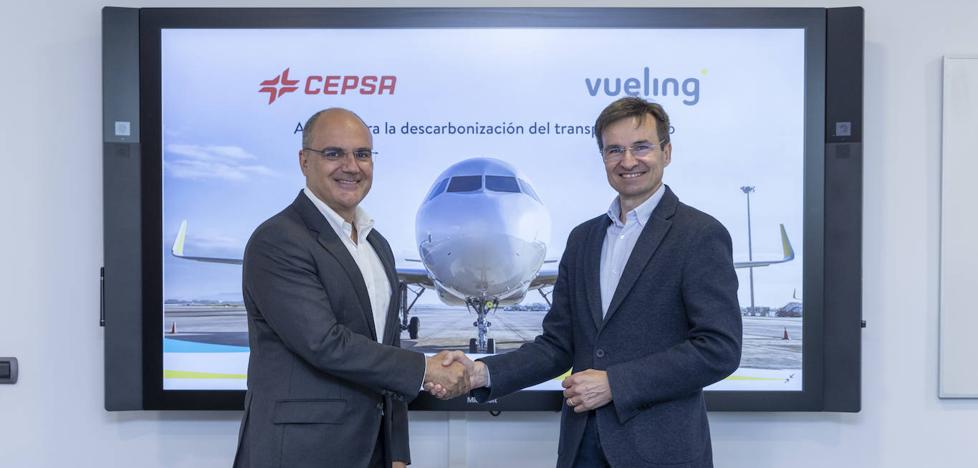 It joins those already achieved with Iberia, Iberia Express, Binter and Air Nostrum to accelerate the decarbonisation of air transport
The energy company Cepsa and the airline Vueling have reached an agreement to accelerate the decarbonisation of air transport through the research and production of sustainable aviation fuels (SAF). The development of these sustainable fuels is a priority for both companies as a tool to continue reducing the carbon footprint of air transport and contribute to the fight against climate change and the achievement of the 2030 Agenda.
This agreement is added to the one already reached by Cepsa with Iberia, Iberia Express, Binter and Air Nostrum in recent weeks. The fuels will be produced from circular raw materials that do not compete with food, such as used cooking oils, animal waste for non-food use or biodegradable remains from different industries, and allow aircraft emissions to be reduced by up to 80%. compared to conventional kerosene.
The alliance also contemplates the development of new energy alternatives, such as green hydrogen and electrification for Vueling's ground fleets (vehicles for supply, baggage loading and unloading operations, or aircraft assistance, etc.).
During the signing of this new alliance to promote sustainable aviation, Carlos Barrasa, director of Commercial & Clean Energies at Cepsa, stated that this agreement reinforces his "commitment to transform the air transport model towards a more sustainable one. It is a privilege to walk this path together with clients who share our commitment to the fight against climate change and sustainable mobility."
For his part, Marco Sansavini, CEO of Vueling, stressed that "Vueling's commitment to the environment is total. We are part of IAG, which has been the first airline group in the world to commit in October 2019 to achieve net zero carbon emissions through its Flight Path Net Zero program. This collaboration with Cepsa reinforces the collective work that we must all do together to find a viable and sustainable solution for air transport, which is so important for a country in which 80% of tourists travel by air."
It is an agreement aligned with the European Commission's Fit for 55 set of measures, which includes the 'RefuelEU Aviation' legislative initiative, whose objective is to promote aviation biofuels in the European Union, reaching a use of 2% in 2025 , 5% in 2030 and 63% in 2050. Likewise, this alliance supports several of the Sustainable Development Goals of the 2030 Agenda: SDG 7 (guarantee access to affordable, safe, sustainable and modern energy), SDG 8 (promote inclusive and sustainable economic growth, employment and decent work), SDG 12 (ensure sustainable consumption and production patterns) and SDG 13 (take urgent action to combat climate change and its effects).
This new agreement with a benchmark airline consolidates the purpose of Cepsa, one of the main producers and suppliers of aviation fuels in the Spanish market, to become a benchmark in the clean energy sector and lead the decarbonisation of air transport. Within the framework of its new strategic plan, Positive Motion, the company is developing an ecosystem focused on accelerating the decarbonisation of industrial customers, air and maritime transport, as well as the company itself, through the production of green molecules, mainly hydrogen renewable and biofuels. Cepsa aspires to lead the manufacture of biofuels in Spain and Portugal by 2030, with an annual production of 2.5 million tons, focusing especially on promoting the sustainability of air traffic, producing 800,000 tons of SAF per year.
The company has established an ambitious roadmap to cut its emissions, placing itself among the leading companies in its sector. Specifically, in 2030, it will reduce its CO2 emissions (scope 1 and 2) by 55% compared to 2019 and aims to be carbon neutral before 2050. As for scope 3, the carbon intensity of its products will be reduced between 15 and 20% in 2030. Cepsa wants to go beyond net zero and achieve a positive impact, adding value to the communities where it is present by allowing its customers and other stakeholders to move in the right direction.