CEO King Juan Carlos I wins Secondary Cinedfest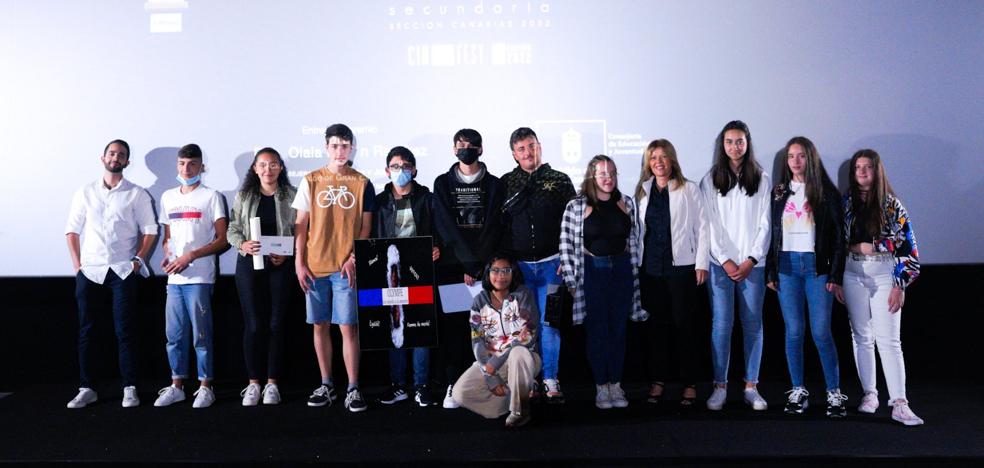 The awards, which seek to promote the seventh art among young people, were announced at a gala in Tenerife
Tenerife Multiplexes welcomed the
final gala of the Cinedfest 9 festival to deliver the awards for the 2021/2022 film course in the category of Secondary, Baccalaureate and FP-CEPA-EOI-EASD. In all, there were about
500 students distributed in three movie theaters.
The interventions of students, teachers and public officials followed one another, some to thank the prizes and others to deliver them.
Maria Isabel BelloIsland Director of Education and Youth of the Cabildo de Tenerife, was responsible for announcing that
'Run, Sara Run', from the IES Santa Úrsula It is the work most valued by the jury for being the film that has best captured the spirit of the Educational Festival of the Canary Islands.
The piece
'Naira. Living without limits', by EA Pancho Lasso (Lanzarote) it will be distributed for a year at international festivals by Digital 104. «We are very proud of this work. The message it transmits is valid for everyone", said one of the students participating in the short film.
The prizes kept happening. In Baccalaureate, he got the first prize
'Virtual', from the IES Las Veredillas (Tenerife). While in FP-CEPA-EOI-EASD, the award was obtained by
'Silence', from the IES La Guancha.
For her part, Marta López Quevedo, DISA Foundation technician, presented the DISA Foundation award to
'Really beautiful', from the IES Agustín Espinosa (Lanzarote). While Pilar Herrero, a social services technician from the City Council of La Laguna, presented the awards for diversity and inclusion.
The Special Award from the Cabildo de Tenerife went to 'Vanguardia', from the
IES San Marcos (Icod de los Vinos).
Among the new awards, it is worth highlighting the Documentary Award for
'Arrecife, museum of the sea', by EA Pancho Lasso, which recovers the memory of the fishermen of Lanzarote. The award was presented by Juan José Gavilán Barreto, Councilor for Education, Youth, Local Development and OMIC of the City Council of La Laguna.
The Equality award, given by Kika Fumero, director of the Canarian Institute for Equality of the Government of the Canary Islands, was also achieved
'Olympe (without fear of death)', CEO Rey Juan Carlos I (Gran Canaria), who also won the first prize in Secondary.
And the Affective-Sexual Tolerance award went to
'Multiplied by 3', from the IES Josefina de la Torre (Gran Canaria).
The Teacher Award went to Salvador Silva Falcón, for his work in the
IES New Homes. "I subscribe to Luis Eduardo Aute's phrase, I apologize for confusing cinema with reality," he commented.
Several students will benefit from the training prizes awarded by the Ánima School of the Arts, the Higher School of Technical Studies, the Film School of Catalonia (ESCAC) and the Middle Atlantic University.