Celia Villalobos, after criticism for laughing at Pablo Iglesias: "I didn't know it was a sin to name her children"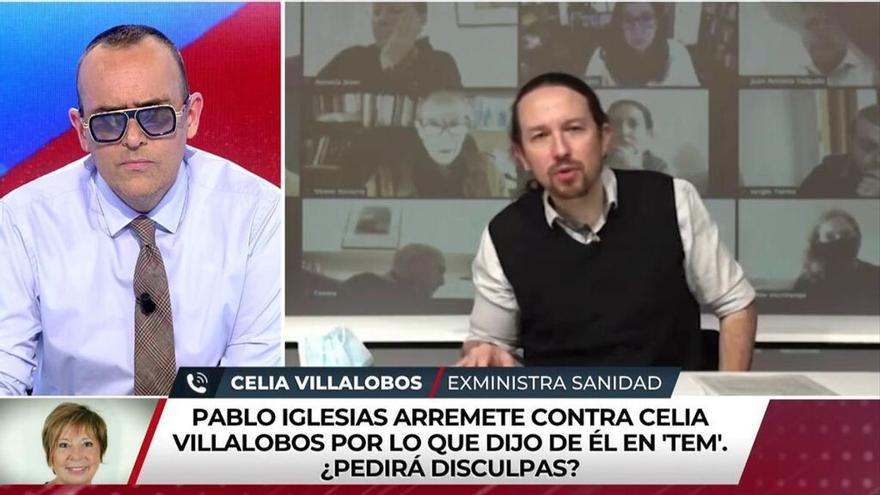 On Wednesday Celia Villalobos entered by phone in 'Everything is a lie' to respond to criticism that had caused their taunts about paul churches. As a result of the former leader of We can has returned to the forefront of the media and the comments that this has provoked, Iglesias came out to defend himself, stating that he was only being criticized and not other former politicians, such as the case of Villalobos, a regular contributor to various gatherings.
This gave rise to Celia Villalobos addressing Iglesias and dedicating some controversial words to him: "Pablo, look at me straight on. You are much more handsome since you are in your little house. And the children, are the children okay? That if necessary I'll go and give you a hand to take care of them, because your wife pays you very little attention. hey, by the way, you've fixed your teeth, haven't you?".
The video went viral on Twitter and in turn provoked the response of Iglesias: "This lady can only be pitiful. What is worrying and disgusting is the type of television and the type of journalism that makes these shows. Don't just look at the broken toy of every day; degradation is the responsibility of those who make the rundown and lead the program".
Celia Villalobos claims to be "perplexed"
When he went live on the show, Villalobos said she was "a little perplexed, but fine". She defended herself by stating that she was joking: "I think It was clearly seen that he was playing a joke on Pablo Iglesias. I had forgotten that you can't joke with Pablo Iglesias." "He said he was going to dedicate himself to taking care of his children, which I think is very positive. It seems that he does not like jokes, "he said, later adding:" I feel in my soul that he has taken it so badly.
Of course, the talk show host made it clear to Risto Mejide that he was not apologizing to Iglesias: "No, I'm perplexed. Because I had forgotten that there are certain people who are untouchable." "He didn't know it was a sin to name his children", he insisted. It was then that Risto came out to defend the former vice president: "It is not the same for him to say that he is going to take care of his children as you, within a joke, put the subject of the family, which seems unnecessary to me."
Even so, Risto gave his collaborator a cape: "It is clear that you did not want to insult Pablo Iglesias, but you were making a joke. I was clear about it, but there are people who have thought otherwise." Villalobos apologized to the presenter only: "I'm very sorry to have gotten you into this."