Cees Nooteboom: "Men are incurable" | Babelia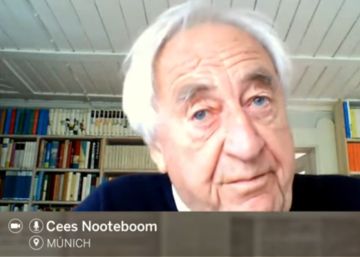 In a place in Germany that he does not want to reveal, to the Dutch Cees Nooteboom He has been confined to confinement in good company: in an old house full of books belonging to a friend, in the middle of the countryside and two hours from Munich. "Somehow a writer like me always lives in confinement," he says since his retirement in Germany. "This is extremely calm and I like that. I am privileged, I watch TVE, the news program every night, and I know that I am privileged, horrible things are happening. It has been fantastic here to work." This interview was conducted before he was awarded this Wednesday with the prestigious Formentor Prize.
Communication is difficult by videoconference, but it is enough to listen to your assessment of what this episode will mean for humanity: Do you think we have to change the way of life, the rush, the crowding? And there he is skeptical: "We are incurable, there will be the same rush, we are seeing that there are people who do not have the capacity to reflect on what has happened. I am cynical because I believe that men are incurable."
The author born in 1933 in The Hague lived through the Second World War and finds in this pandemic a similar atmosphere: empty streets, uncertainty, fear. At that time his father sent him to the countryside to take him away from the city: "There was hunger in The Hague, people died and my father sent me to the province. They gave me bread and butter and I got sick because I weighed less than 50 kilos. This atmosphere of empty streets gives me the same impression. " Now he has also become ill, as he confesses, but fortunately not from coronaviruses.
At 86, still very active, he misses his usual Menorca, where he spends much of the year, he has had to suspend a tour of Japan and some other trip, but he has not stopped. Just finished a book of poems on the virus, Virus Time Song, and is preparing to publish his new book in Spain, the USA and France in the fall, Venice: The Lion, the City, and the Water. He has not stopped reading either.
"For me Menorca is also my land, I cannot go and in the immediate future I do not think we can go, it is a pity. There are many foreigners for whom Spain is a beloved land and will not be able to go for a long time."
Notteboom talks about these books:
– Your new book will be Venice, the lion, the city and the water (provisional title), to be published by Siruela. It will also be published in the United States and France. "Venice is closed, but people can travel with me through my book, it is a travel book about a city that I love, which is usually full of tourists and now it will be heavenly."
Furthermore, the author recommends:
– East-West Street, Philippe Sands (Anagram).
– The Ratline, by the same author (not yet published in Spain).
– The last commission of Doctor Weiss, Lars Gustafsson.
– Todtnauberg, the story of Paul Celan, Martin Heidegger and their impossible meeting. Peter Kunisch.