CC will take action if Torres does not explain the case masks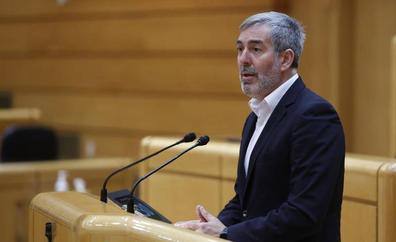 courts
The Prosecutor's Office investigates the Canary Islands Health Service (SCS) for alleged crimes of prevarication and embezzlement of public funds
Fernando Clavijo, secretary general of the Canarian Coalition (CC), announced this Monday that his party will take measures, without specifying which ones, if the president of the Canary Islands, Ángel Víctor Torres, does not give "satisfactory" explanations in reference to the
case Masks uncovered by
CANARY ISLANDS7.
Clavijo made these statements at a press conference after the Vice President of the Government of the Canary Islands, Román Rodríguez, stated that if he were the Minister of Health, he would go to court for this matter, while demanding that everything possible be done for recovering the four million that cost the masks that were never received at the beginning of the pandemic.
This situation has made the
Las Palmas Anti-Corruption Prosecutor's Office investigate the Canary Health Service (SCS) for alleged crimes of prevarication and embezzlement of public funds.
Fernando Clavijo has warned that «
everything is extremely dark» and has stated that it is «inexplicable» that a complaint has not been filed in this regard in court.
Although CC "has never wanted to take political issues to court", its secretary general has insisted that based on Torres's explanations
they will make decisions.
"We have been prudent and very respectful, but everything has a limit and cannot be
rob the canaries", has manifested.