Cayetana Guillén Cuervo "shakes" the public with 'Open Doors'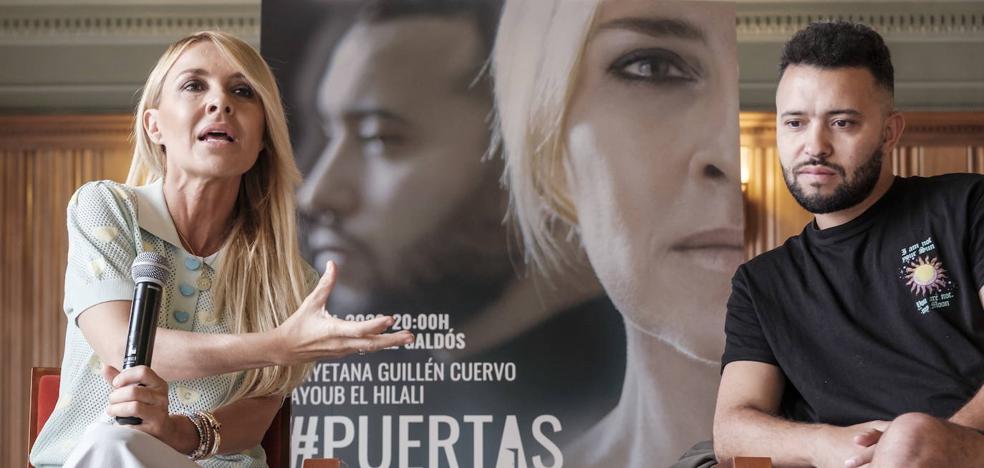 The actress and Ayoub El Hilali star in the show, directed by Abel Folk
The actress and presenter
Cayetana Guillen Cuervo assured this Friday that the play 'Puertas Abiertas', which is being performed this
Saturday, from 8:00 p.m., at the Pérez Galdós Theater in Las Palmas de Gran Canariaseeks to "shake the viewer and his soul" with a "beautiful text" in which the public "moves emotionally and intellectually" in favor of each protagonist.
At a press conference, accompanied by the
actor Ayoub El Hilali with whom he stars in the show, Guillén Cuervo also pointed out that the work seeks to appeal to the capacity for reflection, the critical spirit, prejudices and fears and the importance of listening to the reasons of the other and
"embrace the difference".
'Open Doors', directed by Abel Folk and written by the journalist Emma Riverola, is set in Paris just after the terrorist attack on the
bataclan rooma day in which public transport stopped working, streets were closed and the "open doors" movement that invited citizens to take refuge in houses in the city went viral, which became the starting point of the play, which begins when a Parisian woman welcomes a Muslim citizen into her apartment.
«
It's a face to face hour and a quarter in which we hold hands and both take flight through the liturgy of the stage and the beauty of the artistic fact and its power", reflected the also
President Academy of Performing Arts of Spain.
After touring for a year and a half with this function, Guillén Cuervo believed that the text "says very important, necessary and timely things" since
"modifies and changes the human being."
"The performing arts provide good things and we feel very useful with this text," said the actress, adding that although the play does not focus on terrorism, part of
"that pain" to face two characters "who represent many things".