Causeur deactivates Baskonia and gives victory to Real Madrid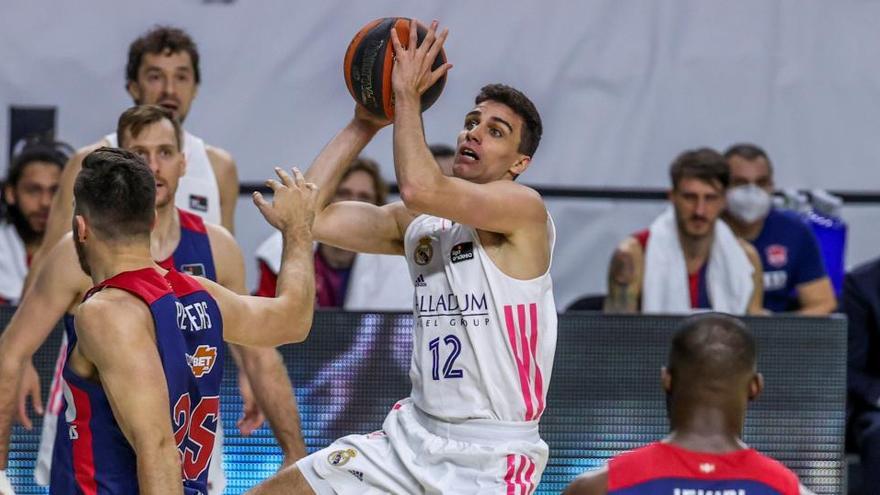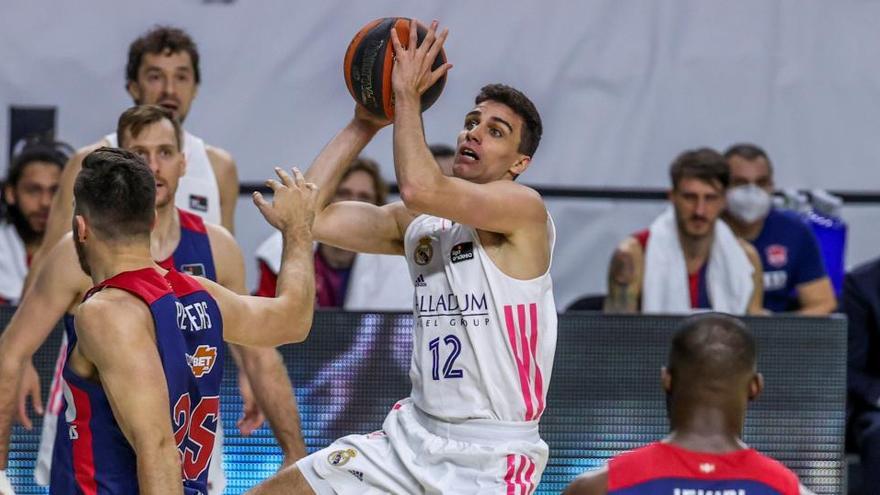 The irruption of Fabian Causeur, lethal, which with 21 points in the second half led the transformation of the Real Madrid after the break, he allowed the leader of the ACB League stay undefeated one more day, and they go twelve, at the expense of TD Systems Baskonia that, although he completed two very good first quarters, he ended up paying dearly for his disconnection in the third and ended his good league streak (92-83).
They faced each other in the early match of matchday 17 the undefeated leader and the current ACB champion, two teams in shape that had been without two of their essential men since the beginning of the season. The Argentine Luca Vildoza was low due to low back pain in the Vitoria and his compatriot Facundo Campazzo is already history at Real Madrid after his departure to the Denver Nuggets of the NBA.
From the initial jump, both of them took advantage of all their artillery. The exchange of blows, with successive hits from the perimeter, kept the balance on the scoreboard while sparks jumped in the area in the duel of giants between Walter Tavares and Youssoupha Fall, in which a spectacular cap from the Cape Verdean stood out that ended with his rival on the floor.
The alternatives followed each other in each attack until two consecutive triples by Argentine Gabriel Deck and a third by Usman Garuba in the last white rush gave air to the locals at the end of a high-voltage first act (25-19, min 10).
In the resumption, attacks continued to be imposed on defenses, especially on the visiting side. A partial start of 2-12, culminated with a triple by Zoran Dragic, returned the command to the Vitorians and forced Pablo Laso to stop the game to re-connect his team, who in three minutes went from winning by six points to see four below.
Immediately, the waters returned to their course. The triples kept happening in both hoops with percentages close to fifty percent and the clash was balanced with Llull and Dragic as the most successful men. The Slovenian, with nine points in as many minutes, was key in the Baskonia comeback in the second round.
Although Real Madrid had several opportunities to get back in front in the final minutes, Dusko Ivanovic's men were able to go into halftime ahead after a vibrant first half that was decided by small details and in which great actions were seen in both sides (40-43, min 20).
The whites came out of the dressing room more toned. They pressed back and regained command many minutes later in front of a Baskonia that could not find solutions in attack and was diluting in an alarming way. The panorama did not like Dusko Ivanovic, who called his team to chapter ahead of schedule, although he continued for several minutes without finding solutions to the blackout of his team.
The baskonista drought lasted for five and a half minutes in which they were unable to score a single point. After twenty minutes rowing against it, Real Madrid were now enjoying themselves in a great way, with Fabian Causeur (ten points in the third quarter) turned into the main nightmare of the Basque team.
A partial in favor of 15-0 began to tip the game in favor of the hosts, who took oil in each attack and ended up drying their opponent in an impeccable third act (28-15) that allowed him to reach the last ten minutes with a dozen margin points as booty (68-58, min 30).
Causeur kept doing his thing, well supported by Trey Thompkins, but Baskonia, true to their style, did not give up and began to row knowing that they have plenty of arguments to stand up to any rival. He got to six on several occasions with Pierria Henry -author of 21 points- doing his thing, which did not affect a Real Madrid that continued with one more march, putting its best basketball into practice, and responded to each threat with success.
Sergio Llull was in charge of setting the mark for the Whites' victory with two final quality actions that allowed a leader to continue undefeated for another week who passed his first league exam with outstanding marks without Facundo Campazzo in his ranks
Data sheet:
92 – Real Madrid (25 + 15 + 28 + 24): Laprovittola (3), Abalde (9), Deck (15), Garuba (6) and Tavares (8) – starting team – Thompkins (15), Taylor (-), Causeur (21), Llull (12), Rudy ( -), Alocen (-), Randolph (3).
83 – TD Systems Baskonia (19 + 24 + 15 + 25): Henry (21), Giedraitis (9), Sedekerkis (4), Polonara (13) and Fall (2) -five starters-, Dragic (14), Peters (13) Kurucs (5), Jekiri (2) and Diop ( -)
Referees: Carlos Peruga, Arnau Padrós and Cristóbal Sánchez. Peters eliminated for fouls
Incidents: Advance match of matchday 17 of the Endesa League played without an audience at the WiZink Center in Madrid.