Castells calls the Southern Summer University "excellent"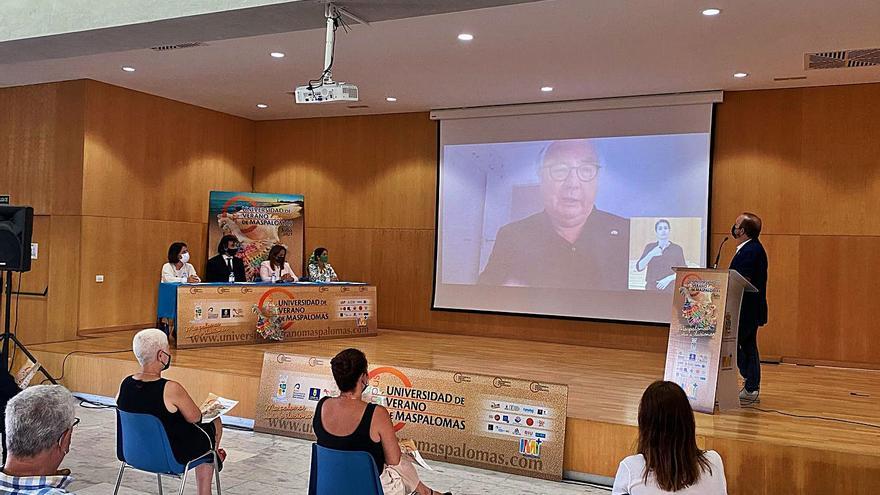 The Minister of Universities, Manuel Castells, attended by videoconference the opening ceremony of the XXIX Summer University of Maspalomas, which was held this Friday at the Cultural Center for the Elderly of San Fernando, with the interventions of the Deputy Mayor and Councilor of Culture of San Bartolomé de Tirajana, Elena Espino; the vice-rector for Internationalization of the University of Las Palmas de Gran Canaria, Jin Taira; the Deputy Minister of Equality and Diversity of the Government of the Canary Islands, Silvia Jaén; the Minister of Territorial Policy and Landscape of the Cabildo de Gran Canaria, Inés Miranda, and the acting director of the Maspalomas Summer University, Michel Jorge Millares.
Castells stated that "the University is the most important institution in society." The minister wanted to highlight that "the society in which we live is the society of knowledge and information, where the University is the producer of knowledge and the one in charge of transmitting it to the whole of society.
Manuel Castells, referring to the different Summer Universities, said that they are a place for debate, for the transmission of ideas in freedom and where knowledge and ideas are transmitted to the whole of society.
The Minister of Universities ended his speech by expressing his support for the Summer Universities and especially Maspalomas, describing their program as excellent and announcing his presence next year, regretting that he could not be in this edition.
The XXIX edition of the Maspalomas Summer University will be held, from July 1 to 24, with a renewed program that offers more than 30 activities, with new themes, online courses, musical activities and outdoor events, among other novelties.
For her part, Elena Espino stated that the Maspalomas Summer University "is a very valuable tool that gives prestige to our municipality and crosses borders."
Inés Miranda expressed the Cabildo's special interest in the development of this edition "because its contents innovate in methodology and organization, and because its courses and workshops connect with the needs and priorities of Canarian society in these difficult times"
Meanwhile, Silvia Jaén pointed out that "from the Department of Equality we try to make the Summer University a tool for equality in the Canary Islands." Jin Taira, after apologizing to the rector, who could not attend, said that the dream of the rector of the ULPGC is to fight for the internationalization of this event, "that it goes as far as possible and that it can replicate a more ambitious model than that of the Menéndez Pelayo International University ».
The acting director of the University, Michel Jorge Millares, hopes that this edition will serve so that the thirtieth "can be made into the International Campus of Maspalomas, which deserves and needs this place."