Casado proposes aid of 1,000 million for La Palma and demands that the approved ones arrive now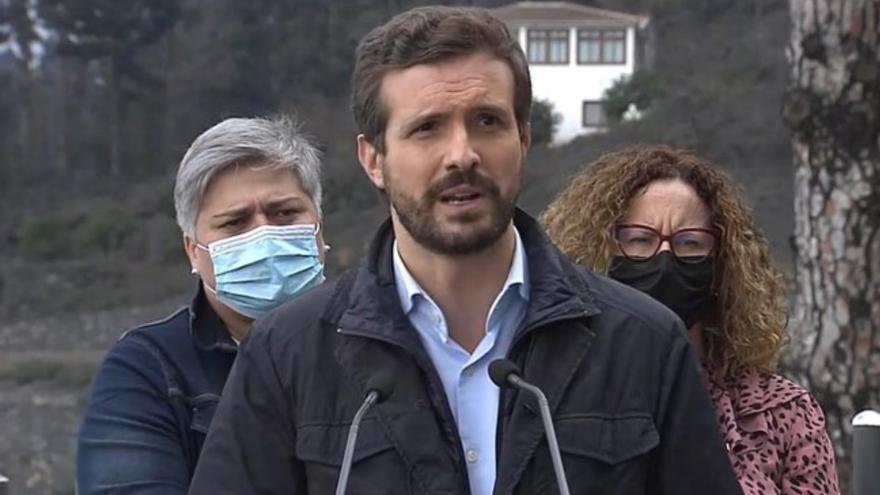 On his second visit to La Palma to follow the evolution of the Cumbre Vieja volcano and meet with neighbors affected by the eruption – after the one he carried out on September 22 -, Casado pointed out that "all games go hand in hand" in the face of what is happening and has stressed that this was how it was seen this Thursday in the Plenary of Congress.
"We were all palm trees, we all said that our hearts go out to the beautiful island and we are all going to pitch in so that the aid arrives as soon as possible," said Casado, a day after Congress validated the decree containing a package of aid for an amount of almost 214 million euros to alleviate the damage caused by La Palma eruption with the support of all political formations in the Lower House, with the exception of Vox, which abstained.
The president of the PP has affirmed that the Government of Spain has "all the support" of the PP so that these aid approved by decree arrive "urgently" because "there is no time to lose", since there are "seven thousand affected families and one thousand families they have lost everything. "
Casado has indicated that, in addition to supporting Sánchez in the announcements that Sánchez has made with aid to the island, he wanted to request that this money arrive "as soon as possible" and that "it does not happen as it happened with Filomena or the Avila fires" because, in his opinion, those affected cannot wait months for them to arrive.
Also, the leader of the PP has presented his party's proposals to help La Palma trees and which have been registered as amendments to the public accounts. "We do not understand why those PGE that are being debated do not bring anything to La Palma," he complained.
"There is no excuse" to object
Casado has indicated that with what is happening it is "key" that the PGE include "direct and territorialized aid." For this reason, he has ensured that his parliamentary group have presented amendments "in which up to one billion euros is reached in multi-year allocations for immediate aid to the island, starting this year for 200 million."
In addition, he stressed that the Government "would not have any excuse to oppose" when they are debated in committee next week, given that, as he explained, they do not do so "in charge of any item" that the Government included in the PGE but rather to charge of European funds that "are justified for this type of natural catastrophe."
The president of the 'popular' has indicated that those billion would be destined mainly to the reconstruction of roads, tourist infrastructures, credit lines for the self-employed, and aid to the primary sector – bananas and fishing – as well as for transport. "It is about giving an economic expectation to this land so that it can move forward," he concluded.