Casa Galdós celebrates the life and work of the writer in 'The human truth'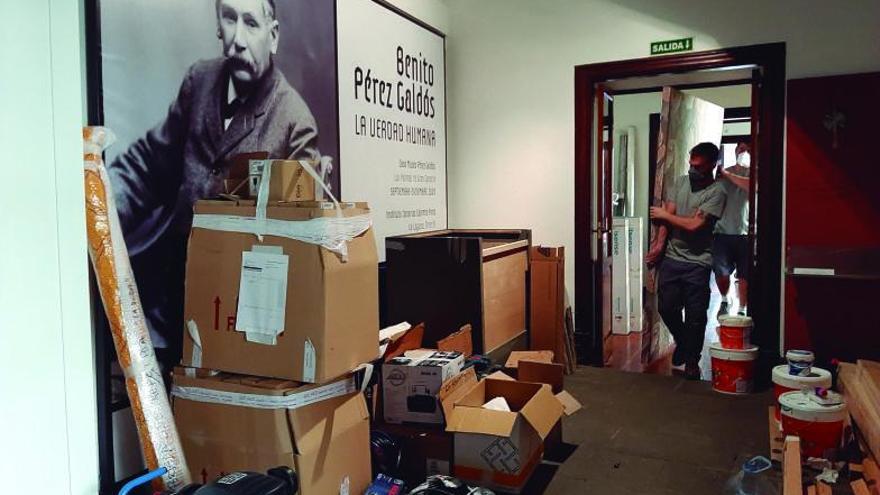 The Pérez Galdós House-Museum, in the capital of Gran Canaria, finalizes the assembly work of the exhibition Benito Pérez Galdós, the human truth, which pays tribute to the universal writer, with a view to its opening to the public, scheduled for this Thursday, September 24. The health crisis due to Covid-19 disrupted the exhibition dates in Gran Canaria between April and August.
The aforementioned sample arrives at the House-Museum after its exhibition at the National Library in Madrid, where it was from November 1, 2019 until February 16, and through which some 70,000 people passed. In the capital of Gran Canaria, it can be visited until December, and then transferred to the Cabrera Pinto Institute in La Laguna, where it will remain between January and March.
This project, which is part of the activities for the centenary of the death of the author of the National Episodes, and which occupies a large part of the House-Museum facilities, is organized by the National Library of Spain, Acción Cultural Española (AC / E ) and the Government of the Canary Islands, in addition to the collaboration of Casa Galdós.
The exhibition had to be adapted to the dimensions of the Galdós House, in a smaller version than the one that could be seen in Madrid, which included more than 200 works linked to the Gran Canaria writer, including manuscripts, books, sculptures, canvases and engravings .
Past and present
The funds of the National Library are joined by those of the Pérez Galdós House-Museum – the center gave 14 pieces to the National Library, including the portrait of the writer signed by Sorolla – as well as those of the private collections of the curator of the exhibition , Germán Gullón and Galdós's great-grandson, Luis Verde.
Curated by the writer Marta Sanz and the Galdosian specialist, Germán Gullón, in the different sections of Human Truth, the life and work of the writer, the main renovator of the 19th century Spanish novel, is disclosed, presenting the cultural, historical and political context of time and offering various thematic paths to trace a biographical and literary journey of the character. It also explores the validity and relevance of Galdós in the present, through the testimonies of contemporary authors, their admiration and influence.
The assembly work began on August 18. The sample arrived by sea in a container at the port of Las Palmas de Gran Canaria on September 10, the unloading of which required up to six trucks.