Cartoon Business brings together a hundred professionals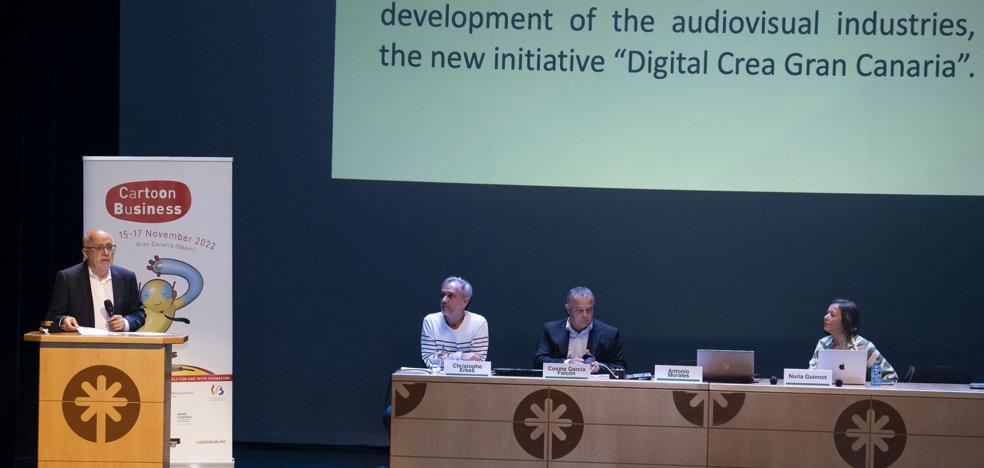 The objective of the working days is to publicize the business development and growth strategies of the animation industry
The president of the Cabildo de Gran Canaria, Antonio Morales, inaugurated this Wednesday morning
Cartoon Business 2022an international meeting between production companies, investors, television channels and other companies and entities related to digital animation that
is celebrated on the island for the third consecutive year.
The event brings together more than one
hundreds of industry specialists with the aim of publicizing business development and growth strategies in the European industry through 'networking' sessions, conferences and talks with experts.
During the presentation, Morales highlighted the firm commitment of the Cabildo de Gran Canaria to promote the audiovisual sector and, specifically, that of digital animation, with actions such as the recent launch of the Digital Crea Gran Canaria initiative, included in the
global strategy diversification of the economy and promotion of new employment niches.
«
We started this strategy just six years ago and in this time we have already begun to reap fruits that make it easier for Gran Canaria to gain a foothold in this industry.. Several international and national companies already produce regularly on the Island and, in addition, have incorporated local talent trained jointly with the companies," he highlighted.
In this sense, the island official explained that the Cabildo's lines of work are mainly based on promoting tax incentives for national and international productions,
with complementary actionss such as the training of local talent, the offer of specialized services and facilities or financial support.
Cartoon Business 2022 returns to Gran Canaria
with lectures by renowned industry professionals, such as representatives of Disney, Cartoon Saloon, Jellyfish or TVE. On the other hand, the exchange of ideas and the creation of businesses will be encouraged through meetings between the different participants and B2B meetings.
The event is promoted by the Cabildo de Gran Canaria, through the Economic Promotion Society
(SPEGC) and the Gran Canaria Film Commission, and co-financed by Creative Europe MEDI.
Digital Create Gran Canaria
is an initiative of the SPEGC, which aims to expand the possibilities for virtual production on the Island with new tools that improve the quality and efficiency of the processes. In addition, it will promote the local economy by facilitating access to large productions for SMEs on the Island and promoting new training actions.
This project is funded
with European funds Next Generation within the framework of the Recovery, Transformation and Resilience Plan (PRTR - Spain Can) through the Ministry of Economic Affairs and Digital Transformation.