Carmen Laffón will close the new permanent collection of the Reina Sofía Museum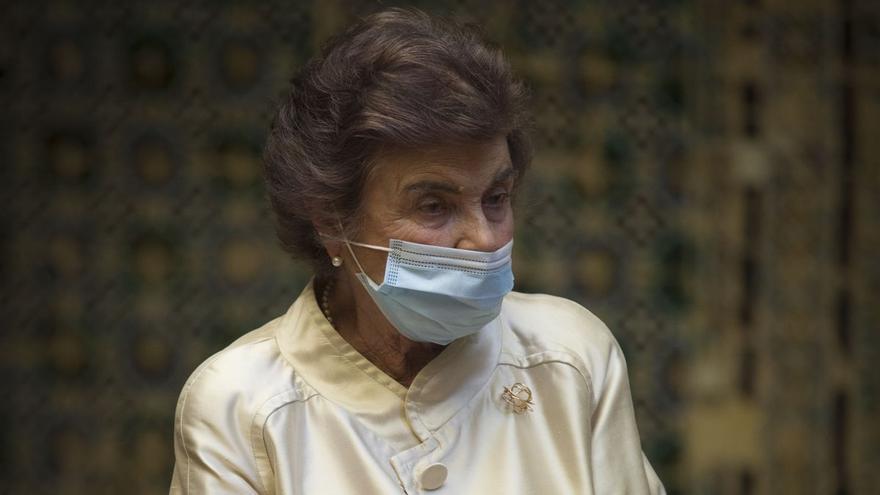 The work of the Andalusian artist Carmen Laffon, who died this Sunday, will close the tour of the new permanent collection of the Reina Sofia Museum, which will open in November.
The works have been acquired thanks to the donation of Helga de Alvear and of Mario losantos and belong to the series of "The salt", The last work of the artist dedicated to the Bonanza de Sanlúcar de Barrameda salt flats, in Cádiz, where she lived.
Laffón's most recent work, who at 87 years he worked until his last days, It is of exceptional quality, in the words of Manolo Borja-Villel, director of the Reina Sofía Museum: "There are artists like Carmen, whose latest work surpasses the rest."
Borja-Villel came across Laffón's works this summer at the "La Sal" exhibition at the Botanical Garden from Madrid, just when I was looking for a closure for the tour of the new permanent collection that will open at the end of November.
The new route – of which some sections have already been announced – will reach the XXI century, until moments as recent as the pandemic, the electoral victory of Trump, and will go through the attack of the Twin Towers or the crisis of 2008.
"It is an appropriate, poetic and even hopeful ending for a story that goes through exile, the Civil war, the dictatorships, and many other things ", explains Borja-Villel to Efe.
The museum has acquired a series of eight bas-reliefs made in plaster, an element that gives the works of fragility "that reflects very well" the current moment.
The exhibition will allow us to know the way of conceiving the landscape of Laffón (Seville, 1934-2021), especially in this last stage, but not as a look outside, but as a space in which borders are blurred.
"Carmen, in an intuitive, humble and apparently traditional way, is forcing painting, we see that there is a tension between a figurative element and the landscape. We perceive a natural world, but it is not outside of us ".
In the final section of the new route you will also be able to see works by the artist Joan Jonas, related to her project "Moving off the land", from TBA21, and a piece by Virginia Gil on Sahrawi refugee women.
The museum has other works by the artist such as "The girlfriend" (1960) and "Cepas" (2006), the latter two have been exhibited so far in the permanent collection.
The series "La Sal" has been exhibited in the last year in the Andalusian Center of Contemporary Art , the Patio Herreriano and the Botanical Garden of Madrid and, now, it will do so permanently in the MNCARS.