Carmen Acosta performs the opera 'La voz humana' at the Galdós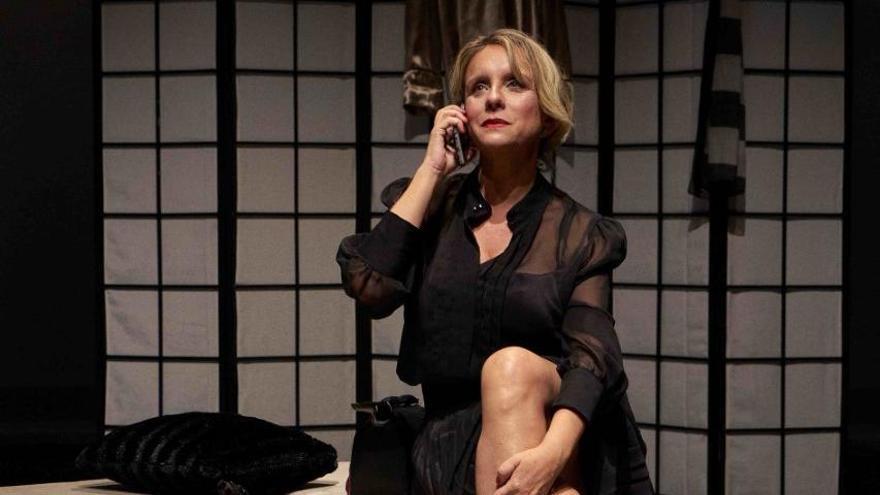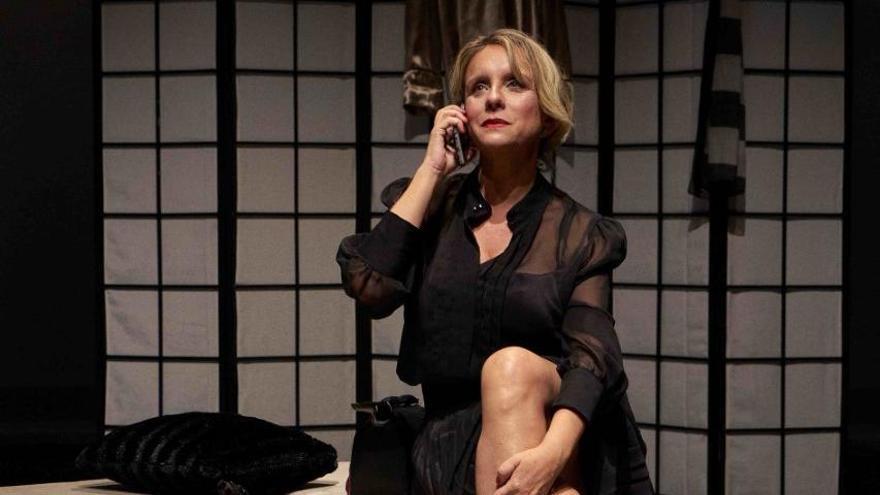 The soprano Carmen Acosta and the pianist Juan Francisco Parra will perform on March 19 at 7:30 p.m. opera in one act Human voice. The Poulenc music it is incorporated into the monologue written by Jean Cocteau and turned into a play in 1930, to be turned into the opera for a single character that we know today. In the story, Cocteau reels off the raw human feelings. The love, hatred, disappointments, fear, contempt or rejection become in this piece a masterpiece that defends the only female character (She) with the only company of the music of a piano.
This opera is part of the cycle Music and Literature that the Pérez Galdós Theater dedicates to works that interrelate both artistic disciplines. Music and text share a leading role in the proposals of this open and multidisciplinary cycle of the Pérez Galdós Theater. Own productions, commissioned programs, touring shows and recitals in which the multiple connections between music, literature and theater are explored. Human voice is the second installment of this cycle that opened on February 18 with All heaven, a dramaturgy by Mario Vega based on a selection of poems by Canarian authors prepared by Yeray Rodríguez.
Carmen Acosta placeholder image
The coloratura soprano Carmen Acosta studies at the Conservatorio Superior de Música in Santa Cruz de Tenerife, her hometown. As a clarinetist, she was a fellow of the Tenerife Symphony Orchestra. Later he perfected his singing studies in London with Peter Harrison (Guildhall School) and drama with Delia Lindon (Royal Academy) and in Milan with Sara Sforni Corti. She graduated in singing from the Liceo Conservatory of Barcelona with Carmen Bustamante receiving the end of degree honor award.
He sings regularly in Spanish, Swiss and German opera houses where he has played the great characters of the belcanto as for example from Rossini – Corinna from Il viaggio to Reims, Cristina from Eduardo and Cristina, Fiorilla of Il Turco in Italyby Donizetti Lucia de Lucia of Lammermoor, Marie de The Daughter of the Regiment, Adina from L'elisir d'amore. Of Mozart has singing the role of Blonde of A rapture from the seraglio, Queen of the Night The magic Flute, Zerlina from "D. Giovanni, Rosina from The simple feintby Handel Cleopatra from Julius Caesar and de Meyerbeer, Berthè de The profit. Play with fire de Barbieri, the latter under the direction of Miguel Narros, Norina by Don Pasquale by Donizetti and La Manon in Manon by Massenet.
He also performs concert work with works such as: The creation by Haydn, Stations by Haydn, The Messiah by Handel Carmina Burana by Carl Orff, The Kaffee kantate of Bach, La Visperae Solemme de Confesori Mozart etc .. with conductors of the stature of A. Ros Marbá, Arturo Tamayo, Alberto Zedda, Víctor Pablo Pérez, Adrian Leaper, Herbert Handt, Ivan Törz, John Lubbock, along with Orchestras such as the Lausanne Chamber Orchestra, Los Virtuosos from Prague, Tenerife Symphony Orchestra, Malaga Symphony Orchestra, Gran Canaria Philharmonic, Madrid Community Orchestra, Opernhaus Halle Orchestra, Ulster Symphony Orchestra, Spanish Radio Television Orchestra …
Has recorded on CD for Bongiovanni Eduardo and Cristina by Rossini (Cristina) in the only worldwide representation of the work and which was broadcast live on Berlin Radio and for Hänsler Clasic Great Mass of Glory by Rossini together with the tenor William Mateuzzi. La Cantata del Café and the world premiere of Wonderful and Burlesque coffee life by Jorge Pepi with the Laussane Chamber Orchestra conducted by Arturo Tamayo. He has recently recorded in Barcelona, ​​unpublished works by belcanto related to Spain, with songs by Pauline Viardot, Isabel Collbran, María Malibrán and Rossini and Manuel García.
She has been invited to participate in the 150th Anniversary Gala of the Teatro de la Zarzuela in Madrid together with the best singers of the national lyric. He has inaugurated in Barcelona the Auditori del Conservatori del Liceu together with the Liceu Chamber Orchestra before Her Majesty Queen Sofía interpreting Mozart concert arias.
He recently gave a tribute recital for the UNHCR foundation with songs by Catalan composers at the Liceo Auditorium in Barcelona and inaugurated the San Lorenzo del Escorial Summer Festival with Carmina Burana together with the Spanish Radio Television Orchestra, directed by Adria Leaper .
Juan Francisco Parra
He began his musical studies at the Superior Conservatory of Music of Las Palmas de Gran Canaria with professors Susa Mari Suárez Verona and Francisco Martínez Ramos. Upon completing the professional degree, he completed his training at the Berne Conservatory of Music and Theater, in Switzerland, under the guidance of Professor Michael Studer. He also attended the Lied Chamber Music and Accompaniment classes with professors Heinrich
Forster, Kurt Weber, and Tomasz Herburt. In 1992 he finished his higher studies in Switzerland.
Later, he presented himself to the piano competition Pedro Espinosa obtaining the first Prize. In that same year he made a concert tour of Germany, Austria, Hungary and Italy.
Parra directs his career to accompanying singers and chamber music, participating in various concerts and recitals. In 1998 he was in charge of inaugurating the Chamber Hall of the Alfredo Kraus Auditorium, where he also participates as a pianist in singing competitions. Alfredo Kraus Y Gran canaria.
He has collaborated with the Gran Canaria Philharmonic Orchestra in different concerts and in 2000 he participated in the tour that took place in Germany, Switzerland and Austria, playing in the most important auditoriums in Europe. Among the directors he has worked with, we can highlight Sir Simon Rattle, Miguel Ángel Gómez Martínez, Adrian Leaper, Guido Ajmone Marsan, Marco Armiliato, Pedro Halffter, Miquel Ortega, etc.
He has participated as a repertoire pianist in different courses, such as those conducted by Mirella Freni, Cristina Gallardo-Domâs, Suso Mariátegui, Tom Krause and María Orán.
It has with the North American seal Crystal records two recorded discs (CD 771 and 772) of chamber music with clarinetist Radovan Cavallin, horn José Zarzo, Carlos Rivero on cello and violinist Víctor Parra. He also has recordings for the Rals and Summit Records labels. He has accompanied in various recitals in different countries such as Wigmore Hall in London, Opera City Hall in Tokyo, Yokosuka Arts Theater, Zarzuela Theater in Madrid, Pushkin Museum in Moscow, Philharmonic Theater in Oviedo, Principe Felipe Auditorium in Oviedo, Villamarta Theater in Jerez, El Cairo, Budapest, Juan March Foundation, Rosalia de Castro Theater in La Coruña, etc. Among the singers with whom he has collaborated we can highlight Leo Nucci, Celso Albelo, Cristina Gallardo-Domas, Ana María Sánchez, Jorge de León , Desirée Rancatore, Pancho Corujo, Roberto de Candia, Simón Orfila, Mariola Cantarero, among others. He is Professor of Repertoire and Head of the Singing Department at the Superior Conservatory of Music of the Canary Islands.
Artistic file
Jean Cocteau, libretto
Francis Poulenc, music
Carmen Acosta, soprano
Juan Francisco Parra, piano and musical direction
Víctor Manuel Dogar, dramaturgy and stage direction
Yaiza Pinillos, costume design and set design
Aaron S. Ramos, Lighting Designer
Mercedes Bencomo, tailoring
Luisa Castañeda, set design assistant
Rodrigo Cornejo, posters
César Martín, producer
Vector Ideas, company
Carolina González, production assistant
Sara Vega, communication
Tickets are already on sale and can be purchased at www.teatroperezgaldos.es; as well as at the Alfredo Kraus Auditorium box office, from 4:00 p.m. to 9:00 p.m. from Monday to Friday. On the day of the performance, the Pérez Galdós Theater box office will remain open from two hours before the start of the show.