Carmelo Cabrera: «I wanted to change the style a bit, I was quite misunderstood at first»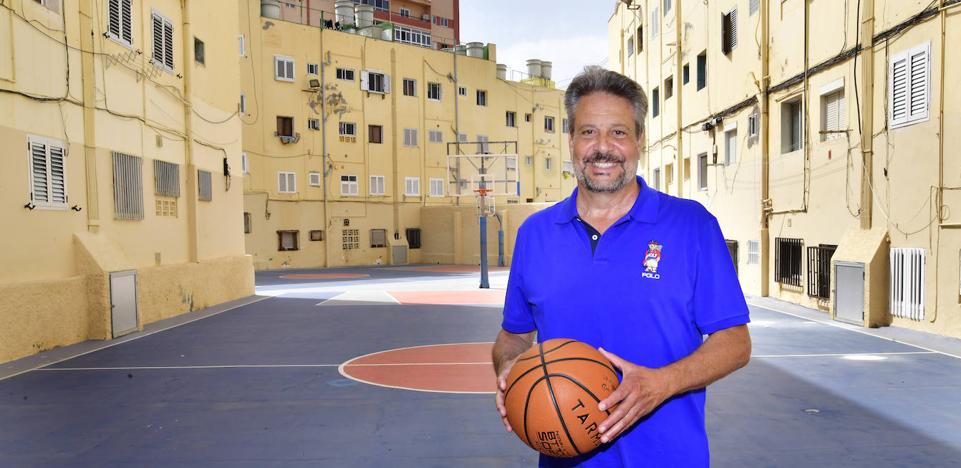 endesa league
The Gran Canaria myth receives this Sunday the 'Legend' award at the third edition of the Spanish Basketball Gala, which will take place from 8:00 p.m. at the Hotel Santa Catalina
A treat for eternity for those who revolutionized basketball with their game. Carmelo Cabrera Domínguez (Las Palmas de Gran Canaria, January 6, 1950) can boast of having been capped by Spain on 102 occasions and winning with Real Madrid (1968-1979) four editions of the European Cup, ten of the ACB League, seven from the Copa del Rey and three from the Intercontinental Cup.
What does this recognition mean for you? basketball?
–It is the most important award I have received in my sports career, that of being a legend, well for that you have to be a few years old. He has touched me now, after my retirement 34 years ago. It makes me tremendously excited that they still remember me, that I have left a small trail in Spanish basketball. That is appreciated and, in addition, sharing it with another great star such as Amaya Valdemoro. I just have to give a lot of thanks to those who have appointed me, but also to all my colleagues from the Gran Canaria Basketball Association, from Tenerife, from Valladolid, from Real Madrid... Of all the ones in which I have been able to play because it has to be a shared prize.
-You have enjoyed the beautiful...
-In an association and joint sport like basketball, it falls on one person, but thanks to everyone who has put up with me for many years, who has made me enjoy myself, who has shared my best moments with all these colleagues because there have been hundreds of companions because I have been in the Spanish team, in Europe, everywhere. I thank everyone who has made it possible for me to obtain this award, which, by the way, has to be shared with all of them.
–And with the addition of receiving it in Gran Canaria...
-Yes, it is the third edition and the first to be held outside of Madrid. That is very important and that they recognize it in your land, that they surround you with your family, your loved ones, your friends, my grandchildren, my colleagues... Everyone is crazy because a canary give the national basketball legend award. I am euphoric, very happy and very grateful to everyone. As I was distributing from the base position, I love to continue distributing game and assists to share it with everyone.
–He completed an unforgettable career and a source of pride...
-The other day the biographer reminded me that he had won 42 titles from children to the national team. I did not expect. I wanted to change the style of basketball a bit, at first I was quite misunderstood. It seems that you go out of some canons when my game is very peculiar. I love the spectacular nature and the imagination of now, the self-confidence, I see myself very much reflected in another canary like 'Chacho' -Sergio Rodríguez-, that happy game. People ask me how he played and, saving the distance because he was lucky enough to play in the NBA, to succeed with Real Madrid and delight us with that game, but it is the closest thing because of that spontaneity, that creativity and always doing something new , which is always difficult, take it out of your hat and change basketball a bit. Seeing it in color and not in black and white and three-dimensional, that is the most beautiful thing about basketball.
–Precisely, 'Chacho' returns to Real Madrid this season. A new opportunity to continue enjoying your game in the Endesa League, right?
-Of course. I have bet on him, he has had an impressive season in Italy, he has maturity, leadership, creativity, altruism when it comes to sharing the game, of assuming responsibility even when it is necessary to have it and that makes it very great . Above all, because of that background that he has since it is very important and that Real Madrid has always remembered. I am glad that they continue to have canaries in their ranks, that is important, just as I would like there to be more canaries in our respective teams here, both in La Laguna and in Gran Canaria.
–At this event, the absolute national team will be present, which will play against Lithuania this Tuesday at the Arena (6:30 p.m.). How are you seeing that generational change without the Gasol brothers or Sergio Rodríguez himself?
-It is obviously difficult, but we have seen in the U-18 and U-20 that a lot of values ​​are coming out. I always bet on the base, I also bet because there is more participation of Spanish players in our ACB League, which is the second best in the world. All this is an important chain, but the selection now may have an important generational change to which it has to adapt. Figures like Gasol or Chacho have left, but there are still competitive people like Hernangómez and those young people who have been pushing. We're going to continue to hold the bar very high, but we've set it so high that matching it again is going to be quite difficult.
-He spoke before that he would like the Granca to have more canaries. What analysis do you make of that situation at the club? And also of the institutional and sports moment?
–That is the usual workhorse, that you have to sow to reap. You have to continue investing a lot in the base and have patience for new values ​​to come. That is the policy, the Cabildo is the one that takes the reins of the club and we are going to try again to recover the level of play we had and, above all, of fans with that roots that we have had in recent years. And set ourselves the goals of being in the Copa del Rey, playing in the Playoff for the title and being in a European competition. That's what it has for budget, for charisma, for cache and for everything... Gran Canaria deserves to be among the best.