Carmela gin bets again on art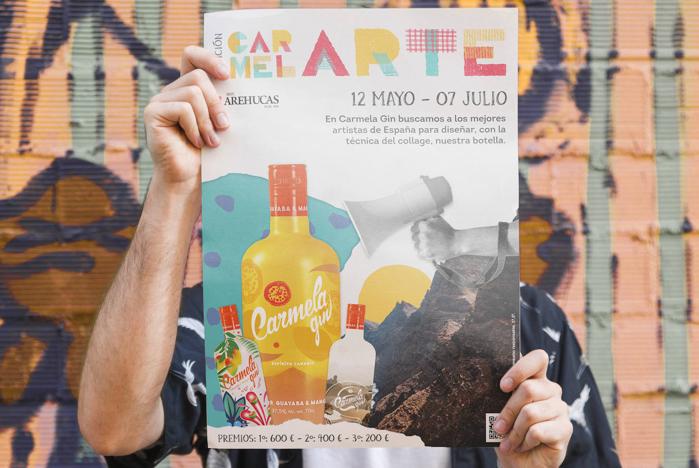 Carmela gin, the Canarian gin belonging to Grupo Arehucas, launches this May the second edition of "Carmelarte", a national contest through which it will search for the best artists in our country
Last year Carmela gin presented its new image, betting on a bottle format inspired by a cheerful, avant-garde, young and daring universe. Thus, within the different actions that the brand carried out, it launched the national contest
«Carmelarte»challenging the best artists in our country to design their bottle tribute to May 12, World Collage Day, using the collage technique.
The first edition of
«Carmelarte» had a very high participation (more than 35 graphic artists entered the contest). For this second edition, the Canarian brand seeks to exceed the number of entries not only by increasing the period of participation, but also the value of the prizes. Thus, the winner and the two finalists will receive €600, €400 and €200 prizes respectively, in addition to brand products and seeing their designs published on the various Carmela gin social media profiles.
To participate, those interested will have to upload their bottle designs to the official page of the contest through which the followers of the brand will be able to vote for their favorite design. On July 7, 2022, the 3 most voted designs will automatically become semifinalists and opt for the final prize along with 3 other designs chosen by a technical jury. These will value the originality, technical, chromatic and compositional quality of the work as well as the adaptation of the design to the bottle format. The 6 semi-finalist designs (3 most voted on the official page of the contest and 3 chosen by the jury) will choose to be the winners of this second edition of
"Carmelarte".
Carmela gin is a gin flavored with natural extracts of tropical fruits that make it impossible to doubt its island origin. Its touches of mango and guava take the consumer to the Canary coasts, in addition to having several botanicals that make it even more unique. It is original and fun, for its flavor, for its Canarian spirit and for its renewed bottle.
The contest will take place from May 12 to July 7, 2022 and the winner and finalists will be announced on Friday, July 8 through Carmela gin's social networks.
To participate click HERE(https://pr.easypromosapp.com/p/939089)