Carme Barceló explodes due to the departure of Messi from Barça: "They have fired him"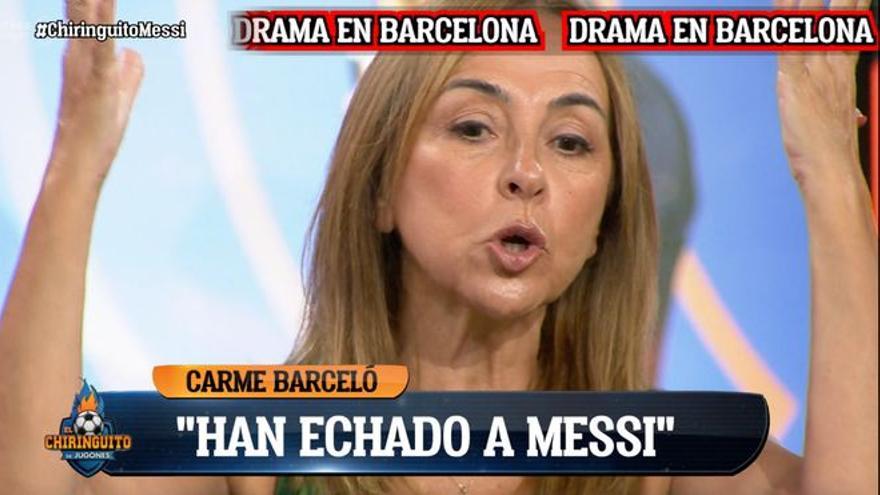 The departure of Lionel Messi from Fútbol Club Barcelona it continues to be one of the themes that is marking this beginning of August, generating a great amount of reactions. After the celebration of Joan Gamper Trophy, Carme Barceló exploded this past Sunday in 'El chiringuito de Jugones' showing her opinion on the departure of the Argentine footballer after a confrontation with José Luis Sánchez: "They haven't let him stay. They have thrown him out, and that people are crying for him, they will cry for him and it will take a long time before he can comfort himself a little".
"People are in a duel that has only just begun. It is a very great pain. Especially after seeing him say I don't want to go. He has started crying like a cupcake, and he was not prepared at all. Those are feelings and that is transferred to all the multimillionaire fans, who are having a terrible time, "said the sports journalist in a very forceful tone, also referring to Messi's farewell press conference.
In his dialectical confrontation with Sánchez, Barceló also asked for an end to the "coldness" that some people might feel at the departure of Lionel Messi: "It is good to lower the thermometer to -10ºC. Football is passion, it is love. Soccer is crying, laughing, screaming, getting excited and hugging. The people of Barça today are like this. With a broken heart".
"And you, José Luis Sánchez, with your usual acidity, it is impossible that you can understand it because you go with the numbers and the coldness. Today it does not touch that, dear. The only numbers that touch are those that Mr. Laporta has told them to this man and that they have made them tell him ", continued the gathering, asking for a little empathy in this regard:" Man, please. A little sensitivity. A little to get the idea of ​​the day we are living today. "
In addition, on the controversy that he did not attend the Joan Gamper Trophy either, Carme Barceló also had a very clear position on the matter: "Not Gamper or anything. He has done enough with what he has done (the farewell press conference). Goodbye. It is done. Period, and everyone who wants to mourn it. I think he has done what he had to do. "