Carlos Soler moves away from Valencia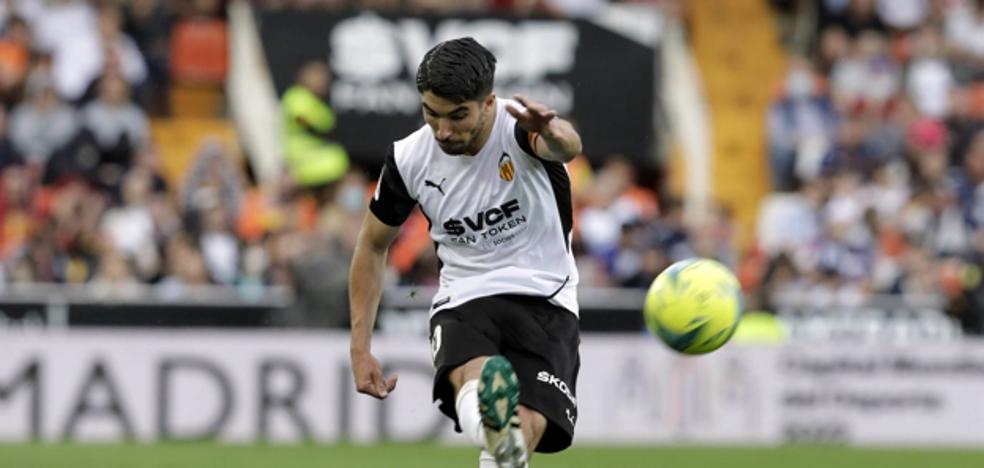 The midfielder is on the market and the club has already received the interest of Juventus, Barcelona and the rojiblanca entity due to the difficulties in reaching a renewal agreement
That Carlos Soler moves further away from Valencia every day is a reality. The youth squad is one of the players with the highest market value in the squad and given the economic difficulties that the entity is going through, he is one of the favorites to be transferred to alleviate the 70 million that Valencia needs to enter. Given the difficulties that the club is having in reaching a renewal agreement with the midfielder, the chances that Soler will end up being sold increase, and more so with the interest that big clubs are showing in the Spanish international.
Despite the fact that the market value of Carlos Soler is 50 million according to the specialized portal Transfermarkt, the fact that he is a player entering the last year of his contract means that his price decreases, since the other clubs know that they do not need overpay being able to wait a few months and take it for free. Anil Murthy, in the now famous leaked conversations, publicly threatened Soler with "killing him in the press" if he left for free after January 1, when he would be free to negotiate with any other team.
Valencia wants to make a 'renewal', for which Soler would extend his contract with the club to facilitate a sale that leaves more income in the Mestalla coffers, but the player's salary claims do not fit with the budgets managed by Meriton.
Currently the team that sounds the loudest and is in the best position to take it away is Atlético de Madrid, which is quite close to the claims that Valencia has. It is an express request from Simeone, as 'Las Provincias' have already advanced, who wants to reinforce the midfield with a player who has arrived and who fits into the 'Cholo' system. Although the rojiblancos will need to make room for him first, with departures like those of Thomas Lemar or Saúl Ñíguez, who would empty the center of the Atlético field for the arrival of Soler, who would reunite there with Kondogbia and Wass, with whom he won the Copa del Rey in 2019.
Several other teams have been interested in Soler, as is the case with the Italian teams Juventus and Napoli, although the player's preference seems to be to stay in Spain, knowing the good market he has here and what is good for him playing in our League of ahead of the 2022 Qatar World Cup to be held in November. That is why a better offer from Barcelona is also expected, which after the offer made by Anil Murthy, proposed a barter in which it included players such as Martin Braithwaite, Sergiño Dest or Riqui Puig, an offer that Valencia rejected. A possible sale of Frenkie de Jong would open the culé route for Soler, where he would meet again with Ferran Torres.