Carlos Sobera could not contain his laughter with Xabier's response in 'First Dates': "The mother who gave birth to me!"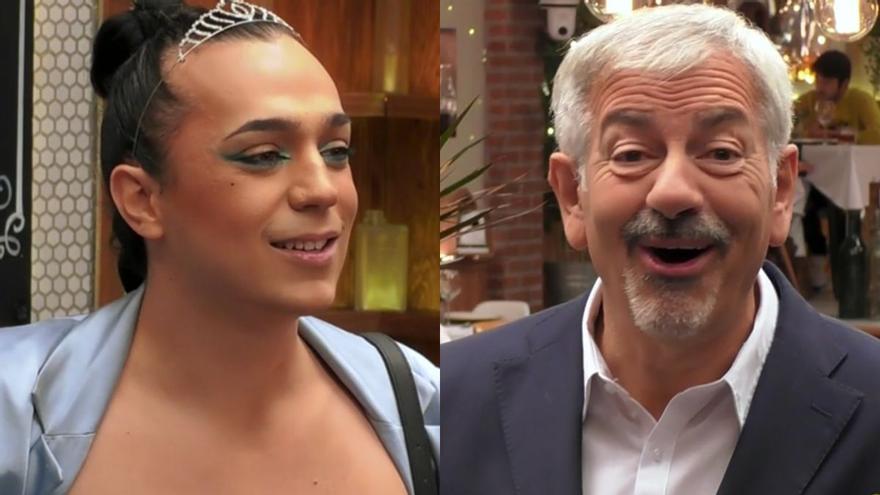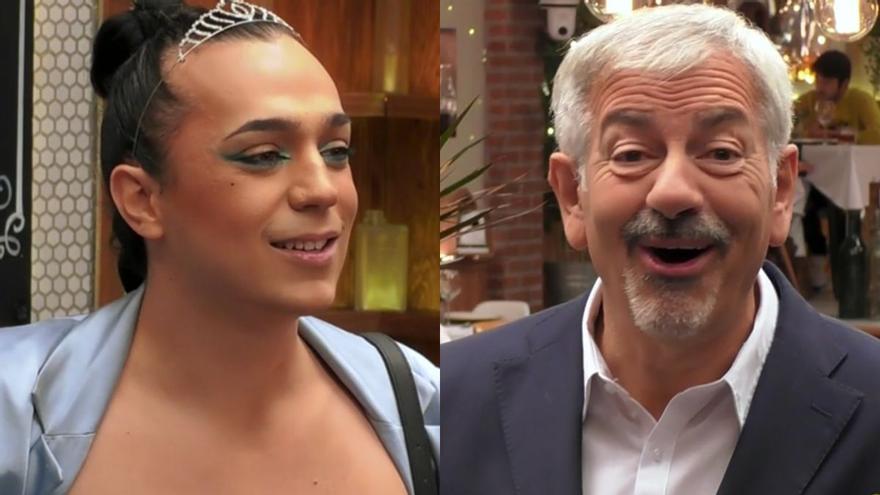 Xabier left his mark on his visit to 'First Dates'. East influencer A 21-year-old from Biscay entered the restaurant door assuring that Cupido has spit on him because the love: "I want my rights for being a beautiful person, I give humanity a good image. Imagine that the aliens They are watching us from above and they see all ugly people, because they will not want to go down ".
"They see me and I'm sure ET loves it. I'm an activist for the plastic surgery, ugly people don't. I always say plastic to the sea, no, plastic to my face ", Xabier assured in his first minutes in the program of Four.
Later at the bar, Carlos Sobera He asked the Basque boy how he would describe himself, showing all his self-confidence when developing his answer: "I define myself as a bohemian transvestite with a girlish attitude. I like a 'girlie'".
"But what is a 'Niñateo'?" Carlos Sobera asked him curiously, without expecting that Xabier would answer him with a 'zasca' that would make him laugh out loud along with Matías Roure and the twin waitresses at the bar of the restaurant: "I don't know, like, little things … young people's stuff. You will not understand, Carlos".
"Hey no, poor thing. By young people I mean Generation Z. You are young, but I am more," said Xabier so as not to offend the presenter. "The mother who bore me!", said Carlos Sobera spontaneously.
Leaving this moment aside, moments later, Xabier learned that he was going to meet Julen, a 24-year-old dancer from Gipuzkoa, who told his arrival how he made his sexual orientation known: "When I came out of the closet I announced it in social networks because I posted a photo with my boyfriend back then and the whole institute found out. "
"I wrote a letter to my mother because I am quite shy at home and it is difficult for me to tell her things. The best way was to write everything to him as I felt it and I left it in bed for him to read it, "explained Julen.
Once seated at the table, the truth is that the boys took advantage of the evening to get to know each other more thoroughly. In fact, Xabier did not leave anyone indifferent after claiming that handsome men should have more rights.
"Paris hilton should be the president of USAHe has no talent, but he has charisma and that is very important. It's how Jesus Christ has invented many things: gays, blondes, the selfie, the Kardashians, he has invented everything. If Paris Hilton wants to spit on me, let her spit at me, "said the boy.
Finally, the good vibes they had on their date was not decisive in the final decision. Xabier was interested in having more dates with Julen but, instead, he preferred that they were only friends, something that did not sit well with him.. "I'm going to take you to Tanzania to be eaten by lions for saying no, "said the Biscayan.