Carlos Sobera and Paz Padilla will present the 2021 Chimes in Mediaset from Vejer de la Frontera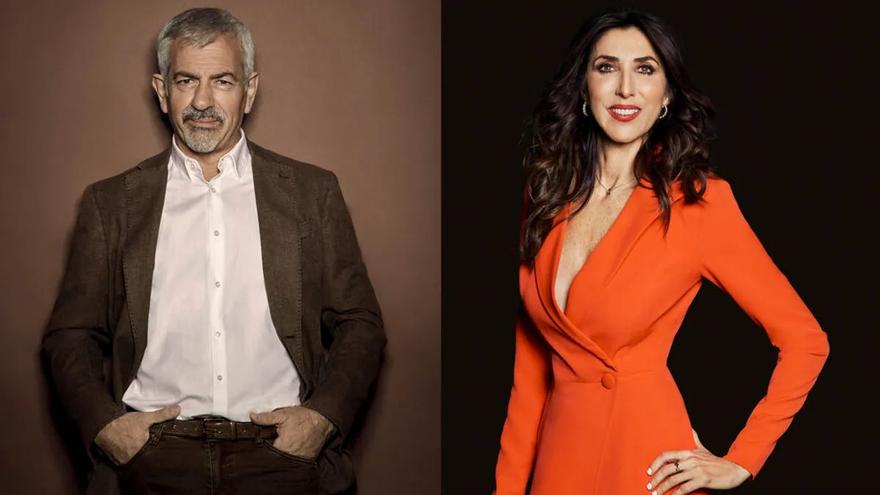 Mediaset has announced today the pair of presenters of the Chimes 2021. The chain chooses this year to bring together Carlos Sobera and Paz Padilla, which will not be from the traditional Puerta del Sol, but will travel to a town, as is already usual in the group.
The Cadiz town of Vejer de la Frontera will host this year the broadcast, which It can be followed through simulcast on all Mediaset channels except Boing. The production will be carried out for the second consecutive year in collaboration with Fénix Media Audiovisual, a content producer integrated into the Mediterráneo Mediaset España Group. Sobera and Padilla take over from Sandra Barneda and Christian Gálvez, who took the grapes from Gran Canaria last year.
It will be the second time that both presenters are in charge of the broadcast for Mediaset: Paz Padilla did it with Jesús Vázquez on New Year's Eve 2019 and Carlos Sobera was with Lara Álvarez and his 'First Dates' teammates on the last night of 2016. Sobera is also the only face that has given the Chimes since the three main channels: in 2008 he did it with Anne Igartiburu on La 1 and in 2011, 2012, 2014 and 2015 on Antena 3, on this last occasion with Cristina Pedroche.
Although there is no official announcement yet, everything seems to indicate that Igartiburu and Pedroche (and their respective partners) They will be their rivals on TVE and Antena 3. In recent years, both channels have been distributing the entire audience of the Campanadas, with the leadership of La 1 but with the Pedroche dress on their heels. In 2020, 6,107,000 viewers connected with the public (29.3%), 5,535,000 (26.6%) with Antena 3 and only 1,464,000 (7%) with Telecinco, to which we must add 1, 9% of Four.