Carlos Santos and Adriana Torrebejano declare their love for theater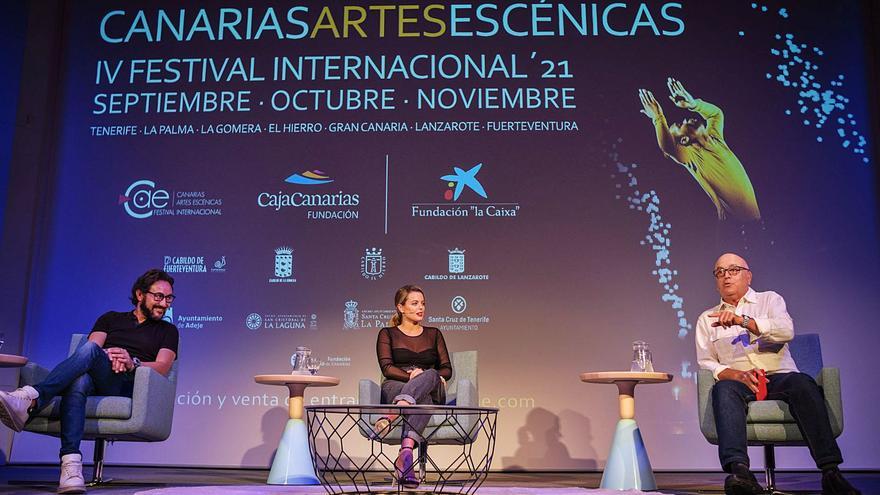 Personal experiences, anecdotes from their career and even the odd council gathered on stage in this meeting moderated by the festival's artistic director, Juan José Afonso, who said that "Carlos Santos and Adriana Torrebejano represent a young generation, who have had to face the theater and its evolution in a different way. Thus, the progress of the theater in Spain and the current situation of the sector were just some of the aspects addressed by the actors, who showed a wonderful harmony by declaring their love for the theater. Both have jointly carried out several projects and had to make a break in their agenda to attend this meeting in the Canary Islands. In fact, Carlos Santos is shooting a film in the south of Tenerife that prevented him from attending the meeting that took place with the media in the morning to present this new edition of CAE.
The theater, a sector as "beautiful" as it is "difficult." This is how the actress Adriana Torrebejano defined it, who also yesterday could not help but remember her recently deceased colleague Jordi Rebellón: «It has been so recently that it is very difficult to talk about him, but he was a very recognized actor wherever it was".
"These actors are from a young generation that faces a different theater"
"The theater is shelter, family and home." With that extreme affection Torrebejano defined his trade, one in which "no one is judged" and in which one can be "of flesh and blood" because it is on the stage where "people are real." For this reason, although throughout his career he has also faced film and television projects, he highlighted the magic of theater, which "has a plus that neither television nor cinema gives you," he said.
And not even the pandemic has diminished that passion for interpretation because, although the beginning of the health crisis caused "a brutal halt in our profession," it has also brought good things, such as the increase in demand and the need to put in New projects are underway, which is allowing many professionals in the sector to start up these days. "People have a need for theater, leisure, to enter new stories, perhaps also to forget a little about everything we have had to experience," he said.
Thus, this increase in demand is allowing the sector to live a golden age, with increased investment and the proliferation of new platforms that allow "it to rain down" and that "we can all live and eat from this profession" , not only the most prominent professionals in the sector, "those who have always had a job." And that is why "many actors benefit now, because there is more work, and those who always work are busy."
And all this is taking place in a country that "has nothing to envy the rest of the powers as far as the interpretation sector is concerned." «In this country there is a struggle and great projects are being carried out. There is, for example, La casa de papel, which is working all over the world, "said the actress.
«The theater is shelter, family and home; there is no judgment in it and the people are for real »
The actors did not hesitate to give some advice to those young people who want to dedicate themselves to this profession. Torrebejano stressed that the most important thing "is to love the profession" because "it is difficult for them to knock on your door." For this reason, he emphasized the need to have "enthusiasm and love" for what is done. The actress insisted on the importance of giving herself to the maximum at all times because "being an actor is not as beautiful as it is painted."
The fourth edition of CAE started yesterday and will run until November 24 in different theatrical spaces of Gran Canaria, La Gomera, Lanzarote, La Palma, Tenerife, El Hierro and Fuerteventura with the aim of bringing culture closer to all lovers of the performing arts. The varied offer of the programming has been so well received that many of the invitations or tickets are already sold out.