Carlos Sainz vindicates himself and will fight to win in Miami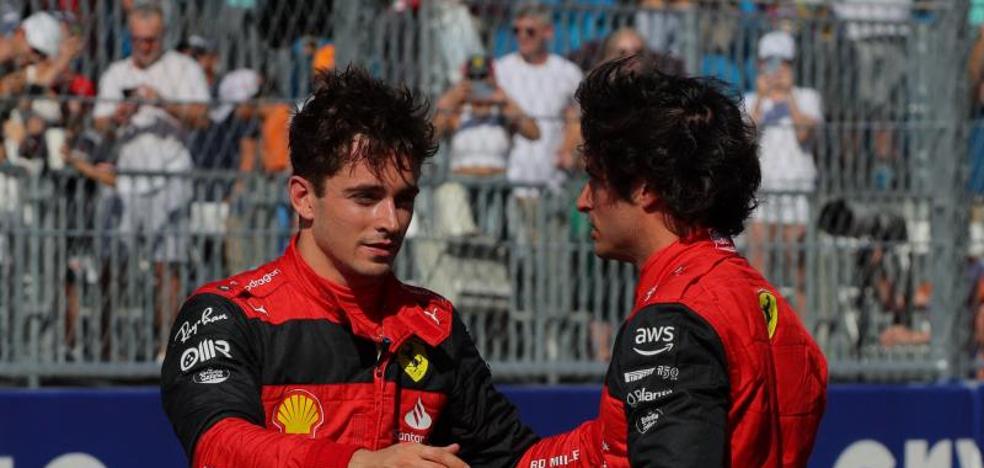 World Cup 2022
The man from Madrid fought until the last moments for pole, which belonged to his teammate Charles Leclerc, with Alonso eleventh
Carlos Sainz had a major challenge this weekend at the Miami GP. After the accident with which he closed his participation in practice on Friday, anything other than being in the fight this Saturday was going to be disappointing. He didn't hit the jackpot, but at least he did significantly improve what has been seen so far. He will start second, the best grid position so far this season, and also culminating a front row Ferrari that had not been seen until now. Sainz cannot fail, far from it, after what happened in the previous two races, and Charles Leclerc, who will start first this Sunday, needs him. He will have Max Vertappen and Sergio Pérez behind him, without a doubt his main enemies in a complex circuit that takes no prisoners.
In Q1 it was already clear that it was going to be a difficult classification. Although there was one less driver to compete with not to fall at the first change, since Esteban Ocon did not start due to the accident he had in the third free practice, many drivers had to make an extra attempt to avoid making a fool of themselves. One of them was a Lewis Hamilton, who once again made it clear that with this W13 he did not feel comfortable.
While the Ferrari and Red Bull drivers already had their classification tied to the next round, the seven-time world champion had to stretch the available time as much as possible so as not to embarrass the thousands of fans he has in the United States. Fernando Alonso also had to mount an extra set of tyres, but both he and the Briton were able to improve and get through to Q2.
The joy stopped there, at least for the Spanish. The search for a good lap by the Alpine strategists with the only driver they had on the track turned out to be regular. They waited until the last moment, thinking that the progressive improvement in track conditions would give them enough time to enter Q3, but they fell short. Very short: only 32 thousandths deprived the Asturian of getting into the 'top 10'. Alonso will start eleventh, which will force us to be very careful at the start and, especially, in those narrow areas in the second and third sectors where he lost everything.
The one who did not fail, and that is already news given what has happened in the last grand prix, was Carlos Sainz. The man from Madrid, who ended up against the wall on Friday after a resounding mistake, fought tooth and nail with his teammate Charles Leclerc and with Max Verstappen himself not only to improve them, but to do so for the jackpot: pole position.
Sainz falls short

In the first attempt of Q3 it was seen that Sainz was in a position to fight. The pace shown by the man from Madrid, from less to more, made him dream of seeing his first pole position in Formula 1. In fact, initially he was only eight hundredths off the time of his teammate, so he just needed a little more .
It fell short, as Leclerc has found in the F1-75 a perfect weapon for Saturdays, which has allowed him to add three of the five possible pole positions so far this season. Sainz will not be able to fail this Sunday, since many eyes will be on him. But neither will Leclerc do it... and in these circumstances it may be possible to dream of the best possible position for the Spaniard. After what you have experienced in this campaign, why is it not possible to think that Carlos Sainz's first victory in Formula 1 will come in Miami?