Carlos Molina emotionally relives his trip through Ukraine to leave the horror behind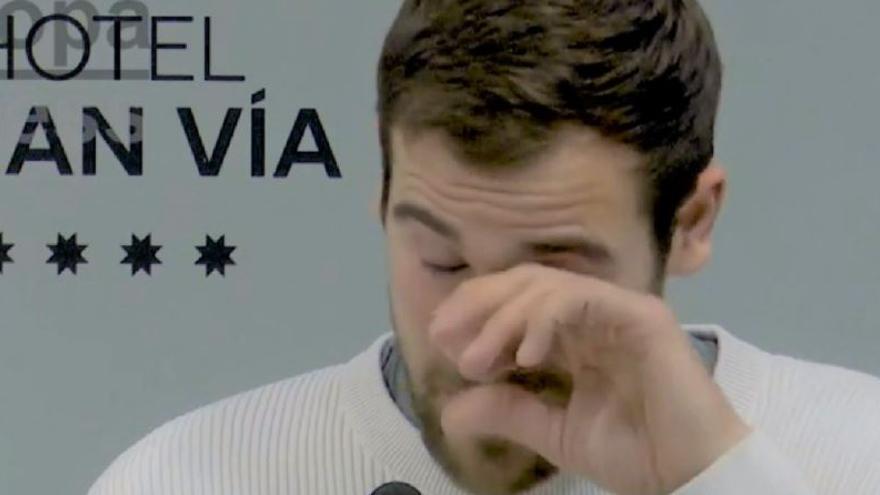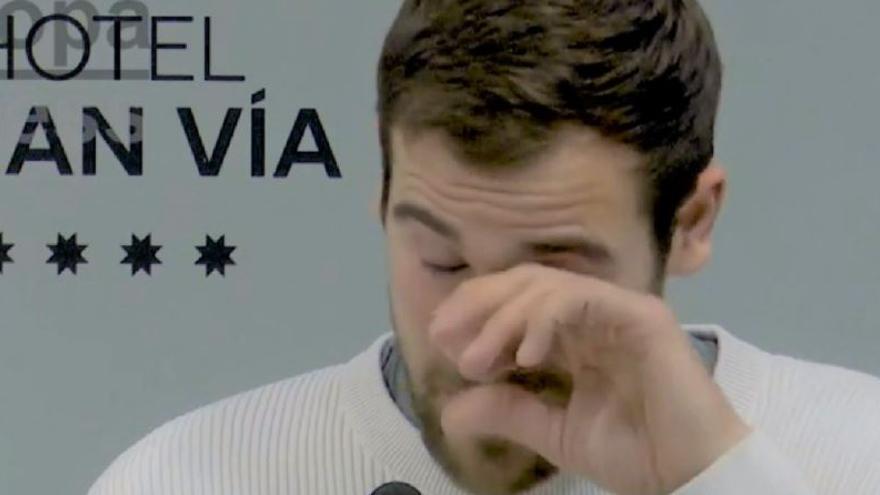 Cordoba handball player Carlos Molina recalled this Friday his trip to leave Ukraine and leave behind the horror of the war with the regret of seeing how many of his companions and other friends had to stay there.
Molina (Córdoba, 1991) has offered a press conference in Logroño - where he got married when he played for the city team - to respond at the same time to all the media that have been interested in his situation in recent days, since Russia began the invasion of Ukrainewhere he played now, in the Zaporizhia Motor.
The Cordoba player, visibly excited In many moments, he has recalled an experience of a week in which he lived "incredible things" from the farewell of many parents who left their children at the border to having to give away their car to be able to pass a military checkpoint.
He has stressed his gratitude to the Lithuanian player Aidenas Malasinskas -with whom he coincided during his time in Logroño and now in the Ukrainian team- "who has been like a father".
"Yes, I have felt the affection of many colleagues and friends, who seemed to push the car" and "after having a very bad time now what I want most is to be with the family and calm down", he said, while looking at his wife and his son and acknowledged that right now he does not think about his future as a player, "also out of respect for the teammates who have stayed there".
He recounted how, although they had been talking about what could happen for more than a month "they told us that the situation was not critical" but after playing a Champions League match in Poland "we wanted to stay, but the club told us to come back and when we landed in Kiev the airport was evacuated" because the war.
After hearing the first explosions, they were taken to a hotel and then traveled by road to Zaporizhia, more than eight hours from the capital "and after sleeping a bit, a neighbor woke me up telling me that I had to go down to the shelter."
Shortly after, it was stated that "we had to get out of there no matter what" together with two companions, Malasinskas and another Belarusian, who had a journey of just over a thousand kilometers ahead of them and took six days.
"Our cars were the key"
When they were close to the border, the Lithuanian embassy put his colleague in contact with a compatriot who was closer to Poland and they tried to go to him "and our cars were the key to pass" since "we told the checkpoint that We would give them to them if they let us pass and that's how it was" with which "at midnight we got on with that Lithuanian man and we managed to leave the Ukraine"
"I have been very lucky to have been able to travel with Malasinskas, who was the one who told me that a car did not matter, that the important thing was to get out," he stressed and joked about how at night, when the temperature dropped, he would stick with his friend to get warm.
He has remembered how "we have seen women with their children walking 30 kilometers and parents saying goodbye to children with tears in their eyes" and "those really are heroes," he said while trying to contain the emotion.
For him, the last week "has been like a month, I don't wish it on anyone, because of the dramatic things I've seen" and "especially because of the colleagues I've left behind, I'm afraid of what might happen to them".
This morning, he has detailed, he has had the news that the physiotherapist of his club has managed to cross the border with his family and with a Spanish citizen whom he helped to contact "because it is the least he could do."
Molina has maintained contact with some of his Ukrainian colleagues and has explained that in Zaporizhia the situation is calmer "than what is said" because it is true that the largest nuclear power plant in Europe is located there "and a fire has been caused side" but "not in the central" as has been published.
"I have been told that it is a hoax, but also that the Russians have made that fire so that everyone can see that they are serious," he said.
aid to ukraine
Regarding the possibility of sending aid to Ukraine "above all they need food, medicine, bandages, gauzes and medical supplies" although "at the moment everything stays at the border, it is not known how to get it in, because there is fear that if a humanitarian unit is formed with the military, Putin will understand it as the straw that breaks the camel's back and a catastrophe occurs".
"Right now the war is being strategic to fill the Ukrainian people with despair and fear", lamented the Andalusian player, who expressly thanked the behavior that the chef José Andrés and the women's soccer coach of UkraineLluis Cortes, "in addition to many people whom he did not know" but "also those who just wanted to get a medal", has concluded Carlos Molina.