Carlos Latre raises humor to the pedestal of human values ​​in Mérida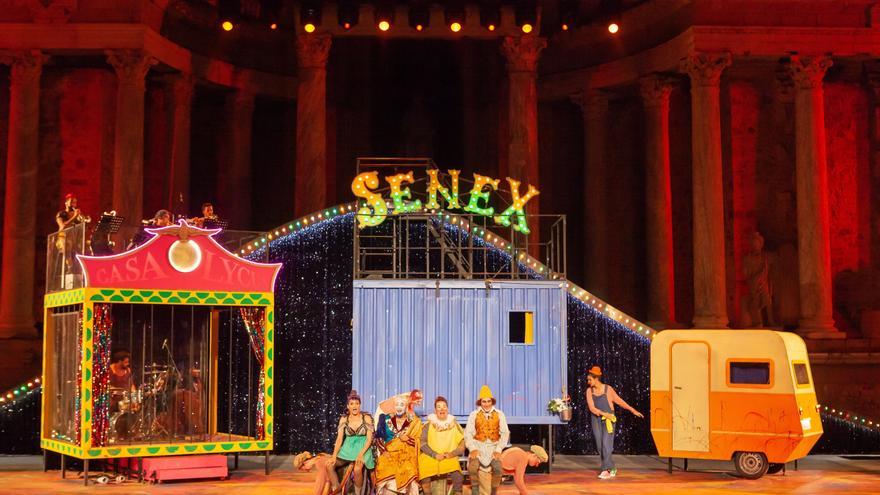 An inimitable Carlos Latre has taught in Mérida, through his character Pseudolus in the musical 'Golfus of Rome', the courage to stop time, look back and laugh to walk forward, towards a freedom that allows us to have the power to splash with humor all the dramas however imposing they may seem.
The fifth work of the 67th edition of the International Festival of Theater Clásico de Mérida brings to the scene of Mérida the desire for freedom and the tricks of a Carlos Latre – who plays a cunning and mischievous Pseudolus – who makes his debut in this theatrical event with a circus-themed musical.
"Golfus of Rome is not about a king, it is not about honor, it is about clowns, farces and love"
With a Roman theater that pays tribute to traveling circuses and those comedians who rolled around the world leaving aside a conventional life to earn a living by urging the laughter of others, 'Golfus de Roma 'leaves aside the deep reflections and emotionality of the theater classic to reach the public with a message of positivism, the one that draws a slave who seeks his freedom with all kinds of tricks.
"Golfus de Roma is not about a king, it is not about honor, it is about clowns, farces and love", sings Pseudolus who is accompanied at all times by an orchestra led by Xavier Mestre that accompanies the metric humor and always opportune to start the laughter on the face of even the most serious.
The plot that directs Daniel Angèls It has as a backdrop a street in Rome and three houses of apparent nobility, the House of Lycus (Meritxell Duró) which is a brothel, the House of Senex (Diego Molero) to which the protagonist belongs, and the House of Erronius ( Oriolo) who is an old man whose children were kidnapped by pirates years ago and whom he desperately seeks, all of them neighbors on the same street.
In the course of this story of entanglements, Pseudolus will take advantage of his mischief to propose to his young owner Eros, played by Eloi Gómez, a pact by which he agrees to help him to achieve the love of the courtesan Philia (Ana San Martín) to change of freedom.
Both Eros and Philia represent the world prototype of two young lovers, and although "love hurts them, love will make them feel better", the problem is that the courtesan has already been sold to the Roman captain Miles Gloriosus (Iñigo Etayo), who will not give her up for nothing.
To solve this dilemma, Pseudolus uses the help of his fellow slave Hysterium, represented by Frank Capdet, who devise a plan in which they put the young Philia to sleep so that she appears dead and flees in a ship with Eros.
As Philia refuses to take the potion of sleep, and before the approaching arrival of the Roman captain, Pseudolus decides that Hysterium disguises himself as the young virgin and pretends to be dead before Miles Gloriosus.
And so it happens, when Miles Gloriosus bursts into the Roman Theater of Mérida on the back of a cardboard elephant and accompanied by his host, he finds himself with the bitter surprise that the courtesan that he bought for 500 denarii before leaving for the war, had died on his return.
But due to the risk of being cremated, Hysterium is discovered which leads to the pursuit of both slaves by the Roman captain and his men.
As a final ecstasy, old Erronius, the one who set out years ago in search of his kidnapped children, realizes that both Miles Gloriosus and the courtesan he had bought were his children and therefore brothers.
This allows Philia to run into the arms of her beloved Eros, and by this remote chance poor Pseudolus, the one who had risked his life for a goal, finally achieves his long-awaited freedom thanks to a simple and accurate blow of fate.
Finally, that circus magic of 'Golfus de Roma' has made a new, unknown version of an inimitable Carlos Latre appear, which has been able to materialize tonight, on the stage of the Roman Theater of Mérida, that idea that he commented four years ago in a cafeteria to Daniel Anglès and after much waiting he never thought that in the end this story would have "a happy ending with a song ".