Carlos Goñi: "If this caught me with a less successful tour it would have been a disaster"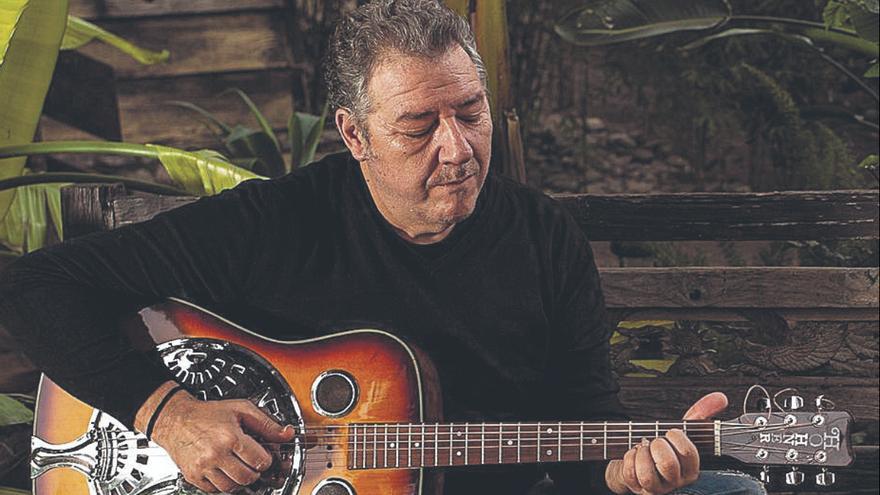 The new year brings you to Gran Canaria with the 30th anniversary tour and in acoustic format.
You are right. I have always thought that this was an abnormality and that at no point have I given up on calling it a new normal, at some point we will return to normal, that in situations like this we realize that it was wonderful.
He broke the tour and the possibility of doing these concerts with a band, and that he now defends alone.
Yes, what happens is that it is something I do every year in any case. With a band I usually tour what is summer and when October arrives I start doing theaters by myself but for a particular matter, very necessary, to listen to the songs in a different way and find the concerts in another way. It is something that I have been taking care of for so many years that I would not know which of the two options to keep to this day. I need both.
Having a band by his side gives the songs another character, although I assume that he has also become used to the solitude of the stage.
It's certainly a completely different concept, but band rehearsals for some years now usually last ten days or a couple of weeks at most. When I prepare a solo tour I sometimes take up to a month, it is more difficult to think about how I break down and how I work each song, and with a band in my case it is easier. You strip with the rhythm of the normal song, you sing it and that's it. That is not what I do, and this year much less.
How has the return to the stage been?
At the end this year I ended up doing about twenty concerts with the nonsense, which I was not stopped. There are many years doing concerts by myself and in the end the public, a part of the audience that I would not dare to say which part they like the most, I alone or with a band, they are distant concepts even if it is acoustic. The approach is so opposite that there are people who like the most intimate part and others who go like a torpedo. For me it is not a challenge to have to do it, a challenge is a concert, not the way to do it. Right now what I have is very excited, a divine concert tour went to hell, and it was going so well, with the concerts full and everything sold, and the luck that I have had is that they have been able to reschedule all of them to this coming year , and none have been lost. And that is very good. I also tell you if this gets me to a less successful tour, the disaster is monumental, the concerts are simply canceled.
It has all been good reviews so far.
[Risas] Having lost 30 kilos will have something to do with it.
Was it not a promise for the 30 years?
[Risas] No, what is it, although I imagine that that gives it another dimension because it removes not only viruses but many years over when it comes to being on stage.
Has the pandemic altered your scale of values ​​about what matters in life? As they have said, he is not interested in bringing this situation to his music.
Absolutely, I have not wanted to write a comma. Because it has also been such an extremely dystopian and strange moment that what I did was change on the outside, which was a debt that I had with me 35 years ago. During this year I have dedicated myself to other series of things. Obviously, you have the radar on, every day you write things and take notes, but always very far from the concept as such of the pandemic, from the official concept, I have tried to stay as far away as possible because I do not like what has happened beyond the conflict so monumental that we have had to face as citizens.
"Let no one get used to this situation. If we give our arm to twist, we have nothing left "
Are you referring to the government's management of the health crisis?
It is a matter of each one, but I do not like what has been done and how it has been done. But above all, the most that the ideologization of the entire conflict has offended me the most, the confrontation with the citizens, the polarization that has been on the part of the people. Since I realized how that was going I closed Facebook, Twitter. I've been in charge of social media for a year now.
He said it through the virtual windows that were opened and where many artists appeared.
I have made a parenthesis and not let all that enter my house and contaminate me in any way, but especially mentally. I live in a small town of 150 people in the northern mountains of Madrid and it is very easy to abstract from all that, it is enough to not connect the television, it is that simple. You are aware of what is happening, but I don't want to take part, and it is something that I am proud of.
In this context, what is a reality is that the concerts are safe for the public.
In all the concerts, in the 20 that I did, I began by thanking all the promoters and the entire work team behind each concert because if for many years I have felt that in the world of music in particular it was like if we were a shortcut to disasters or something like that, and suddenly it hasn't been like that, and I'm very proud.
Public with a mask, minimum capacity, everything changes and it will take time to organize concerts for thousands of people. Nothing will be the same?
I've been playing for so many years that what I like the most is playing in theaters and in places where I can see the color of the shirt of the first person on the left, I like medium capacity, I've never been really comfortable in places where there are 15,000 , 20,000 people, it does not fill me as much as the other. It is complicated because you see people who cannot jump, sing like that at all, they are uncomfortable, and the more complex the situation in front of you is, what you have to do in my case is to put all the meat on the grill. Maybe one day you get worse, but all my life I have always done things in the best way to do them. In this case, you try to be much more complicit, pour all your love so that they feel that nothing is happening and that we will leave, but I emphasize that no one gets used to this situation. If we give our arm to twist, then we have no left.
It is difficult to put together a repertoire with the volume of songs that it handles. How is it organized, what songs are fixed?
I haven't done the repertoire in a concert for many years, with or without a band. I have about 50 songs, some days I play some and other days I do others, and some always sound because I am aware that certain songs the public wants to hear.