Carlos Ghosn sues Renault to pay his retirement | Economy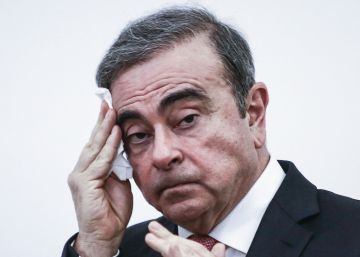 Carlos Ghosn has filed a lawsuit against Renault in France to claim the payment of the retirement of the French car manufacturer of which he was CEO, a position to which he was forced to resign after his arrest in Japan in November 2018 in relation to your responsibility at Nissan. In two interviews conducted in Beirut, where he is a refugee, to two French media and released on Monday, Ghosn justifies this procedure before the Labor Magistrate on the grounds that he did not formally resign as Renault's "number one."
After an exchange of letters between the parties unsatisfactory for their interests, the former executive wrote in mid-December to the Financial Markets Authority of France (AMF) because in his opinion Renault's financial communication about his departure was wrong. And at the end of last month he took the case to the Labor Magistracy of Boulogne Bilancourt, the city of the outskirts of Paris where the rhombus group is based.
"My resignation from Renault? It's a farce," Ghosn said in newspaper statements. Le figaro, who narrates that initially he wanted to solve the dispute in a friendly way and remembers that when he left the company he was imprisoned. "Being held in Japan by the force of things, I could not leave the company with a chaotic governance," he explained to the station Europe 1. The former manager added that a CEO had to be appointed to replace him and that is why he signed a letter on January 23, 2019 in which he said: "I want to withdraw from my duties to allow the company to restore its governance."
The Renault board of directors meeting a day later took note of what he interpreted, without a doubt, as the "resignation" of Ghosn, and he did so in a statement. He then minimized the remuneration of his former manager on account of the 2018 financial year. In his letter, Ghosn He had pointed out that he was leaving his duties but without giving up his rights. And in his statements now to Europe 1 He insisted that his letter "resulted in a resignation that it was not."
Renault has not wanted to comment on this dispute that will lead to a hearing at the end of February. For the former leader, his pension rights represent about 770,000 euros per year, to which we would have to add the actions he expected to be attributed. It also claims a retirement compensation of 250,000 euros.