Carlos Alcaraz, to the final of the Next Gen with an overwhelming game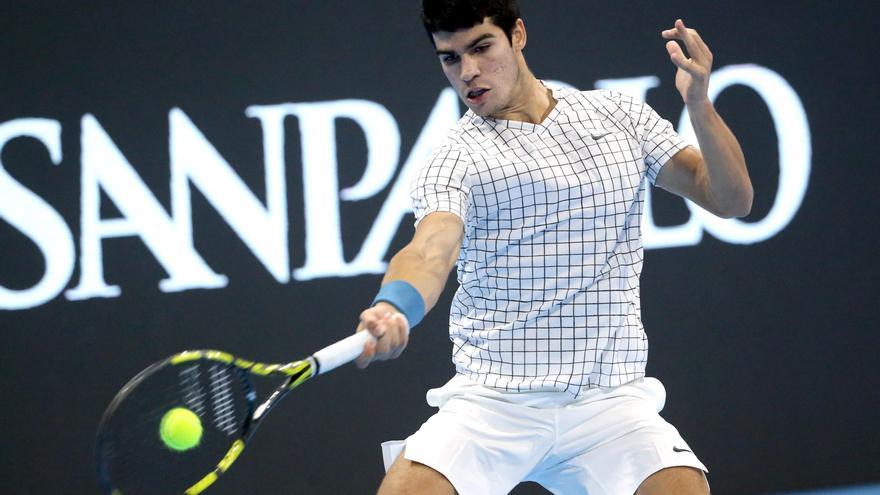 The Murcian tennis player Carlos Alcaraz Garfia qualified for the final of the Next Gen Milan, the tournament of the New Generations, by defeating the Argentine 3-0 (4-2, 4-1 and 4-2) Sebastian Baez, number 111 of the ATPTherefore, he will fight for the title in a tournament that brings together the eight best U-21s in the world rankings. Alcaraz gave no option to his rival, who is 20 years old and this year has won six Challengers: Buenos Aires, just two weeks ago, three in Santiago de Chile, another in Concepción and in Zagreb. This Saturday, at nine o'clock and broadcast by Movistar Deportes 2, the title will be decided which, in addition to prestige, gives the champion a prize of 347,971 euros. Apart from going to the final, Alcaraz became the first player since 2004 to exceed 30 victories in the same year. The previous one was Rafael Nadal, which finished 2004 with a 30-17 record. If he wins, he will also equal Andrei Medvedev, who in 1992 had a record of 32-11.
Alcaraz was in an overwhelming plan the whole game. In the third game of the first set, with service for Baéz, he left the Argentine blank to score 2-1 and take the lead on the scoreboard. He only had to keep his serve to score the first command with a 4-2.
In the second, the El Palmar player maintained an excellent level. He achieved a break in the first game and overwhelmed his rival adding two more after leaving Baez blank. The Argentine, number 111 in the world, found no answer to the overwhelming tennis of Juan Carlos Ferrero's pupil, which continued in an overwhelming plan to clearly take the set by a 4-1.
In the third set, with 2-2 on the scoreboard, Baéz had three balls to break the service, but the Murcian responded with three spectacular first services that the Buenos Aires player could not return (3-2). And there the resistance of the Buenosairean finished, that lost its service in the following game, thus closing the party.
In the other semi-final match, Sebastian Korda, number 39 of the ATP who this year won the ATP 250 of Parma and the Challenger of Quimper, suffered to defeat his compatriot Brandon Nakashima, whom Alcaraz had defeated in the group stage, 4-3, 2-4, 1-4, 4-2 and 4-2.