Carlos Alcaraz, ready to be among the best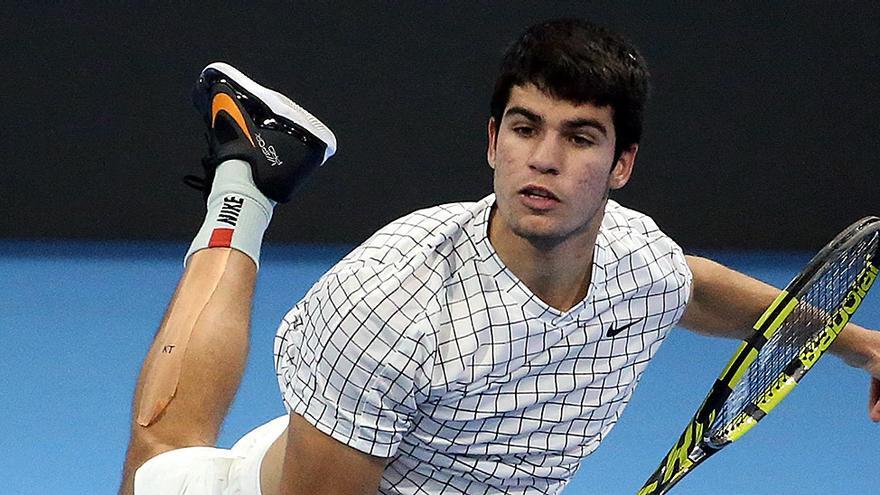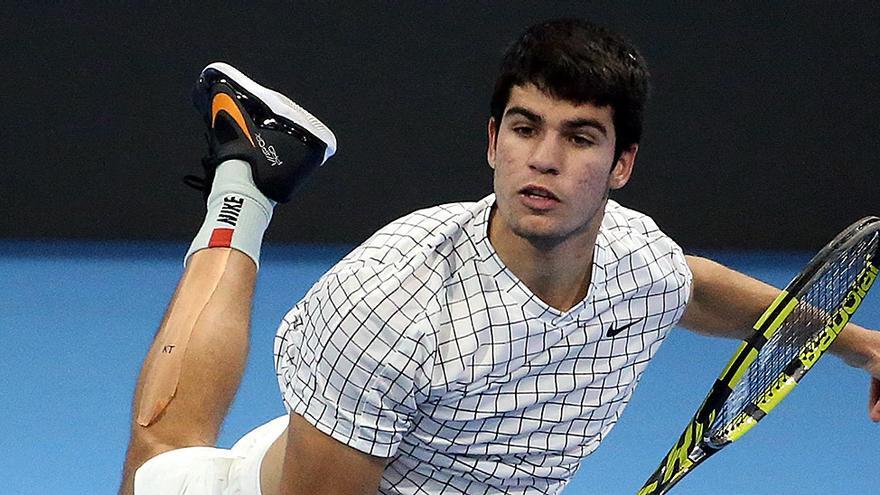 The Covid it prevented him from closing a round season. 24 hours after debuting in the Davis Cup, Carlos Alcaraz placeholder image (El Palmar, 2003) had to give up playing after testing positive. A hard knock. An unexpected disappointment that does not tarnish the great year of the young Murcian tennis player.
In a year has jumped 109 positions in the world rankings. From position 141 in which he played his first Grand Slam in Australia in January 2021, Alcaraz has finished the 32 of the world. At 18 he lifted his first title at the Umag tournament (Croatia) and put the icing on the cake by proclaiming himself champion of the Next Gen Finals held in Milan, reserved for the eight best Under-21s on the ATP circuit.
But of the 49 games played this year (17 won), the most important victory, with which he became known internationally, was achieved at the last US Open when he eliminated, in the third round, the Greek Stefanos Tsitsipas (3 world ) in a five-set battle by 6-3, 4-6, 7-6 (2), 0-6 and 7-6 (5). "It was an epic game that still excites me when I watch videos. Possibly the game where everything changes," says Alcaraz.
A victory that reaffirmed that "he was doing things well" on that path marked since he made the decision to want to be a professional tennis player. started at 14 years old when he won his first ATP point at the ITF tournament in Murcia. Since that day, Alcaraz's progression has been spectacular, jumping from position 492 to the 'top30' and with boundless expectations.
A diamond in the rough
"I thought that everything would go more little by little, really," he admits in a recent interview on the website puntodebreak.com, trying to assimilate the change and make a dream he had since come true. he played with his brothers at the El Palmar Country Club where his father, Carlos, began training him.
"From a young age I had something special, a lot of courage and a very strong competitive spirit, "he says Albert Molina, the manager, who signed him up and later offered him the chance to train with Juan Carlos Ferrero placeholder image, in his academy of Villena.
The Roland Garros champion and former world number 1 saw in Alcaraz a rough diamond that he could polish to his liking. I was 15 years old and had a crazy desire to learn. "He was a boy to train and help in his tennis growth", values ​​Ferrero, who highlights from his pupil "the ability to work, to want to learn, his humility and his mentality on the court".
Surprising maturity
Ferrero had offers of Juan Martín Del Potro, Stan Wawrinka, Simona Halep, among others, and had left Alexander Zverev after a bad experience, when he accepted the challenge of starting with Alcaraz "from scratch". Three years later, he is proud of his choice and the evolution of his ward. "He has been very fast in his ascent and I have been surprised by the maturity he has achieved at his age."
"Having Juan Carlos and his entire team by my side is a privilege. I have learned a lot from him. His experience has been fundamental ", Alcaraz emphasizes, aware that few champions of his level, if not none, would have agreed to work with a tennis promise, even if he was the Spanish tennis player with the most future since the appearance of Rafael Nadal, what is it constantly compared and who he faced for the first time this year, at the 1,000 Masters in Madrid. Alcaraz crossed paths with his idol as a child on the same day as his birthday, May 5.
Nadal's Praise
"It has enormous potential and only needs tranquillity and a little bit of time, "said the 13-time Roland Garros champion after beating him 6-1 and 6-2." I didn't have my best day. I was very nervous and played too fast. It was a defeat to learn, "the Murcian tennis player humbly explained.
Alcaraz and Ferrero form a tandem as demanding as it is close who is very clear about his objectives. If last year they signed up to finish in the 'top 50', a long-passed test, by 2022 the challenge is to "finish in the top 15 in the world".
An ambitious and difficult but not impossible challenge for someone who says, now, "I would not sign having a career like the one Juan Carlos has had, although he is a career". An opinion that Ferrero also shares. In Melbourne, at the Australian Open, on January 17, the race to make it happen begins.