Carlos Alcaraz, one step away from glory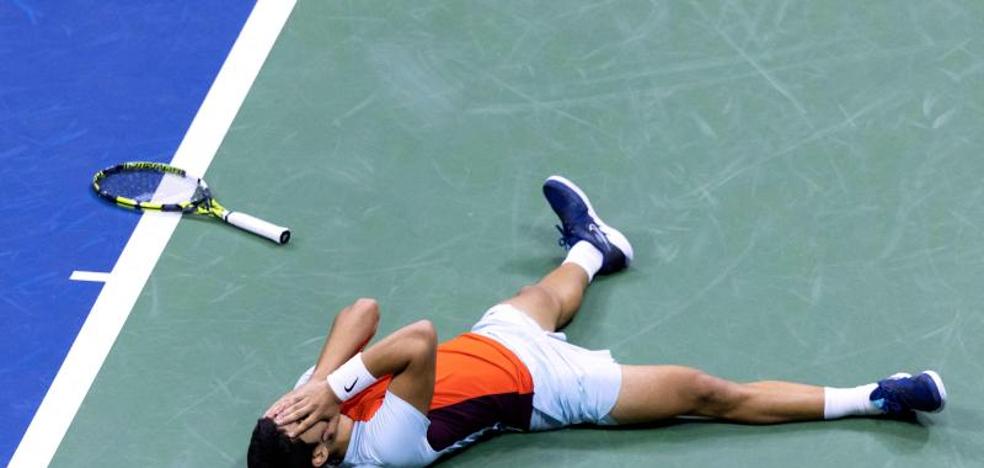 US Open
The Murcian tennis player will play his first Grand Slam final and is already number one in Spanish tennis after beating Tiafoe (6-7, 6-3, 6-1, 6-7 and 6-3)
Carlos Alcaraz will play his first Grand Slam final at the US Open this Sunday. The Spanish tennis player showed that when matches go to five sets he is almost invincible (8 wins and one loss) and certified his pass in another epic match that lasted 4 hours and 18 minutes and in which he had to come from behind against Frances Tiafoe in five sets of maximum emotion (6-7, 6-3, 6-1, 6-7 and 6-3).
In the final on Sunday, he will face Casper Ruud, who won his semifinal against the Russian Karen Kachanov and with whom a double prize will be played, since the one who wins in addition to his first Grand Slam will become number one of world tennis. In addition, Alcaraz is the second youngest finalist in the tournament after Pete Sampras, who won it in 1990 at the age of 19 years and one month.
Of course, whatever happens in the grand final, Carlos Alcaraz can already boast of being the best Spanish tennis player in the ATP ranking, since next Monday he will have a 130-point advantage over Rafael Nadal.
"In the semifinals you have to give everything, fight until the last ball, it doesn't matter if you've been fighting for five hours or six," acknowledged the Murcian about a new five-set victory, with a smile on his face. «I will have to control my nerves in my first Grand Slam final, but of course I am very happy and I will enjoy every moment. We'll see what happens », he added on the blue track.
Already in Spanish, Alcalraz confessed that "what I experienced today is incredible." "Three five-set matches, very long, very demanding," he added about their round of 16, quarter and semifinal matches. "The truth is that I have strength thanks to you, you encourage me at every point, every ball," he dedicated to the public.