Carla Suárez: "I don't give up"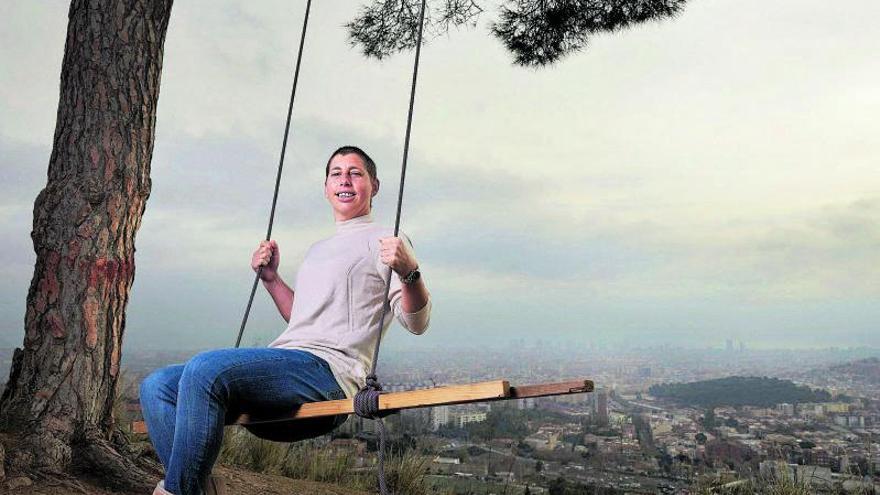 How is it going?
Pretty good, responding very well to the treatment and already in the final stretch, so I'm happy.
The best news is to see her training again on a tennis court.
The doctors recommend some activity, and the easiest thing for me is to play tennis. I already wanted and had the illusion of returning to a track.
It has been almost four months since Hodgkin's Lymphoma was found. You have never given up.
Never. The doctors treated me very well from the first moment. They told me it was quite curable, they gave me a lot of hope and a lot of confidence and in this sense I have never given up and I have never been afraid.
It's an example.
I know that I can be a mirror for people who are going through this or for people who will go through it in the future. I want you to know that with a good attitude, being positive and with good habits, you can get ahead.
What is your secret to being so positive?
It is no secret. I try to live day by day, value everything. I've always been away from family and since I was little I valued being able to give a hug, spend a 31st with them or a Three Kings Day. It's been a long time since I could do it and you see that you miss a lot of things, birthdays, births, weddings … that's why perhaps this positivism, valuing the day to day and enjoying it.
Hanging on the networks that suffers from cancer, is it a therapy?
At first I thought about it a lot, but people knew that I was in the hospital, that I couldn't train and I felt a little bit obliged to tell them why I couldn't play … I put it on the networks to inform all these people that he has given me his love and that he asks me almost daily about my health. I'm very grateful. In addition, it is a way to give visibility to something that seems to be taboo.
The sport has surely helped him cope.
I probably take it so well because of everything I've had to go through as an athlete and more so in an individual sport, because in the end you suffer everything and you have to overcome it by yourself. I think it was very important not to decline when he played. Now I go through bad times and in this sense tennis has helped me a lot.
2020 had to be his farewell year. Will it be 2021?
I would like to say goodbye on a tennis court and I will do my best to make it happen. I am pending when the treatment ends and the tournaments that will be organized in 2021, but it is something that I have in mind.
"This year I toast to everything and everyone. For life. I hope 2021 and what comes next is much better "
When can you return?
In case of returning, I would return more towards the summer, so all the tournaments that are happening until June or July I will not play them again.
The last one was in Doha, precisely where he won a title.
Yes, if in the end anything happens and in 2021 I couldn't say goodbye, having played my last game there would have been a good farewell.
The effort to try not to be like that will be the maximum.
Yes, especially the physical part, because with the treatment you are much more tired and it is much more difficult for you to recover, but I take it easy, I am not in a hurry. If it's something that has to happen, it will happen. I will give 100% to recover not only to return to tennis, but for myself, for the day to day to try to be better.
He received messages of encouragement from Rafa Nadal, Novak Djokovic, Garbiñe Muguruza … from the world of tennis and also thousands of them from fans. Did you expect it?
You never expect so much and love is always appreciated, it is always welcome. Above all, I appreciate the desire that people have to see me on the tennis court in 2021. They don't want me to end up like this and that gives me a lot of encouragement. It is very important to know that there are people who support you and want you to recover and it is something that suits me very well.
What do you ask of 2021?
Above all health. We have lived through a very difficult year. Let all this end now, let the pandemic disappear. Let's try to do everything possible to make this end and to be happy again as before. Health is the most important.
Why and for whom are you offering this 2021?
For everything and everyone. For life. This is something globally that has affected us all, so I toast all those people who have lost a loved one and I hope that 2021 and all the years to come will be much better.
What will extenista Carla be like?
Good question. Probably the same. In the end I have changed very little, I will be just as calm, I will probably not travel that much, but I will continue to enjoy tennis in the distance. I would like to start a family and I have other little things in my head that I would like to fulfill now, because obviously they were not compatible with the life of a tennis player.