Carla Antonelli: "Stop getting into other people's panties and underpants"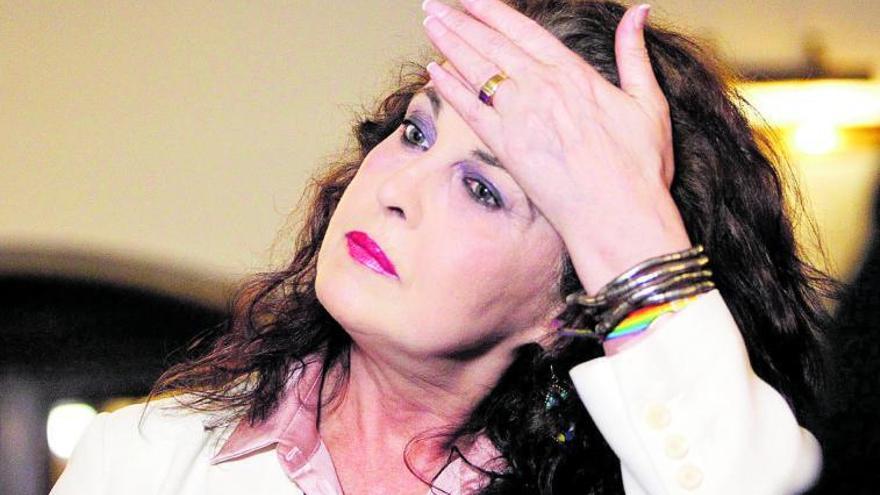 The Canary Islands qualifies as "false controversy" the friction of the PSOE and United We Can in the 'trans law'
The actress and LGTBI rights activist assures that "none of this arises by spontaneous generation; Every reaction triggers a counter-reaction and the trans community has been suffering from harassment and aggression for more than a year and a half … The far right could not be left behind and continues to tighten the rope with surreal, dangerous and shameful behaviors. Not everything is valid here. They want to hold us responsible for all the ills of this country, but attitudes like this are unfair and regrettable ", he denounced regarding the comments of the Vox deputy in the Madrid regional executive.
"An indelible mark"
Antonelli is clear that at his age no one is going to question his identity, but he emphasizes that "there are boys and girls who are growing up in a social model in which there are people who continue to be determined to put an indelible watermark on them that makes them feel marked / as for the rest of their lives "
This stigmatization that is still evident in the trans community is what infuriates Carla Antonelli the most when talking about non-existent equality: I do not know for what purpose the women's bathrooms, because they do not clarify it, but with the idea of ​​creating inhuman situations and debates loaded with perversion, "he denounces.
"If someone has a sexual problem, buy a Satisfyer or a Tamagotchi"
A member of the PSOE since 1997, Antonelli believes that if she, who is a deputy, has had to endure situations such as those promoted by Mariano Calabuig (Vox), what "anonymous people will not be suffering daily … Ask the boy trans who broke his face in Toledo or who was beaten up in Pamplona ", he gave as examples before launching a desperate cry in favor of harmony. "Do not feed this spiral of hatred anymore … Stop getting into other people's panties and underpants," emphasizes the woman from Tenerife.
"The glass is overflowing"
"Mariano Calabuig is just one more drop that has fallen into a glass of water that is overflowing … We are at the limit and we cannot allow behaviors like those that occurred at specific moments in our history when a deranged who seemed innocuous sent millions of Jews to the gas chamber … We are not going to allow four madmen to indulge themselves in another night of broken glass, "he points out about the humanitarian excesses committed by the Nazis.
"The 'trans law' will go forward yes or yes … It is a firm commitment of Pedro Sánchez"
Verbal attacks are for the Canarian deputy in the Madrid Assembly just as serious as the physical attacks that "we read from time to time in the newspapers or hear on radio stations … Words are not carried away by the wind and, therefore, semantics is a weapon that is loaded with unpredictable results ", he denounces without losing sight of the fact that" we are going to defend tooth and nail the rights that belong to us; those who stole from us in a part of our history and that we are trying to recover from the beginning of Democracy. For the people who continue to fight and for those who stayed on the road, we are going to fight to the end because this is a battle that we are going to win ", he makes clear in a phase of the conversation in which it is allowed to give advice to the intolerant: "If someone has a sexual problem, buy a Satisfyer or a Tamagotchi."
"We are not going to allow four crazy people to indulge in another night of broken glass"
The first and only transsexual woman who, for now, has taken up political office in Spain considers that "50,000 transsexuals cannot be considered a threat to the women of this country or to the 47 million people" who live in the country, adding that "we cannot continue to be the pim, pam, pum of some repressed ones who pretend to position the trans law as a matter of State, when what it is about is to obtain rights that belong to us", he points out while "already It is time to banish once and for all those who encourage a feeling of animosity towards the trans community ".
"50,000 trans are not a threat to the 47 million people who live in Spain"
Regarding the fissures detected between the Government partners when scheduling the steps to follow in reference to the processing of the trans law – it has been criticized that at first there is no will to deal with the issue in the council of ministers of the February 23–, Carla Antonelli considers that "all this is the result of a false controversy that they want to deliberately air in order to generate a feeling of enmity that is not real: the trans law will go ahead yes or yes … It is a firm commitment by Pedro Sánchez; It is also an objective of Minister Irene Montero that I do not have to distrust ", she defends tooth and nail without shutting up in the face of possible critical voices that have been heard in recent days. "I am a socialist, it is included in the coalition agreement and our program has been worked on for years … If someone on a personal level, not on the lips of one party or another, wants to say something against that is brave and speaks for he or she, not on behalf of everyone, "he concludes.