Caritas doubles the demand for care in Las Palmas during the pandemic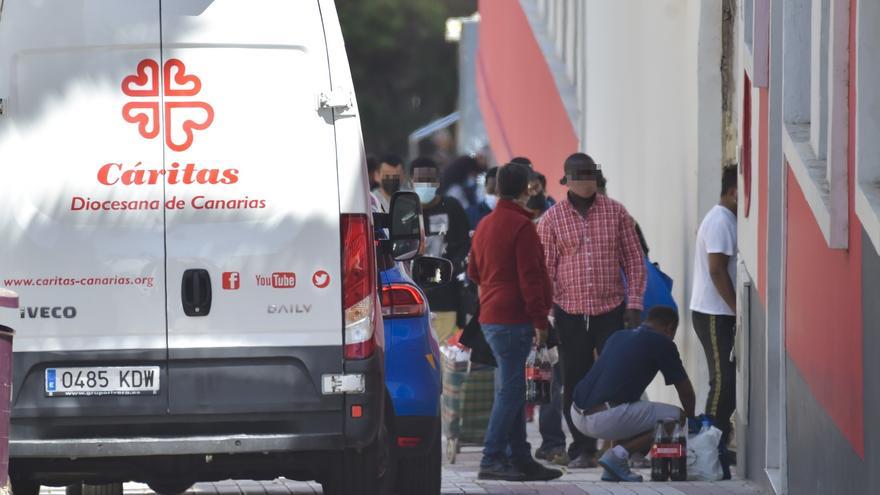 Of the families with minors, 21.7% are single parents and are headed by women. The pandemic increased their difficulties to reconcile and meet their most basic needs
The most frequent profile of the applicant for help is that of a woman (63%), of Spanish nationality (60%), with dependent children (47%) ._ The average age is between 40 and 49 years; and 42.6% indicate having studied only up to primary education and being unemployed (72.7%).
Almost half, 48.2%, of the people who come to the services are between 40 and 59 years old, although Cáritas highlights a large group of users -33% -, with ages between 20 and 39 years old, «what which highlights the high unemployment rate that exists among the youngest population in the Canary Islands ".
43.5% of families served have no income, 37.5% receive some public benefit, and 10% have income from precarious jobs that do not guarantee an adequate standard of living.
Of every five households served, one is single-parent, more than 80% headed by women. "Many had to juggle to combine work with care, especially in the months of confinement." With all this crisis situation, the mothers expressed anxiety about the uncertainty about employment, about the situations of caring for the minors and concern for the future of their family, according to the report.
They served 5,800 migrants -Venezuela, Colombia, Cuba and Morocco-. 31% are in an irregular administrative situation, which makes it difficult to access a job or social assistance.
The digital divide, cause and consequence of social exclusion, has also been aggravated by the pandemic. The limitations to access the internet, the lack of electronic devices or the skills to handle themselves in a digital environment, has been a serious problem for families, who have encountered many barriers to access the public system of social services. "The digital divide has had an exceptional impact on this crisis. It has been a serious problem for families, who have encountered many difficulties when carrying out procedures electronically with public administrations and other institutions for the application of aid, benefits, job search ... ».
Greater
26% of the people cared for live alone, with the serious consequences of not having a support network in situations of social exclusion. Of these households, 15% are made up of people over 65 years of age, who at the beginning of the pandemic, were subjected to long periods of isolation that had repercussions in the loss of personal autonomy, due to mobility restrictions and disorientation. In addition, the difficulties in handling new technologies have affected this feeling of isolation.
Regarding nationality, 59.7% of the people served by Cáritas in 2020 are Spanish, and 40.3% are migrants -5,853-, the majority from Colombia, Cuba, Venezuela and Morocco.
The organization responded to 14,623 households last year, up from 7,995 in 2019
Regarding the employment situation, 43.5% of families served do not receive any income, 37.5% receive some public benefit that becomes insufficient and 10.1% receive income from precarious jobs that does not guarantee a level of adequate life.
Likewise, 78% do not have their own home and, in many cases, they do not even have a house in minimum habitability conditions. Cáritas emphasizes that, as a result of the pandemic, situations of residential exclusion have arisen that have occurred to families. The most extreme case of this violation is that of the 2,595 homeless people assisted by the NGO.
Regarding the demands of the families to the organization, 82% have requested food; followed by reception and listening in 80.9%, job orientation in 41.4%, as well as advice to access help to pay for housing (11.8%) and medical expenses (11.7%).
Submerged economy
The demand for care in Cáritas soared in the Canary Islands, although in a very uneven way between the two provinces. 65,000 people were assisted in the Archipelago, 45,000 in Las Palmas and 20,000 in Santa Cruz de Tenerife, so that the households served in the eastern province rose 83% and in the western province, 20%. The director of Cáritas Diocesana de Canarias, Gonzalo Marrero, attributes it to the greater weight of the submerged economy in the eastern province, to the volume of people who have seen their living conditions worsen until they lose everything and find themselves on the street for the zero tourism, and the administrative obstacles suffered by people without resources and without access to technology to request public aid by telematic means, the only one offered by the Administration. | Efe