Cardassar-Atlético, City of Lucena-Seville and Terrassa-Valencia, Cup duels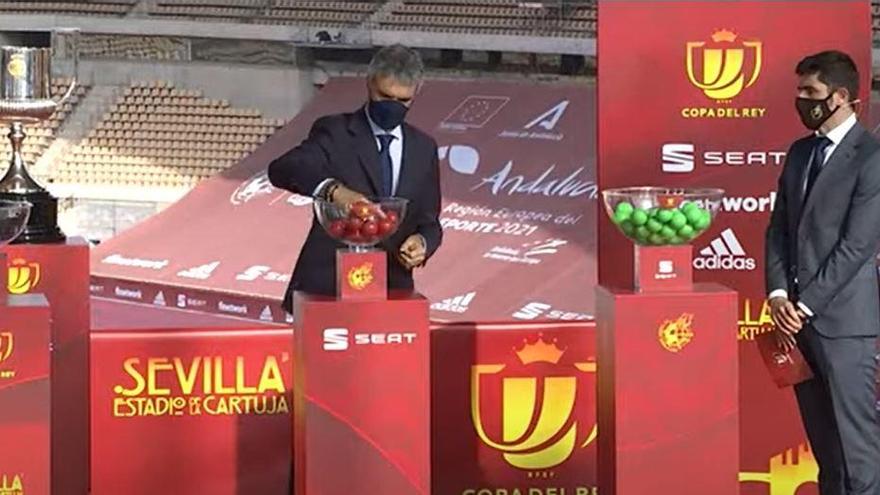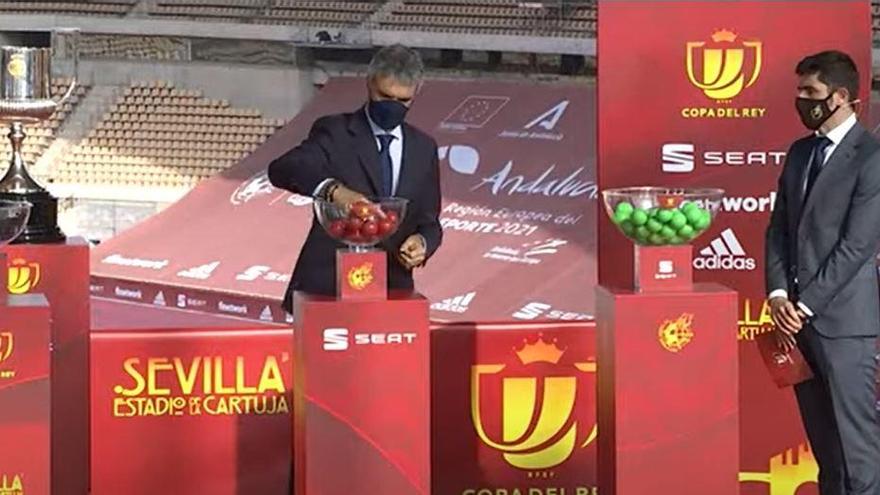 Cardassar-Atlético de Madrid, City of Lucena-Seville, Terrassa-Valenciawill be some of the clashes of the first round of the Copa del Rey, which will be played in a single match on Wednesday, December 16, according to the draw held this Monday at the La Cartuja Stadium in Seville.
Thus, those of Diego Pablo Simeone must travel to the Balearic Islands, specifically to Mallorca, to face Cardassar, who plays in the Third Division, while Julen Lopetegui's team will have a regional rivalry duel against Ciudad de Lucena from Córdoba.
Anaitasuna-Getafe, Marchamalo-Huesca, Ribadumia-Cádiz, Racing Murcia-Levante, Buñol-Elche, Tomares-Osasuna, Racing Rioja-Eibar, Rincon-Deportivo Alavés, Cantolagua-Real Valladolid, Llanera-Celta, San Juan-Pomegranate, Terrassa-Valencia, UCAM Murcia-Real Betis and Leioa-Villarreal are the other qualifying rounds with First involved.
The hype, in which 112 teams have entered and the four participants in the Spanish Super Cup have been exempt –Real Madrid, FC Barcelona, Athletic Club and Real society-, has matched the 10 champions of the previous tie with 10 of the 16 teams from The league Santander, while the remaining six have been paired with six of the 18 clubs in Group B, which made up 14 of Third and the four semi-finalists of the RFEF Cup.
After that, the 12 remaining teams met 12 of the 22 LaLiga SmartBank clubs, and the last 10 of Group B will face 10 of the 46 teams of Second Division B. The remaining 36 of Second B have been paired with each other .
The knockout will be held on Wednesday, December 16 in the field of the lower category club or in the house of the ball that was drawn first in the case of teams of the same category. The 56 winners will go on to the second round, which will be played on Three Kings Day, January 6, 2021.
The Minister of Education and Sports of the Junta de Andalucía, Javier Imbroda, welcomed everyone present in the draw. "One, as an athlete that has been, has also felt that emotion of the modest," he acknowledged. "We intend for La Cartuja to become the home of soccer in Spain," he said about the stadium where "a vital and key match" of the Nations League between Spain and Germany will be played on Tuesday. "It cannot be with the public, but everyone will be able to enjoy this stadium and this city that welcomes you with all its love and affection," he said.
Former soccer player Jesús Capitán, 'Capi', who won the Cup in 2005 with Real Betis; coach Antonio Álvarez, winner on the Sevilla FC bench of the tournament in 2010; the exbetic Juan Antonio García Soriano and the ex-Sevilla player Fernando Sales were the innocent hands of the draw.
Match of the first round
Anaitasuna – Getafe.
Marchamalo – Huesca.
Ribadumia – Cádiz.
Racing Murcia – Raise.
Buñol – Elche.
Tomares – Osasuna.
Racing Rioja – Eibar.
Cardassar – Atlético de Madrid.
Rincon – Deportivo Alavés.
Cantolagua – Real Valladolid.
Llanera – Celtic.
San Juan – Pomegranate.
Terrassa – Valencia.
UCAM Murcia – Real Betis.
City of Lucena – Seville.
Leioa – Villarreal.
Varea – UD Las Palmas.
Gimnástica Segoviana – Girona.
Las Rozas – CD Mirandés.
Athletic Pulpileño – Lugo.
Ourense – Leganés.
Coria – Real Oviedo.
Gymnastics of Torrelavega – Real Zaragoza.
Quintanar del Rey – Sporting de Gijón.
Teruel – Vallecano Ray.
Sestao – Tenerife.
Llagostera Costa Brava – Espanyol.
Ibiza Pitiusas Islands – Sabadell.
Atlético Baleares – Fuenlabrada.
Coruxo – Malaga.
Portugalete – Ponferradina.
Guijuelo – Mallorca.
Pontevedra – Cartagena.
Amorebieta – UD Logroñés.
L'Hospitalet – Almeria.
San Fernando Isleño – Castellón.
Loyalty of Villaviciosa – Alcorcón.
Cordova – Albacete.
Haro – Balompédica Linense.
Marino – Cornellá.
Numancia – Lorca.
Deportivo Coruña – El Ejido 2012.
Burgos – Andorra.
Peña Deportiva – Tarazona.
Ibiza-Eivissa – Compostela.
Poblense – Olot.
Cultural Leonesa – Villanovense.
Extremadura – Socuéllamos.
DUX International Madrid – Linares.
Navalcarnero – Badajoz.
Alcoyano – Laredo.
Calahorra – La Nucía.
Zamora – SD Logroñés.
Rayo Majadahonda – Yeclano.
Mutilvera – Racing de Santander.
Marbella – Lleida.