Canine aesthetic mutilation: «Owners and breeders know that these practices are prohibited»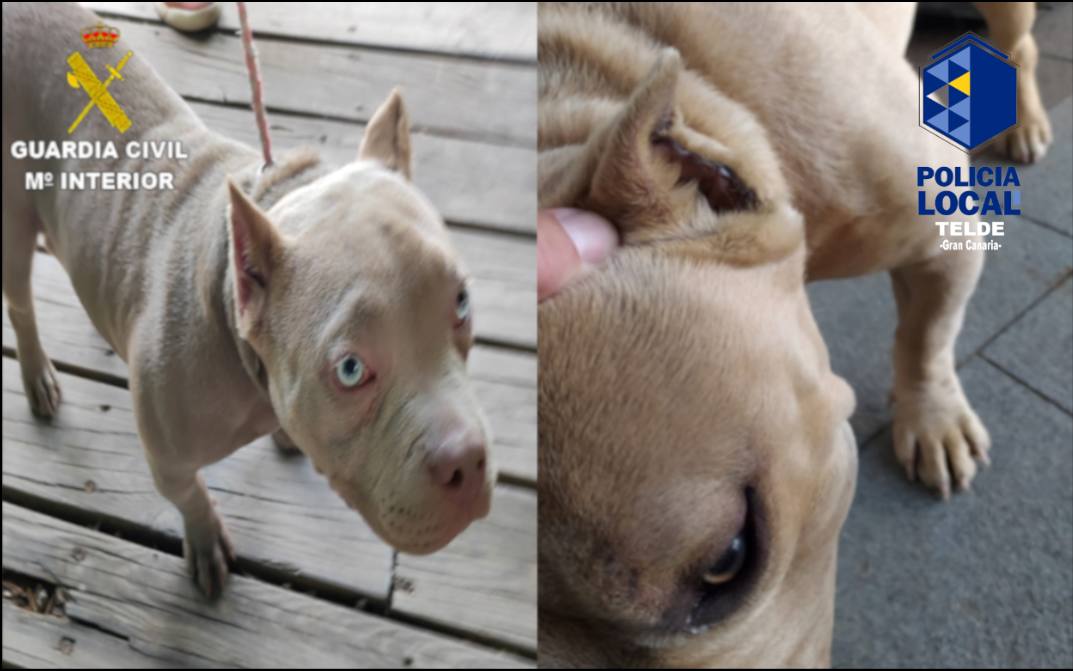 Seprona filed 40 complaints at a dog show held in San Mateo upon detecting specimens with cropped ears
In Spain it is forbidden to cut the ears of dogs for mere aesthetic reasons since February 1, 2018. Nevertheless,
the canons of canine beauty have not changed since then and this animal mutilation continues to be valued, especially in some breeds of presa dogs. For this reason, it is not uncommon for agents of the Nature Protection Service of the Civil Guard (Seprona) to intervene during a dog show held in San Mateo in June
40 complaints against the owners of 37 American bully dogs that had apparently been mutilated.
This practice is punishable by law unless it is practiced by veterinary prescription for some pathology that affects the auditory pavilion of the animal or to avoid the risk that specimens of certain long-eared breeds get hooked in the development of their work, explains the president of the Ethics Committee of the Official College of Veterinarians of Las Palmas, Manuel Zumbado.
"Since the entry into force of the Council of Europe Convention on the Protection of Companion Animals,
the breeders and owners of these animals - Rottweiler, Pit Bull, Doberman or American Bully - know that these acts are totally prohibited, unless it is shown that it has been carried out for medical reasons, "explains the veterinarian.
In addition, adds the expert in ethical issues related to the practice of veterinary medicine, the entry into force of this document was very famous in the country. «
Spain signed this agreement 30 years after its appearance. The State took it in stride », apostille on the ratification of the document prepared by the European Council in 1987.
The standard is even better known among veterinarians. "The professional knows perfectly well that
the deontological code prohibits carrying out mutilations for mere aesthetic reasons and without a medical prescription», clarifies Zumbado, who recalls that this practice is also sanctioned by the Official College of Veterinarians. In the event that these illegal interventions are not carried out by veterinarians, animal abuse is also incurred.
Merely aesthetic reasons also push owners of specimens of certain dog breeds to cut their tails. «In the moment of truth,
depriving an animal of an area of ​​its body makes no sense, only aestheticand it may be counterproductive, "says the veterinarian.
«
Canine societies impose a canon. In some cases, races have been created over time by tuning them to perform some kind of function; like cattle guard dogs. In this case, this canon only responds to aesthetic criteria", laments Zumbado.
Eliminating these mutilations from canine styling is another way to fight against this practice. In some communities, such as Andalusia, they tried to
change these canons by prohibiting mutilated animals from participating in dog showssays the vet.
On the other hand, Zumbado explains that the identification of the authors of the intervention is very complicated because, "when the mutilations are detected, the owners say that they bought the animal from abroad."
"It is time to remove that excuse. If it is known that an animal cannot be mutilated, do not buy that animal, "says the expert.
amputated cats

Domestic cats suffer from another illegal practice which removes an essential part of your physiology, your nails. "Onychectomy,
declawing of cats so that they do not scratch, it is an act of abuse. Ear cropping is prohibited, but we can have a discussion about whether or not there is mistreatment. If measures are not taken so that the intervention is correct, it is outrageous.
Things are done that do not respond to scientific or veterinary criteria», acknowledges Zumbado.