Candies, makeup and other curious 3D impressions | Technology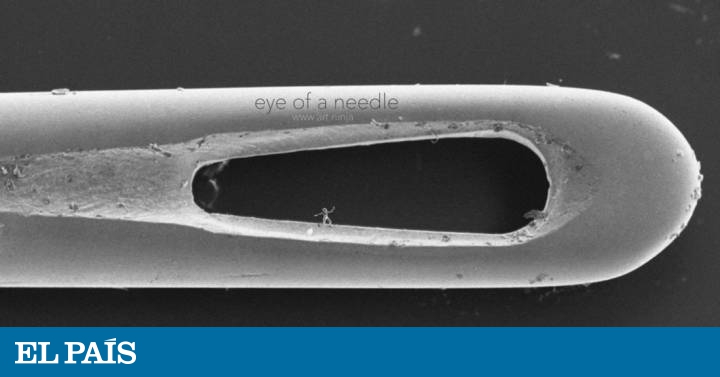 3D printers are already used in the fields of medicine, automotive and even food. For example, they are used in the design of prototypes in vehicle factories, to create prostheses, print 3D tumors in order to test the most risky operations for children or customize dishes in restaurants. But beyond the most popular uses, there are many curious applications of this technology.
Make-up and customized beauty masks
Sometimes it can be difficult to get a certain makeup tone. Grace Choi wants to solve this problem with Mink, a 3D printer that allows users to make their own makeup instantly. It is only necessary to open the app, import an image that has the desired tonality and insert a makeup sheet in the printer tray. Just a few seconds later, the photograph will become a real cosmetic product that the user can use on the face with a finger or a brush.
That is, an image of Instagram is enough to be able to choose the desired tone. The printer has the ability to print more than 16 million colors, according to the creators, and uses cosmetics approved by the Food and Drug Administration (FDA) in special makeup sheets. It is already possible to book this printer for approximately 260 euros, but shipments are not expected to start until 2020.
There are companies that have also opted for 3D printing to get better skin care. Neutrogena presented the personalized beauty masks last January at the CES in Las Vegas. The Neutrogena MaskiD application allows users to communicate to the company information about the required care and accurate measurements of their face through the TrueDepth camera of different iPhone models. In this way, it aims to eliminate beauty masks that are not adapted to the shape of the face.
Personalized treats
Imagine being able to choose the shape and color of candy from a kiosk. Have the option to decide if you want to eat a bauble with the shape of your face, a dinosaur or any monument. This is possible with 3D printers of personalized treats. Kiosks from different countries of the world already allow their clients to do so.
Magic Candy Factory is an example of this type of printers. "Our magical design application allows anyone to create shapes, write messages and even draw their own personalized sweets and see them come to life before their eyes in less than 5 minutes", explain their creators. In the same way, there are 3D chocolate printers like CocoJet by 3D Systems and Hershey's wave Choc Creator developed by ChocEdge.
Houses that are printed
The future is in the hands of 3D printers. there is already projects to build houses with this technology. The Chinese company Winsu has built a block of five heights and 1,100 square meters in the Asian country. Different companies in Singapore have made public their interest in starting to print skyscrapers with this technology. The company Apis Cor has built its first low-cost printed house in the city of Stupino, near Moscow. It is a house of 38 square meters for $ 10,000 in less than 24 hours.
But you do not have to go so far to find this type of initiative. The Valencian startup Be More 3D has launched a pilot project of housing using this technology. In addition to housing, they have also begun to use these machines to build all kinds of infrastructure. For example, Amsterdam already has a bridge made with 3D printers that crosses a channel.
The ornaments of a wedding
The potential of these machines has no limits and there are individuals who invest in them to make their own creations.This is the case of Erin Winick,a woman editor of MIT Technology Review, who used her two 3D printers to make all the possible details in her wedding and save costs. She designed her headband and tulip bouquets for her and her bridesmaids. He also used the machines to print the numbers of the tables, the ornament for the cake, the floral decorations and the necklace of the girl who carried the flowers. "3D printed items have a personal touch that you do not get when you buy something in the store," he explains.
Winick printed one by one the approximately 200 flowers of the bouquets. He calculates that he dedicated about 100 hours of his free time after work and on weekends. But he stressed that the savings were worth it: "In total I spent around $ 75 on all the branches. When you consider that the average cost of just one bridal bouquet is around $ 150 and each additional arrangement for each bridesmaid is about $ 75 more, that (the cost of 3D printing) is a bargain. " The editor encourages whoever wants to keep ups to download your design from the numbers of the banquet tables.
The smallest sculpture in the world
The artist and engineer Jonty Hurwitz figure in Guinness Book of Records as the creator of the smallest human sculpture in the world. The figure is called Trust (Confidence, in Spanish) and is a nude woman. For its creation, Hurwitz was inspired by his first love and used several leading techniques of photography and 3D printing.
The rest of his sculptures are also tiny. 3D nanoimpression allows you to make figures that are often finer than a human hair, fit in the head of an insect and fit inside the eye of a needle. Since 2009, when he started making his sculptures, he has received several awards and recognitions. For example, he also broke a Guinness record for making the smallest animal sculpture in the world.
(tagsToTranslate) candy (t) makeup (t) printing (t) curious (t) curious (t) 3d (t) machine (t) serve (t) manufacture (t) ornament (t) wedding (t) sculpture ( t) fine (t) fine (t) human hair (t)



Source link