'Canceled', the series of confinement with 14 awards and audiences from 48 countries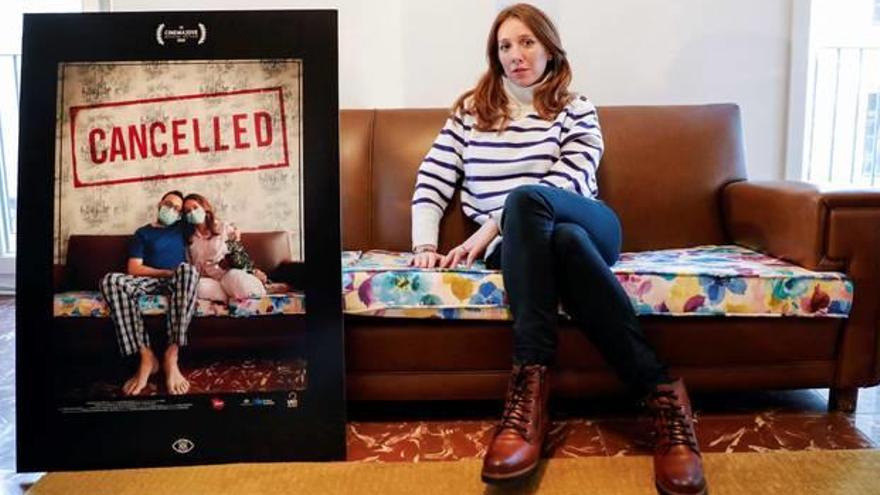 They thought that at most they could reach 5,000 views, but since they released the 'web series' in May on the 'Canceled' lockdown have garnered an audience of over two million in 48 countries, fourteen international awards and a request from the public: that there be a second part.
Filmed and released in confinement, narrates the experience of a Spanish actress and an Australian film director who arrived in Valencia to get married on March 15 and had to cancel their wedding due to the coronavirus and confine themselves with his mother, but it is also "a love story at a time of world crisis."
This is how María Albiñana, actress and creator with her partner, Luke Eve, explains it to EFE of the first international co-production that was filmed in Spain during the confinement and that He has won fourteen prizes, such as the Jury of the Marseille Web Festival, the best creator of the Asia Web, the best series of the British Web or the special mention of the Berlin Web jury.
A little big family
Albiñana highlights that, when the first two chapters of the series premiered in May recorded with a mobile and starring the three of them, they realized that "it was reaching people, that somehow they have felt attached to this story", and they still receive many messages on social networks, because "a great little family has formed" .
Low-budget and financed by Screen Australia, the series is made up of ten chapters of about nine minutes each that were released on Facebook and can now also be seen on the VIX platform, and has attracted audiences mainly from Spain and Australia , but also from the United States, Mexico, India or Brazil.
"A lady from a fishing village in Mexico wrote us who told us that she had almost no internet, but she followed us, and another person who did it from South Africa," highlights Albiñana, who states that the promotion has come, more than by "word of mouth", by "labeling by labeling": people who discover the series and recommend it by tagging friends on social networks.
Possible continuity
The actress assures that "Not at all" they expected the repercussion that 'Canceled' has had: "We simply wanted to tell a personal story, with solid characters, a good script and well done within the possibilities we had, because we didn't have a camera or anything. We did the best we could."
He affirms that the followers ask them to have a second part of the series, or even a film, and affirms that "it is still time" to give it continuity, although he claims between laughs that "no longer locked up: it has to be another concept and with more people, than the three alone was already too much ".
Wedding in the air
And when is the wedding for? "At the moment, it is on the air; we had planned it for March, but it will be necessary to see if things move towards a virus-free path, because we have many guests from outside and it seems that they are more forced to come after the series" , indicates the bride, who claims: "Above all, that we can hug".
His almost mother-in-law returned to Australia in June on the first international flight that left, and the couple, who usually resided in Los Angeles, have remained in Spain waiting for the pandemic to improve in the United States, although Luke will spend Christmas in his country of origin, where you have a sick relative.
The madwoman of bleach
East "drama with comic overtones"It has left them many anecdotes, such as the fact that they did not connect to some virtual galas of festivals in which they have won awards because they did not expect to be winners, although they remain" with the affection of the people ", which has even recognized by the street.
Albiñana explains that there have been people from other countries, where the first wave of the pandemic arrived later than in Spain, who became hooked on the series when they went on to live the experience of confinement and were able to understand scenes that previously "shocked them a lot, such as that of the lye madwoman who cleaned the entire purchase"before putting it away.