Canary Islands public schools will have free access to Google tools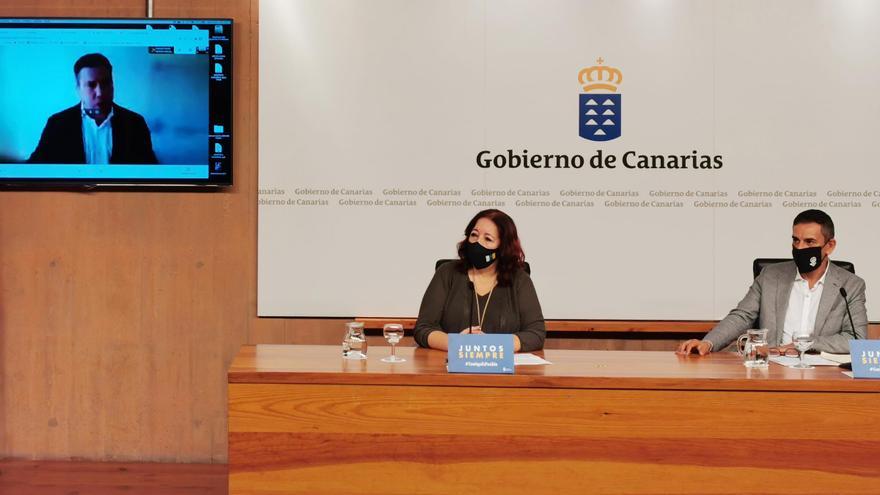 The public schools of the Canary Islands will have access to the package of digital tools G Suite for Education, from the tech giant Google, thanks to an agreement signed this Tuesday between the Regional Ministry of Education and the multinational, and that bring digital services such as video conferencing or collaborative work applications to classrooms, among others.
As Education explained in a statement, this tool "facilitates and contributes to improving teaching and learning through videoconferencing services, file storage and collaborative work", which will help implement the Plan for digitization in education in the Archipelago that the Ministry has launched this academic year.
The area counselor, Manuela Armas, as well as the person responsible for Google for Education in Spain, Gonzalo Ramos, and the general director of Planning, Innovation and Educational Quality, Gregorio Cabrera.
"With these tools we place the Canary Islands at the level of other communities that are at the forefront regarding educational technology ", highlighted Armas during the presentation of the agreement.
For his part, the head of Google has ensured that the technology company is "convinced" of the need for educational centers to have "tools that allow them to transform learning and teaching at scale."
This initiative, which does not involve any cost for the Ministry, also includes the design and implementation of a training plan aimed at the ICT area advisers of the Teachers' Centers, and the ICT area agents (a new figure that will be incorporated as support to the centers participating in the Territorial Cooperation Program # PROA +) which, coordinated by the Educational Technology Area, will provide support to educational centers as well as the development of training actions for teachers in order to guarantee that the implementation of these services is done successfully.
As for the protection and processing of personal data refers, from Education it has been emphasized that it conforms to current regulations and is regulated in a Resolution of the Ministry. Apart from that, they have added, the consent of the student's mother, father, guardian or guardian will be required, if he is under 14 years of age, to enable him an account and to be able to use these services.
The Ministry will give access to this tool to active teaching staff who request it. The teaching account certificate in the G Suite education of the Ministry may be requested in the coming weeks. The second phase of this initiative will correspond to the activation for the educational centers (which must be requested by the director or director of the same) and the third to the management of student accounts, which will be assumed by the management team or person delegated by it.
Likewise, the General Directorate for Educational Planning, Innovation and Quality is working on the signing of an agreement with Microsoft for offer office 365 to the educational community, also free of charge.