Canary Islands opts for the republic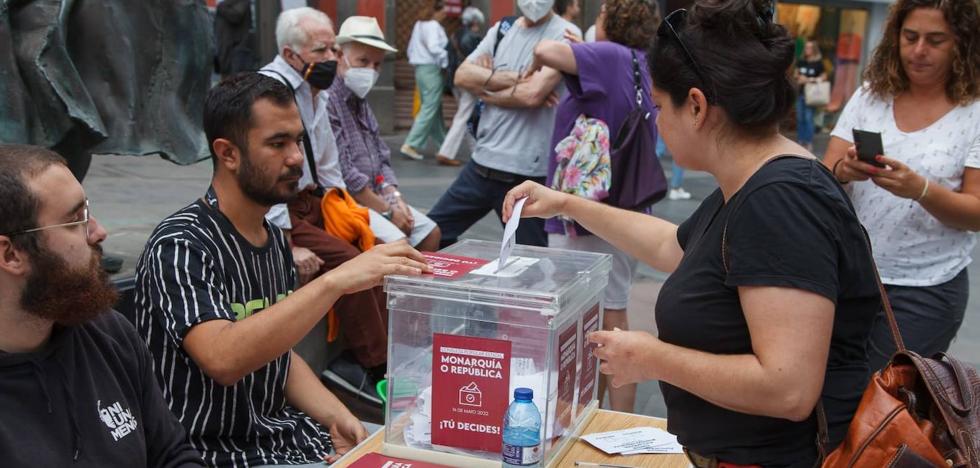 In the archipelago, 914 people from a population of 2.2 million participated in the consultation organized by a social platform. 764 voted for the republic and only 146 for the monarchy
The consultation that was held yesterday in numerous Spanish municipalities and in 15 foreign cities on the State model,
convened by the Monarchy or Republic State Popular Consultation Platformwas followed by almost 82,000 people, who massively supported (93.25 percent) the republic against the monarchy.
The data provided this Sunday by said Platform reveal that a total of 724 tables were installed, in which 81,617 people voted; and that 76,106 expressed their support for the republic, 4,731 for the monarchy and 780 people voted blank or null.
In the case of the Canary Islands, 19 tables were installed and 914 votes were cast (a small number in a population of 2.2 million inhabitants). Of these, 764 were for the republic and only 146 for the monarchy. Four votes were declared invalid or blank.
The consultation had been supported by several political formations, such as IU or Podemosand was opposed by other parties, including Vox, which had submitted briefs to numerous town halls requesting that this consultation not be allowed in the streets.
Some representatives of political parties and institutional positions participated in the consultation, including the mayor of Barcelona, ​​Ada Colau.
The communities with the highest participation They were Catalonia, where 15,599 people voted and 15,029 did so in favor of the republic; Navarra (13,437 people voted and 13,127 did so in favor of the republic); Andalusia (12,889 people voted and 11,828 in favor of the republic); and Madrid (9,979 people voted and 9,076 did so in favor of the republic.
The platform that has promoted this consultation has valued that this "important day of democratic participation and free popular expression" could be held and that it took place normally and without any relevant incident.
He has pointed out, however, that
in some places "anti-democratic" forces tried to prevent the development of the referendumand they have cited the Provincial Subdelegation of the Government in Alicante and the municipal governments of Martorell, Hospitalet de Llobregat and Salou in Catalonia, as well as the municipality of Los Alcázares in Murcia, where "a fascist group" prevented voting at a polling station. vote, according to this platform.
The entity Institute of Social Policy, an organization that defends the promotion of the family, the right to life, the defense of motherhood, religious freedom and the unity of Spain, has presented today in the Guard Court of the Madrid town Majadahonda filed a complaint against the Government delegate in Madrid and against the mayor of the capital for "consenting" to holding that consultation.