Canary Islands Juniors conquer Spain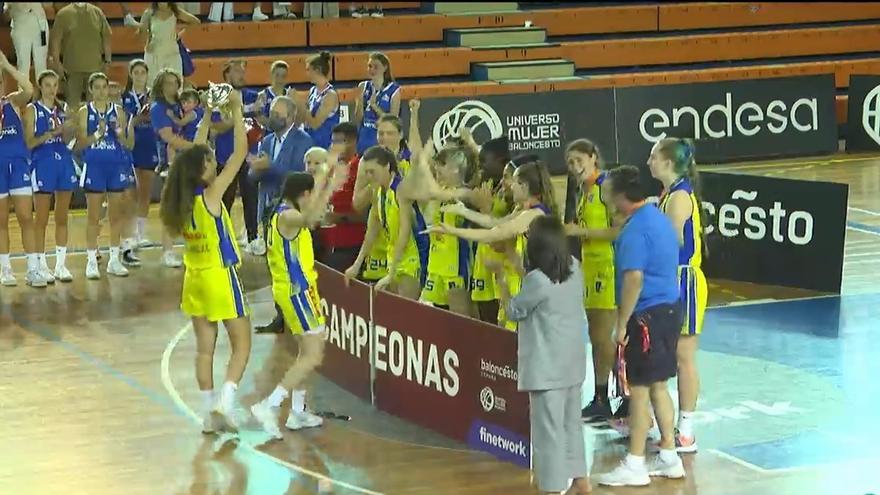 CB Islas Canarias continues to dominate the lower categories of Spanish basketball. The inexhaustible yellow quarry, commanded by Domingo Díaz and Begoña Santana, once again adds a new winding to their showcases. The yellow team's junior team beat Perfumerías Avenida Salamanca 61-47 in the final of the Spanish championship disputed in Huelva and they make it clear that this club is still the nursery of the insular basket: 13 junior Spanish championships already in their trophy room.
The Canary Islands dominated the final from the second quarter. The break was reached with a tight 32-27, but after returning from the locker room, the players led by Begoña Santana from the bench line were fine-tuning their outside shot, with a very successful Dominique García Blackwood (4 triples) to break the scoreboard until the final 61-47.
The slate of the island bench was imposed on the Salamanca team. A well made area and the continuous yellow counterattacks cemented the victory. All this sustained by the intimidation of Adji Fall in the painting. 10 points and 19 rebounds (11 offensive!) for the Senegalese of Canarian adoption.
With those numbers, the junior pivot was chosen the Mvp of the final and the tournament. In addition to receiving from the hands of a national basketball legend like Fernando Romay, the award for the top rebounder of the championship. All with a huge smile on his face. Illusion to eat the world.
In addition, Elena Rodríguez received the trophy for the top scorer of the championship. The captain was in charge of lifting the trophy of champions of Spain, at the same time that she shared the joy with her entire team: María Doreste, Marta Acero, Dominique García, Yevheniia Putra, Nerea Manchón, Carla Brito, Natassja Kolff, Adriana Quintana, Adji Fall and Nayli Chinea.