Canary Islanders live the least outside the community in which they were born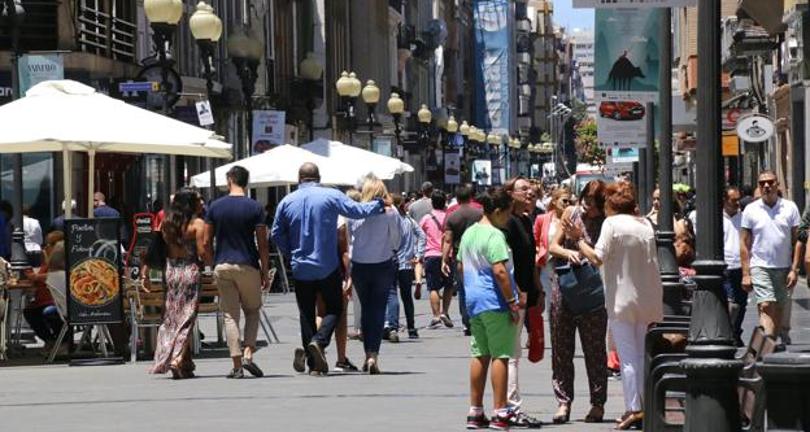 One in four people born and currently residing in Spain, exactly 25.10%, just over 10 million, lives in a community other than their own, a proportion that is higher in regions such as Extremadura, Castilla-La Mancha and Castilla y León, in addition to Ceuta and Melilla, while
Canary Islands It is the community with the least mobility.
36.41% of the people born in Extremadura who continue to reside in Spain today -that is, without counting those who have emigrated abroad- do so in another community, the same as 35.02% of the natives of Castilla- La Mancha and 33.71% of those from Castilla y León.
According to the latest revision of the INE continuous census statistics, as of January 1, 2022, these percentages are even higher for those born in Melilla (43.93%) and Ceuta (36.99%).
Conversely,
the autonomies in which the most people born in them continue to live are Canarias (95.84%)the Valencian Community (92.70%), Catalonia (91.99%), the Balearic Islands (91.52%), Galicia (87.60%) and Murcia (86.93%).
In addition to these six, the territories in which a greater proportion of its natives remain there are Navarra (84.46%), Andalusia (84.27%), the Basque Country (84.24%), Madrid (83.92% ), Asturias (83.77%), Cantabria (82.86%), Aragón (81.09%) and La Rioja (77.18%).
Internal migration multiplies foreign migration by 12

These figures show the importance of internal emigration compared to that of Spaniards abroad, since altogether there are 853,779 people born in Spain -also according to data from the
Statistics National Institute As of January 1, 2022, in this case from the analysis of the Spanish population residing abroad - those living in other countries, almost 12 times less.
Of these, six out of ten are from just four communities: Galicia (146,423, 17.15% of the total), Catalonia (126,296, 14.79%), Madrid (120,794, 14.15%) and Andalusia (117,251, 13.73%).
Next in this list are Castilla y León (61,962, 7.26%), the Valencian Community (54,970, 6.44%),
Canary Islands (36,837, 4.31%)Basque Country (36,524, 4.28%), Asturias (31,741, 3.72%), Castilla-La Mancha (21,826, 2.56%), Aragón (19,619, 2.30%) and Murcia (19,032, 2.23%).
Less than 2% of the total number of those born in Spain who have gone to other countries represent Extremadura (16,563, 1.94%), the Balearic Islands (11,565, 1.35%), Cantabria (10,699, 1.25%), Navarra (10,450, 1.22%), La Rioja (5,034, 0.59%), Melilla (4,162, 0.49%) and Ceuta (2,031, 0.24%).
In the Balearic Islands and Madrid, almost half are foreigners

The INE data also allows knowing where the residents in each community were born, and in this statistic Extremadura, Galicia and Andalusia stand out as the regions with the highest proportion of
indigenous inhabitantswith 85.02, 84.54 and 82.67%, respectively.
On the opposite side are the Balearic Islands and Madrid, where only 54.00% and 56.09% of their inhabitants, respectively, were born there, and to a lesser extent the Valencian Community (65.77%), La Rioja (64 .63%) and Catalonia (63.69%).
Between both extremes oscillate the remaining nine autonomies: Castilla y León (79.89%), Asturias (78.78%), Cantabria (72.99%), Murcia (72.46%), Basque Country (71.27% ),
Canary Islands (71.02%)Aragon (70.70%), Castilla-La Mancha (68.65%) and Navarra (67.51%).
The
internal migration flows have meant that, for example, 15.75% of people born in Castilla-La Mancha, 13.16% in Extremadura and 12.84% in Castilla y León currently reside in Madrid.
The same occurs in Catalonia, where 7.55% of those born in Extremadura have moved, 7.35% in Aragon and 6.14% in Andalusia; or in the Valencian Community, which now welcomes 9.00% of the natives of Extremadura.
Translated into population, these internal movements mean that more than half a million Andalusians by birth (511,847) live in Catalonia, in addition to another quarter of a million (250,454) who reside in Madrid.
Also living in this community are 366,816 Castilian-Leonese, 341,502 Castilian-Manchego and 185,468 Extremaduran, and in Catalonia there are 107,832 Castilian-Leonese, 106,462 Extremaduran, 84,952 Aragonese and 82,528 Castilian-Manchego.
In some cases, the exchange of population between communities is back and forth, as is the case with the 236,097 people born in Madrid who now reside in Castilla-La Mancha.
Work reasons and geographical proximity

Adolfo Maza, professor at the Department of Economics at the University of Cantabria, has told Efe that M
adrid is the first destination from almost all provincesincluding some from the north and south, and also Catalonia, especially Barcelona, ​​especially from nearby provinces, and the island communities, in this case for non-work reasons.
In the country as a whole, work reasons are the main reason for emigration, although there are other factors, such as the price of housing, behind transfers of residence, especially from large cities to more affordable neighboring areas in other provinces, in a phenomenon that, in the absence of contrasting data, may have influenced the
rise of telecommuting due to the covid-19 pandemic, as Maza has indicated.
As in this type of migration, the also member of the Spanish Association of Regional Science and president of the Cantabrian Association has pointed out that "distance has a great influence" and, with the exception already mentioned of Madrid, "migrations are mostly to neighboring provinces ».