Canary beaches that you can go with your dog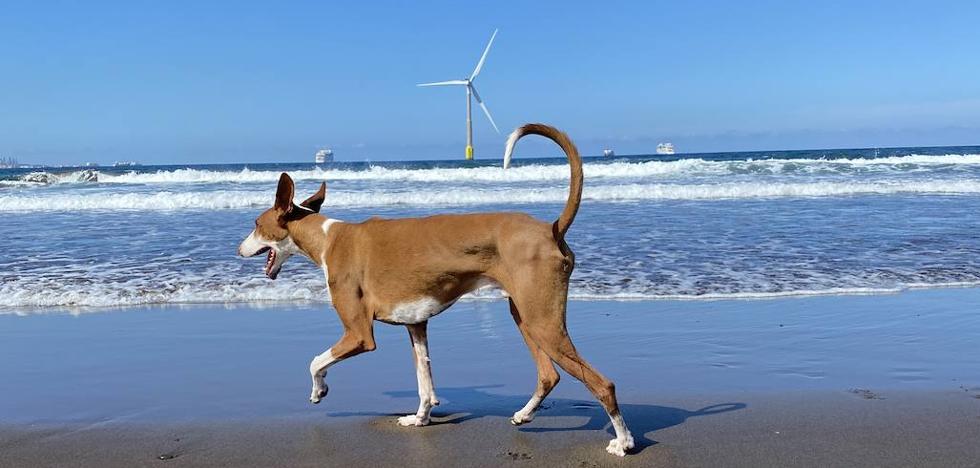 pets
There are eight beaches where they allow the access of dogs on the islands, for some still insufficient
More and more people decide that their furry friends have the right to enjoy a well-deserved rest or a good time of leisure, that is why
dog beaches they are an excellent option.
The Canary Islands have a total of
8 doggy beaches spread over
Gran CanariaLa Palma, Tenerife and Lanzarote.
Would you like to meet them?
one

The Ravens (Agüimes)

two

Three Peos (Agüimes)

3

Bocabarranco Beach (Las Palmas de Gran Canaria)

4

El Puertito beach (Güimar). This is the last stretch of the beach, the area closest to the Yacht Club.

5

Callao / Las Bajas (Arona)

6

El Confital / Oven Beach (Granadilla de Abona)

7

Las Coloradas Beach/El Afre (Yaiza)

8

Guacimeta Beach, in Playa Honda (San Bartolomé).
Gran Canaria

We have the
Three peos beach in the municipality of Agüimes: it is the second best-known beach that you can go to with dogs in Gran Canaria. This beach is much smaller and has quite dark sand.
Bocabarranco Beach It is located in the Jinámar neighborhood in Las Palmas de Gran Canaria.
It is famous for being the first beach for dogs authorized from the Canary Islands. It has 6,000 square meters at the mouth of the Barranco de Jinámar, well known by surf lovers, because it sometimes has strong winds and waves.
The second beach that also belongs to Agüimes is that of
the little ravens. It is a rocky type beach, with dark formations and stones where you can go with your dog throughout the year. There are also no toilets or showers.
Tenerife

The Little Port of Güímar It has access through Olof Palme Avenue. You will find the area for dogs at the southern end of this large black sand beach located on the southeast coast of Tenerife. This was the second beach for dogs in the Canary Islands and there are 200 meters of bathing and recreation area for them.
El Callao, also known as Las Bajas, in Arona, It is an extensive pebble beach. Dogs are welcome throughout the year. It is located in a semi-urban area where you can enjoy a pleasant day at the beach with your pet with the tranquility that isolation from the large tourist areas provides, but close to them.
El Callao beach, Las Bajas in Arona. /

c7

Another beach where access with dogs is allowed is the
El Confital or El Horno Beach (past La Tejita beach in Granadilla de Abona) and at Playa del Cabezo in Puertito de Güímar. Keep in mind that it is best to park at the end of Calle Sirenita, then go down to the beach and walk along a path to the left, until you reach the beach.
El Confital Beach, Abona. /

c7

Lanzarote

On the one hand, there is the
Las Coloradas Beach or El Afre Beachwhich is located in the municipality of Yaiza, in the south of the island.
Of the slightly more than 400 meters of beach, there is a total of 150 meters enabled as a beach for dogs. This beach has sand, gravel and pebbles, and its waters are calm and clean.
It is a beach that does not have many services, but it also allows dogs and their owners to enjoy a beach time.
Las Coloradas Beaches, Yaiza. /

c7

And then we have the
Guacimeta Beach. It is close to the Lanzarote airport, specifically in the town of Playa Honda, in San Bartolomé. It is a beach of toasted sand and calm waters, which invites the enjoyment of owners and pets. It has numerous terraces and services to make it a perfect day.
Guacimeta Beach, Honda Beach. /

c7

What to wear when you go with your dog to the beach?
1. Your up-to-date vaccination record in the event of any unwanted unforeseen event.

2. A container or drinker and plenty of fresh water.

3. An umbrella so that your dog is protected from the sun's rays, especially during the hours of greatest exposure to the sun.

4. Bags to collect their droppings.

5. Some snack to reward him when he responds to positive stimuli.

6. A toy, if he likes to play in the water.

7. Covers to protect the paw pads, in case your dog shows hypersensitivity to contact with hot sand.

8. Your leash and dog tag collar.
Going to the beach with your pet is the best experience for both of you. The most important thing of all is that you and your dog have fun and have an amazing time together.
More dog beaches in Spain

Every year, new beaches and coves are added to the list of those that allow dog access throughout Spain.
The Valencian Community and Andalusia are the regions with the most beaches for dogs. Municipalities such as Torrevieja, Alboraya and Torrox already have
pet friendly beaches for this summer 2022.
A few years ago, the
Law of Coasts was modified to include the prohibition of dogs on the beaches in the summer season. Since then, there have been many municipalities that have been encouraged to set up beaches for the enjoyment of swimmers and their dogs.
See here all the beaches that you can enjoy with your pet